So excited to welcome my sister Erin back for her monthly fashion feature! I seriously just want to go to my closet and start trying random things on together.  This is a great one, guys.
Remember, you can follow Erin's finds on Facebook, or purchase some of them from her Etsy shop, The Laughing Chickadee.

**********************************************************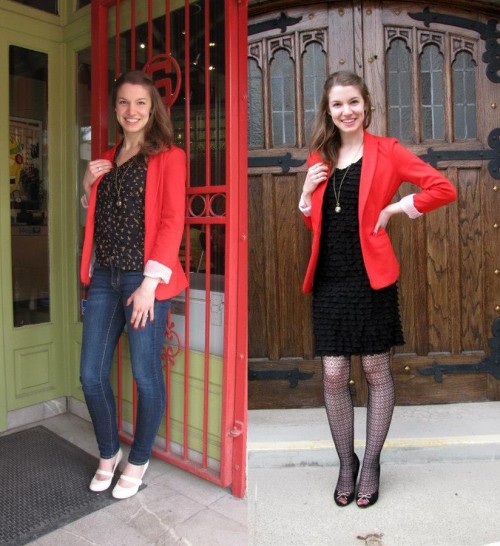 Hello everyone, and happy spring! For those of you reading this from my home province of British Columbia, your spring likely looks like lots of rain, lots of flowers, and romantic, misty early mornings right out of Pride and Prejudice. For anyone hailing from my adopted province of Ontario, spring has meant bits of sun, warmth, and walks by the lake mixed with ICE STORMS! BLIZZARDS! and TORNADOS! The result is mass confusion. One day people are braving bare legs, the next we are hunkered indoors as freezing rain turns the sidewalks into a skating rink.
On the day these pictures were taken, I had the huge honour and privilege of meeting two of my greatest treasures, my mom and my youngest sister, for said sister's wedding dress fitting. Let me tell you folks, she is going to be one knock-your-socks-off, stun-gun-set-to-eleven bride. Her fiancé is one lucky man, and not just because she is gorgeousness incarnate, but because she has the sweetness, humour, and thoughtfulness to go with it. In short, she is the bomb. After the dress fitting we grabbed a quick lunch, where my matchless mother braved the blizzard and brutal winds to snap a few pictures of me for this post. Let's give her a round of applause, because it was COOOOOLD! Don't mind the fact that I'm wearing a light blazer, that is purely for your benefit.  :)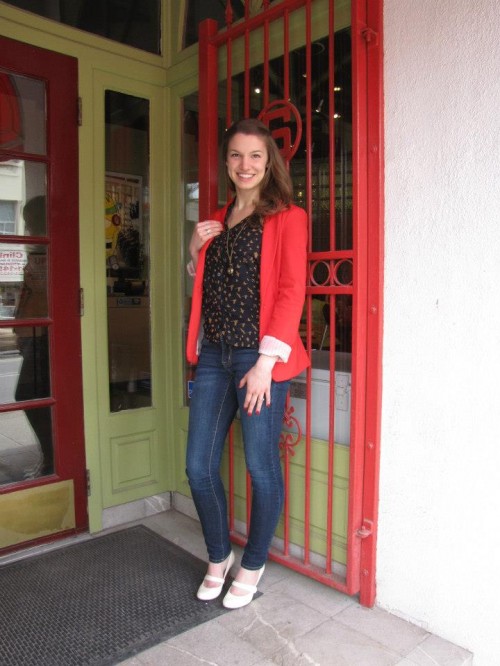 Blazer: Urban Planet   Blouse: Olive & Oak   Jeans: Winners   Necklace: Claire's   Bow Ring: Modcloth   Heels: Thrifted     Nails: Revlon's "Revlon Red"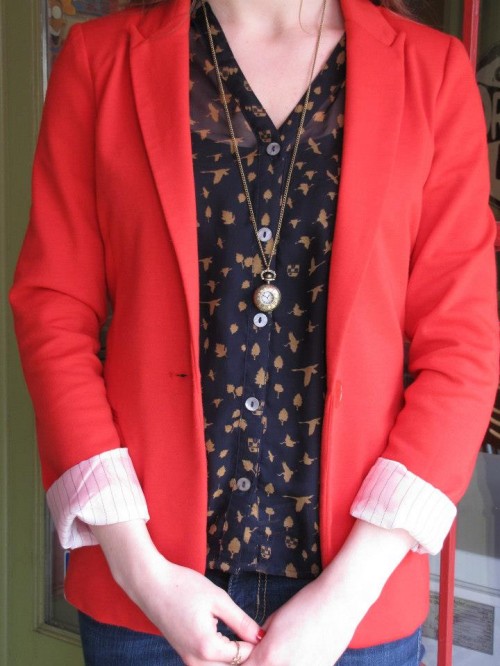 The sweetest pattern that you ever did see! Geese, ducks, and tiny houses.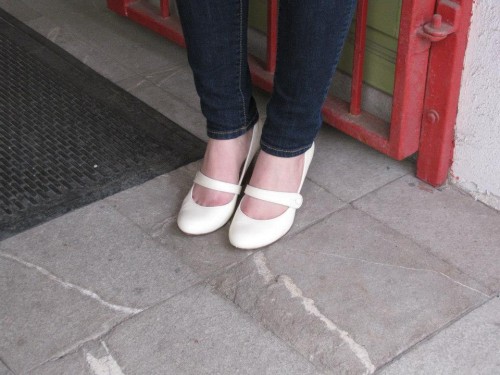 Vintage heels in perfect condition!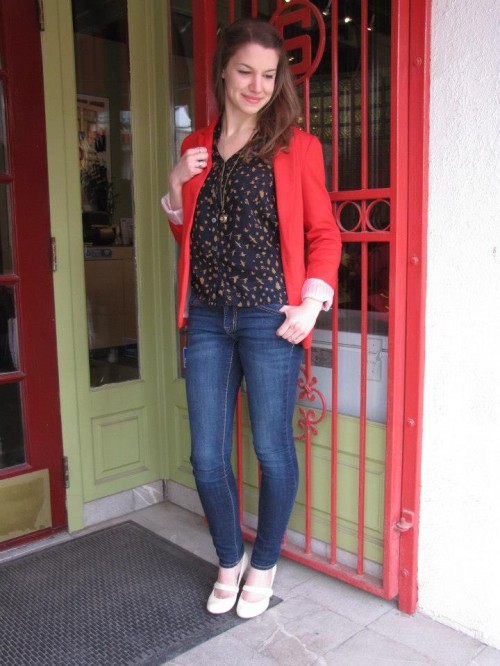 I used to stay as far away from blazers as possible, because I thought they made me look like a box. Over the years I have learned to dress for my body type: if I'm wearing something looser on top, I have to go more fitted below or I look like a rectangle. If a blazer is cut to land just below my hips, I don't wear too short a skirt lest I look like an 80s business maven. Shoulder pads are an emphatic, resounding no.
But when I saw this blazer it was love at first sight, and I knew I had to have it. I was worried I would regret the $15 I spent on it, since I didn't really know what to wear with a tomato red blazer, but our love has only grown. After coming home from lunch, I remixed it into a date night outfit, and another of my greatest treasures, my handsome hubby, took some pictures for you. Same blazer, same necklace, same dorkily posing girl, but switch up the jeans and blouse for a Gatsby-esque ruffled dress, mosaic printed tights, and black velvet heels with a glittering gold bow and you get a totally different look.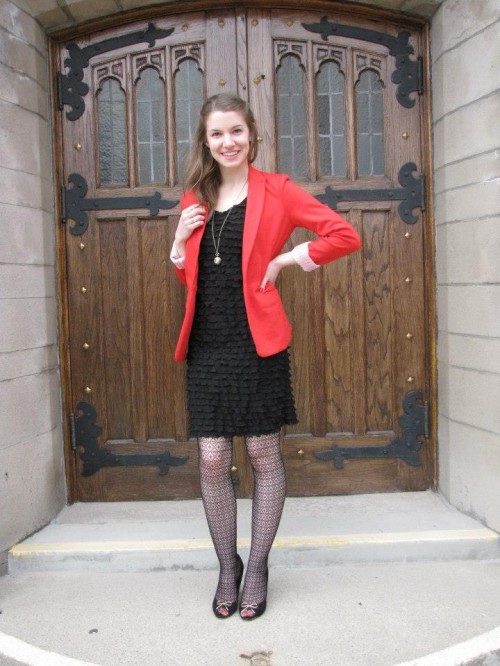 Dress: Hand-me-down from my mom   Tights: Winners   Heels: Le Chateau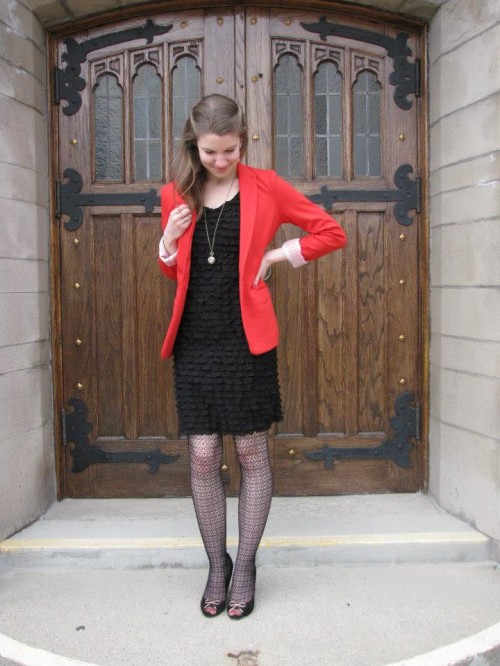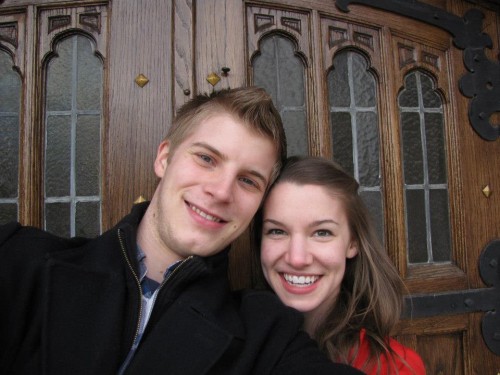 My favourite person. He is giving me smile wrinkles.
Remember how last time I told you that I thought I would be a bad fashion blogger because I have a tiny wardrobe? Well, I've been worrying about it a lot this month. I have one purse. One coat. I collect books, not shoes. I pose like an awkward giraffe, and smile in my pictures where maybe I should pout and smize.
But one thing I do know how to do is take a little and turn it into a lot. That's what I want to encourage you to do. You don't have to keep buying new clothes to make your wardrobe shine. You look killer in that dress from two years ago, so try wearing it with different shoes or borrowing those earrings that you adore from your friend and go out for the night, sugar! Always remember that fashion is just for fun, to make yourself and people around you happy. This blazer is one of my go-to happy pieces, and I love having people, from my mom to my grocery checkout girl, tell me how happy it makes them to see it.
What are your happy pieces? What do you wear to combat the blues? And how can you take that piece, whether it be a magic pair of heels, that perfect pair of jeans, or a little tomato-red blazer and make it do more for you and for your wardrobe?