On Fridays I go to university.
I'm pretty good at school, to be honest, and I really love it.  But sometimes I take notes on whatever paper is handy in my purse or around my house, and I look reaaaallly professional pulling out Littlest Pet Shop notes in a meeting.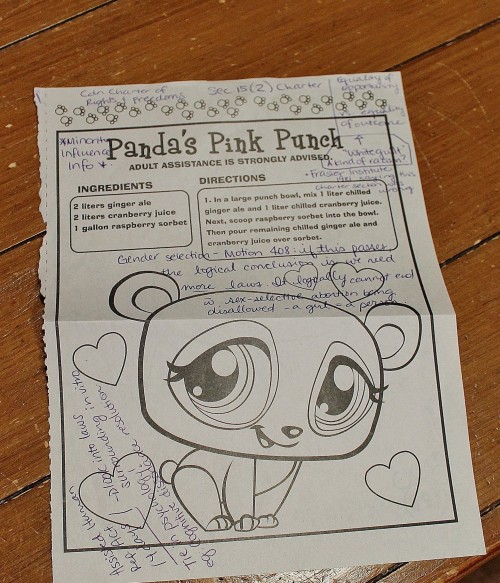 But last Friday?
We got midterm exam marks back, and it was a little disconcerting.
First, my professor gave us an extraordinarily long spiel about privacy, why he ordered the marks the way he did, the strange amount of grade variance in the results, how much time he puts into calculating grades, the fact that several people failed while several did pretty well, etc.  After much of this sort of ado, he showed the grades beside our student numbers, ordered from highest to lowest.  Naturally, we all have hope, so we all look at the top first.  And, if you're me, you start working your way down the list.
And down.
And down.
All the way down to a 46.4%.
My initial thought, quite literally, was a calm, "Oh, he's done something wrong with the way he ordered things.  Should I say something?"
HA, how arrogant is that –  I know, right?  But that's what I thought, I'm just telling you like it was.
Then I began to realize no one else in the class was saying anything…maybe their marks were all what they expected!?  Maybe I was the only one wondering what the hamskamble was going on with that Excel spreadsheet?
With that realization starting to sink in, it was my turn to stand up and do a presentation!  What a day.
So I got home and got to thinking.
46.4%?  How could this be?  I had felt ok about the exam, even told Carl I figured I'd gotten around an 80% despite my failure to study.  Suddenly studying was looking like it would have been a good idea.  I rememberd my mom's concerns in my early 20s that I was developing schizophrenia.  I considered the possibility that my alternate personality had taken over and written the exam, or that I had been in some sort of fugue state at the time of writing.  I wondered if having a newborn is taking more of a mental toll than I realized, and it's only a matter of months until I forget my own name.
I was ready to throw in the towel and start filling a post-it pad with all the thoughts I could think in the matter of days I had left of reasonable functioning.
I emailed Carl my horrific results. I couldn't tell him to his face, after he told me I should only go to school if I was going to get A's, even if he was (kind of) kidding.  He called almost immediately, shocked and amazed, and kind of laughing.  He was as sure as me that something had gone wrong in the marking.
I appreciated the vote of confidence, but began to think we were just BOTH overconfident, and wondered how he would react to knowing I was actually losing it.
So then I did the next reasonable thing, since I had no post-its and, quite frankly, no thoughts to write on them if I'd had them:  I emailed my professor.  Nothing accusatory, just a friendly request for an appointment to actually look over the exam and see, and I quote, "what went so spectacularly wrong".
Well folks, this is why you don't leave at the break in a 3-hour class, you stick it out to the end.
He HAD in fact made a mistake, and was all *HAHA, OOPS, MY BAD*.
"Oops, your bad" indeed.
I had myself halfway committed because of that OOPS!
Please figure out your spreadsheets before the final exam, kind sir.
Also, to the person who thought they got an A and actually got a 46.4% …I'm so sorry.  That, I can see, is even a worse misunderstanding than mine.