Happy Easter weekend, everyone!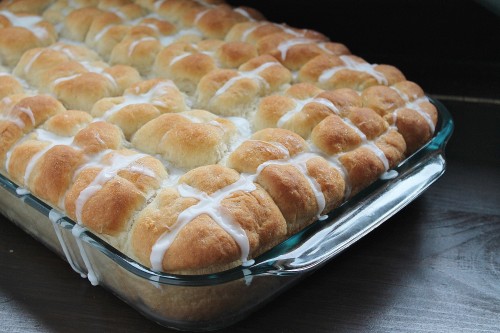 Hot cross buns were an Easter tradition in my house growing up, but this is the first time I've made them myself.  I find anything involving yeast is such a commitment for me – 3+ whole hours with the same recipe?  What if I want to look around?  What if something better comes along? What if I'm missing an opportunity passing by right beside me?
Can you tell I have issues?
But what better place to tackle commitment issues than in the kitchen? Certainly better than dealing with the same issues in a bar, I can assure you.
And as we all know, something this good is well worth waiting for (right, Carl? ;))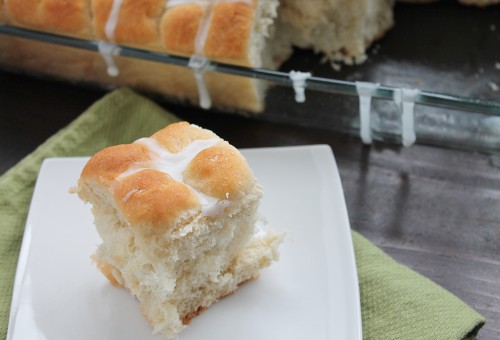 These buns are classic, simple, and comforting, an adaptation of my mom's recipe sans raisins, because, ugh, raisins.  I love raisins in poffert, but certainly don't let that little anomaly fool you about my feelings on raisins.
There is no better treat for Easter brunch than these soft, fluffy, sweet hot cross buns (of course, these can also be made as regular dinner buns by omitting the cinnamon and icing).  The rows of crosses immediately put my focus back on what the holiday is really about, a celebration of the Saviour dying on a cross, for our sins.  Grace doesn't get more amazing than that.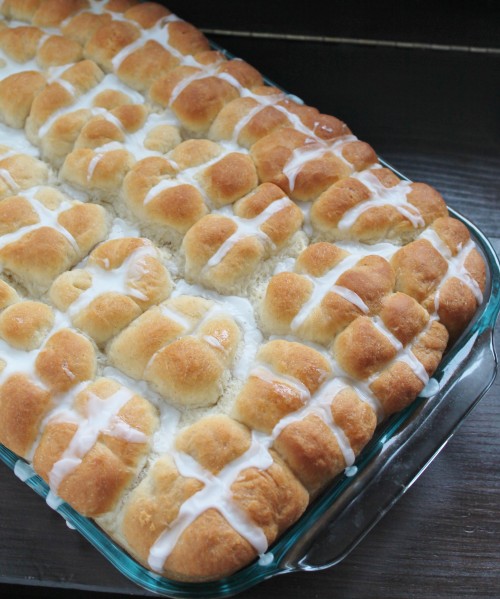 And I can't let Good Friday pass without the lyrics to one of my favourite hymns of all time…
How deep the Father's love for us
How deep the Father's love for us,
How vast beyond all measure
That He should give His only Son
To make a wretch His treasure
How great the pain of searing loss,
The Father turns His face away
As wounds which mar the chosen One,
Bring many sons to glory
Behold the Man upon a cross,
My sin upon His shoulders
Ashamed I hear my mocking voice,
Call out among the scoffers
It was my sin that left Him there
Until it was accomplished
His dying breath has brought me life
I know that it is finished
I will not boast in anything
No gifts, no power, no wisdom
But I will boast in Jesus Christ
His death and resurrection
Why should I gain from His reward?
I cannot give an answer
But this I know with all my heart
His wounds have paid my ransom.

Hot Cross Buns
Classic hot cross buns...one a penny, two a penny, hot cross buns!
Ingredients
2 tsp sugar
1 cup lukewarm water
2 pkg dry active yeast (~ 2½ tsp)
1 cup milk
½ cup sugar
¼ cup butter
1½ tsp salt
6 cups bread flour (or all purpose flour)
2 eggs, at room temperature, beaten
2-3 tsp cinnamon
2 Tbsp melted butter (for brushing on buns)
ICING:
2 cups confectioner's sugar/icing sugar
Instructions
Dissolve 2 tsp. sugar in the warm water. Sprinkle yeast into the water and let sit 10 minutes till frothy; stir well.
Meanwhile, scald milk (heat milk in a small pan just until bubbles form on the edge); remove from heat and add ½ cup sugar, butter and salt. Stir well, until butter melts.
In a large bowl (such as the bowl of a stand mixer), combine yeast mixture, milk mixture and 3 cups of the flour. Stir with a wooden spoon until smooth and elastic. Add eggs and beat well. Add cinnamon and enough of the remaining flour to make a soft dough that does not stick to the bowl. Knead with a dough hook on low speed for 8 minutes, until smooth and satiny. (By hand: knead on lightly floured surface for 8-10 minutes).
Place dough in large greased bowl, turning to grease all over. Cover with plastic wrap and let rise 1½ hours. Punch down dough.
Divide dough into 32 equal pieces. Shape each into a smooth ball. Place close together on a large greased cookie sheet or in a 10"x15" greased baking pan. Brush with melted butter. Cover with plastic wrap and let rise about 25 minutes. Cut two gashes across the tops of buns to form crosses, then let rise for another 30 minutes.
Preheat oven to 375 degrees F. Bake buns 10 minutes. Reduce oven temperature to 350 degrees F and continue baking 15-18 minutes longer, until buns are golden brown. While still warmish, fill gashes with confectioner's icing.
Confectioner's Icing: Put 2 cups confectioner's sugar in a small bowl and add 1 tsp of boiling water at a time until proper consistency is reached (usually about 2 tsp). Drizzle over warm buns.