Nothing says "Happy Birthday" like a big bowl of cereal, right?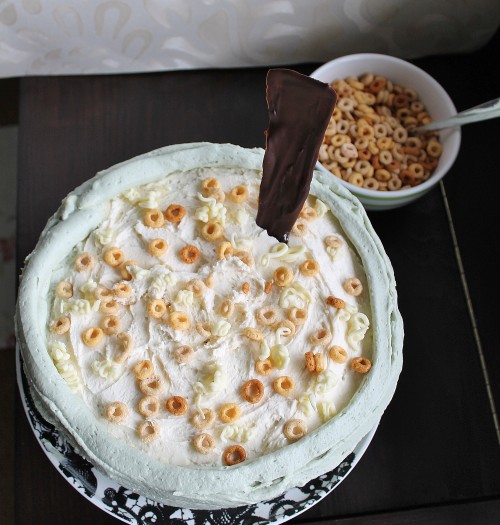 This is the best kind of birthday cake – all the birthday boy's favourite flavours, tucked under a bit of whimsy to make the family smile :)
When given our challenge for the month, cake decorating, I knew I would have the perfect excuse to make a cake since Carl's birthday fell mid-month. This also marks the first of our First on the First challenges I completed more than two days before the deadline!  Good thing, because cake decorating is normally not my thang.
I am the best at slap-dashery in the kitchen: a little of this, a little of that, a lot of distraction and guesstimation.  Cake decorating is precise, careful, and pretty.  I stand by my claim that patience is half the battle in cake decorating, and probably closer to 96% of the battle.
Carl loves cereal, so when I saw this cake that looked like a bowl of cereal I knew I had to make it.  Sometimes I do silly things just to make him smile, since he has the best crow's feet by his eyes when he smiles (s'ok, you can gag and roll your eyes, I get it), and this cake definitely fit the bill.  It made the kids happy too, and couldn't be easier, which made me happy too!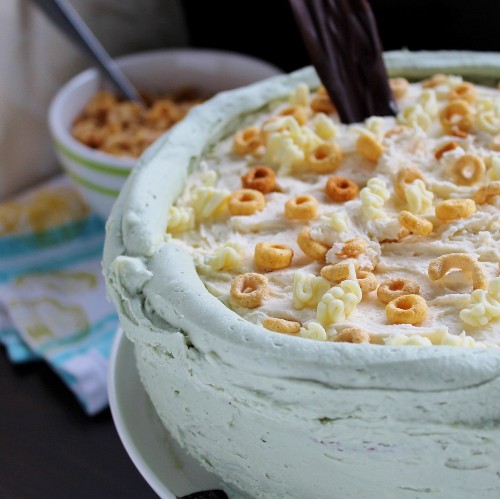 Although, you must check out the original cereal cake – I'm thinking this is up there with this classic comparison shot.
You can certainly make your own lemon curd for this recipe – I did, using this recipe, but I'll warn you right now, it is all kinds of boring, and this is coming from someone who genuinely loves watching paint dry.  If you love standing by the stove whisking for 10-15 minutes, then by all means, because it turned out seriously delicious!  But delicious enough to prevent me from buying it next time?  Only if I have four egg yolks sitting in my fridge again needing to be used. :)
Anyway, you can do this with any cake you like – I doubled this lemon cake recipe and made it in a bundt pan thinking if I turned it upside down it would give me a nice bowl shape – HA :)  But the cake paired really well with the lemon curd and raspberries (obviously), and the lemon white chocolate buttercream was a good finishing touch!  My icing wasn't the smoothest since I used white chocolate chips instead of proper melting chocolate, and probably also because I used white chocolate pudding powder for the flavour…so I won't bother you with my recipe :)  Here's a similar one that looks really tasty and much more foolproof, which I would've made if I'd had the forethought to have all the ingredients!  I'm not generally a white chocolate fan, but somehow, paired with lemon and raspberries, it is just the thing.
So I don't have a recipe for you today, more just an idea for a really simple, entertaining birthday cake, and a recommendation to look at the original version of the cake and admire what could have been :)  Patience, you are a virtue I will continue to work on.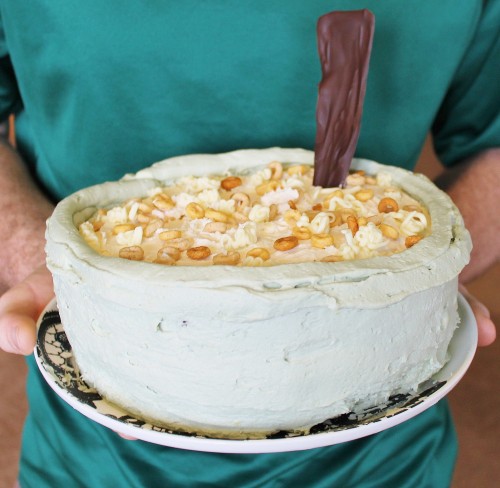 If you want to join us in our First on the First venture next month, it's easy and we'd love to have you!