When I think of Valentine's Day, the first thing that comes to my mind is chocolate-dipped strawberries.  I am not one for romance, as my poor husband can attest – I am as likely to make gagging noises and roll my eyes as I am to feel frisky when he pulls out a good line about my good looks and charm, or some other such nonsense.
I'm allergic to pollen, so flowers have never been a good gift for me.  Neither are stuffed animals, as a dust allergy relegates those to far corners as well.
So that leaves us with chocolate.  And I will never say no to chocolate.  Well, white chocolate, maybe, but never dark chocolate, and I won't turn up my nose too quickly at semi-sweet or milk chocolates either.  And if that chocolate is wrapped around one of my favourite fruits?  All the better to EAT you with, my dear!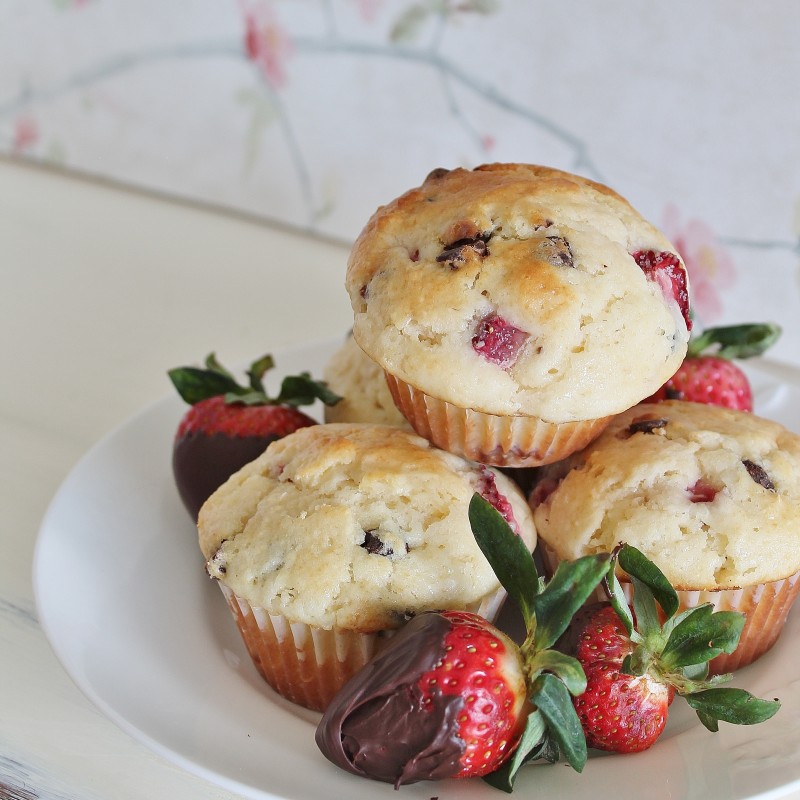 It doesn't get any easier than chocolate-dipped strawberries for a quick romantic treat with a glass of wine, and today one of my favourite treats takes on muffin form for a perfect Valentine's breakfast.  Not too sweet, not too sappy, but just special enough to make you smile.
I was trying to figure out how to actually get chocolate-covered strawberries in the muffin batter instead of keeping the two separate, but brilliance eluded me.  If you have any ideas on how to accomplish that I'd love to hear them!  As it stands, these are one of my favourite (and most popular) berry muffin recipes, minus a little sugar and plus a little chocolate and strawberry.  My family loved these, and I had the foresight to freeze a couple to enjoy on Valentine's Day too.  Since it's a special day, I don't see anything wrong with pairing it with a glass of your favourite wine.  Start your Valentine's Day off right, and be in a better frame of mind when you see the first lip-shaped pillow or bouquet of chocolate roses show up at work :)
If scones are more up your alley, remember those fabulous heart-shaped buttermilk scones my mom shared with us last Valentine's Day?  You can never go wrong with those either!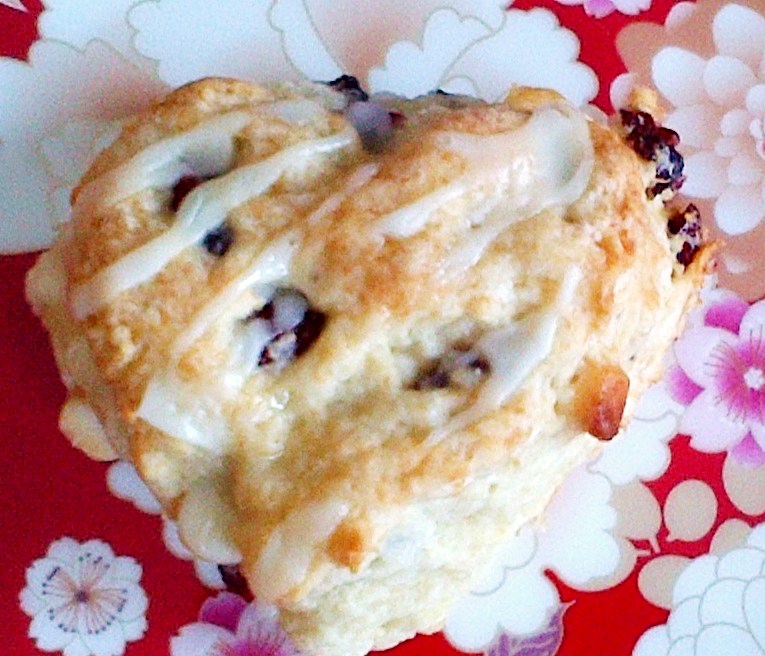 So that's breakfast taken care of…check back tomorrow for a quick and impressive dessert…and for lunch, I suggest a Grilled Nutella & Strawberry Sandwich with your leftover strawberries :)
Do you have any Valentine's traditions or foods you associate with the holiday?

Ingredients
½ cup butter or margarine, melted and cooled
1 cup milk
1½ tsp vanilla
2 eggs
2¼ cups flour
¾ cup sugar
4 tsp baking powder
½ tsp salt
1 cup chopped strawberries, tossed with 1 Tbsp all purpose flour (this prevents them from all sinking to the bottom of your muffins)
½ cup semi-sweet or dark chocolate chips (see note)
Instructions
Preheat oven to 400º. Line 12 cup muffin tin with paper liners or spray with non-stick cooking spray.
In small bowl, whisk together butter, milk, vanilla, and eggs.
In large bowl, whisk together flour, sugar, baking powder and salt. Make a well in centre of dry ingredients. Add wet ingredients and stir just until combined (do not overmix). Gently fold in berries and chocolate chips.
Divide batter over 12 muffins (cups will be quite full).
Bake for 18-20 minutes or until lightly golden and a toothpick inserted in the center comes out clean. Let stand for 5 minutes before removing from pan to cool on a cooling rack.
Notes
I used regular chocolate chips, but miniature ones would be even better to get chocolate into every bite! These are just as good with half the flour subsituted with all-purpose whole wheat flour. Add a drizzle of orange glaze (confectioner's sugar and a bit of orange juice) if you prefer a bit more sweetness.