I am at heart a learner.  I love the fact that it really is possible to learn something new everyday.  Of course, with 3 preschoolers around, many a day goes by where the only kind of information I learn is that the words to the song are NOT "found me another one, prettier too, skip to ma lou my darling", but RATHER, "found me a crayon, purple one too, skibdooalooo my darling".
While this is, of course, valuable insight, sometimes I like to learn things that might help me make better decisions, become a more interesting conversationalist, or improve the health of my family.  "The Complete Gluten-Free Whole Grains Cookbook" is that kind of learning. (Ok, arguably it will not make me a more interesting conversationalist, because really, do people want to talk about their fibre intake at parties?)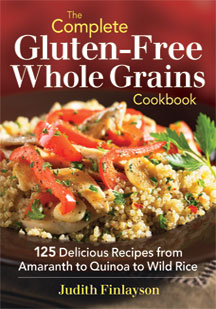 This cookbook is packed with accessible gluten free recipes, from baking to meal ideas, and it is also full of information about each of the whole grains featured: where they're from, what they're good for, and how to cook and store them properly.  With clear photos of each of the grains, and some new-to-me grains such as Job's tears (common in Asia and considered to have anti-inflammatory properties useful in treating arthritis), it's definitely worth picking up even if you don't need to eat gluten free.
Whole grains are good for all of us, with studies showing their benefits in everything from lowering heart attack risk to fighting gum disease to keeping weight under control.  I know for myself I often struggle to think outside the side-dish box, sticking mainly to potatoes, pasta, and the occasional rice or quinoa.  This book has great ideas for how to incorporate more whole grains into main dishes for every meal, which can also mean less meat and a lower grocery bill, as most whole grains are super affordable, even when cooking for a large family.
There are certainly a fair share of recipes in this book that will require ingredients you may not stock if you don't eat gluten free all the time, but there are also a lot of recipes, such as the Peppery Chicken Quinoa below, that you will be able to enjoy without any special ingredients.  This one also happens to be an easy one-dish meal, perfect for a busy night!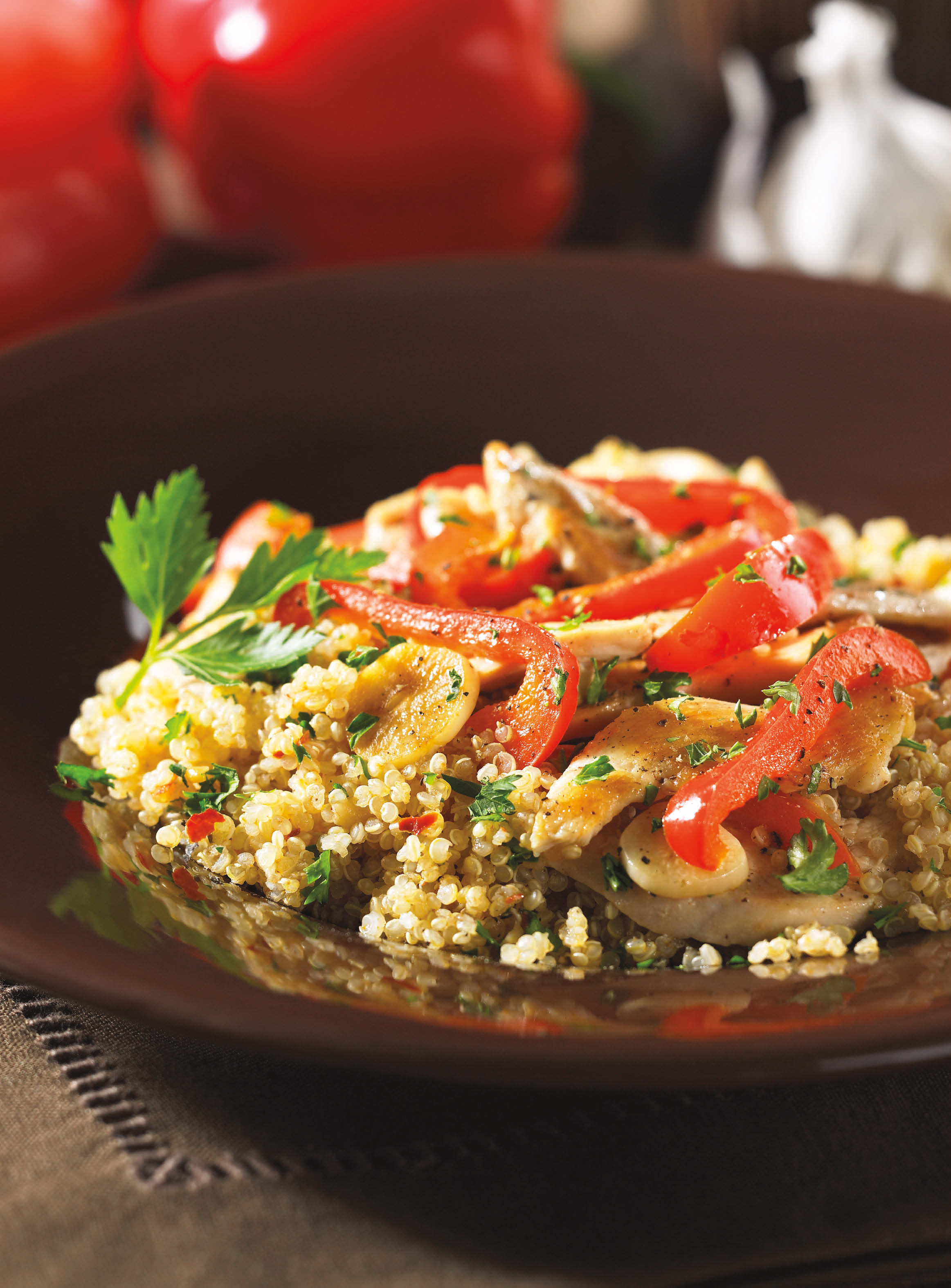 Also, the photographs are really stunning.
Enjoy, and if you have any questions about whole grains, shout 'em out! I'd be happy to report back :)
Do you already use a lot of whole grains in your cooking?  What's your favourite one to work with?
Peppery Chicken Quinoa
Not only is this dish pretty to look at, it's very easy to make. Enjoy this when peppers are in season. It makes a great one-dish weeknight meal.
Author:
Judith Finlayson (recipe reprinted with permission)
Ingredients
3 cups (750 mL) reduced-sodium chicken stock (see note), divided
1 tbsp (15 mL) harissa, optional (see note)
1 cup (250 mL) quinoa, rinsed and drained
3 tbsp (45 mL) extra virgin olive oil, divided
1⁄2 tsp (2 mL) cracked black peppercorns
1 lb (500g) skinless boneless chicken breasts, thinly sliced
4 cloves garlic, thinly sliced
3 red bell peppers, seeded and cut into thin strips
2 tbsp (30 mL) sherry vinegar
1⁄4 cup (60 mL) finely chopped parsley
Instructions
In a saucepan over medium heat, bring 2 cups (500 mL) of the stock to a boil. Stir in harissa, if using. Add quinoa in a steady steam, stirring constantly, and return to a boil. Reduce heat to low. Cover and simmer until tender, about 15 minutes. Remove from heat and let stand for 5 minutes. Fluff with a fork.
Meanwhile, in a large skillet or wok, heat 1 tbsp (15 mL) of the olive oil over medium-high heat. Add black peppercorns and stir well. Add chicken and cook, stirring, until it turns white and almost cooks through, about 5 minutes. Transfer to a plate.
Add remaining 2 tbsp (30 mL) of oil to pan. Add garlic and cook, stirring, just until it begins to turn golden, about 2 minutes. Add bell peppers and cook, stirring, until they begin to shimmer, about 2 minutes. Add remaining 1 cup (250 mL) of stock and sherry vinegar and cook until mixture is reduced by half, about 8 minutes. Return chicken to pan and toss until heated through. Remove from heat.
To serve: Spread cooked quinoa over a deep platter and scoop out an indentation in the middle. Fill with chicken mixture and garnish with parsley.
Notes
If you are using prepared stock, check the label to make sure it doesn't contain gluten. Harissa is a North African chili paste. Prepared versions may contain gluten, so check the label. If you don't have it, pass your favorite hot pepper sauce at the table to satisfy any heat seekers in the group.
Excerpted from
The Complete Gluten-Free Whole Grains Cookbook
by Judith Finlayson © 2013 Robert Rose Inc.
www.robertrose.ca
May not be reprinted without publisher permission.
*Disclaimer: I was provided with a copy of this cookbook for review.  I was not otherwise compensated for this post and all views are, of course, completely my own. I like whole grains and I like having more options to make for my two sisters who need to follow a gluten free diet.