Facebook friends.  Mostly they make me feel unproductive, unsexy, and unsmart.  They are always DOING things, looking CUTE, and posting links to interesting articles or pulling out pithy quotes that I'm unsure if they made up themselves or lifted from Eleanor Roosevelt.
But, being a pretty unaffected-by-others person, I love me some Facebook.  While these friends may be less helpful than real-life friends in many ways, they know their stuff.  Want to know the best place to eat in your city?  Everyone's favourite brand of vacuum?  How to potty train your guinea pig?  They have been there, done that, and are willing to help.
And you certainly can't fault them for their recipe recommendations.  If someone posts a link to something they make regularly with a few supportive words, you can pretty much bet I'll be making that recipe.  If you are my Facebook friend, I trust your taste in food.  It makes no logical sense, I know, but I'm telling you it works.  That's how this recipe gem fell into my regular dinner rotation a few weeks ago.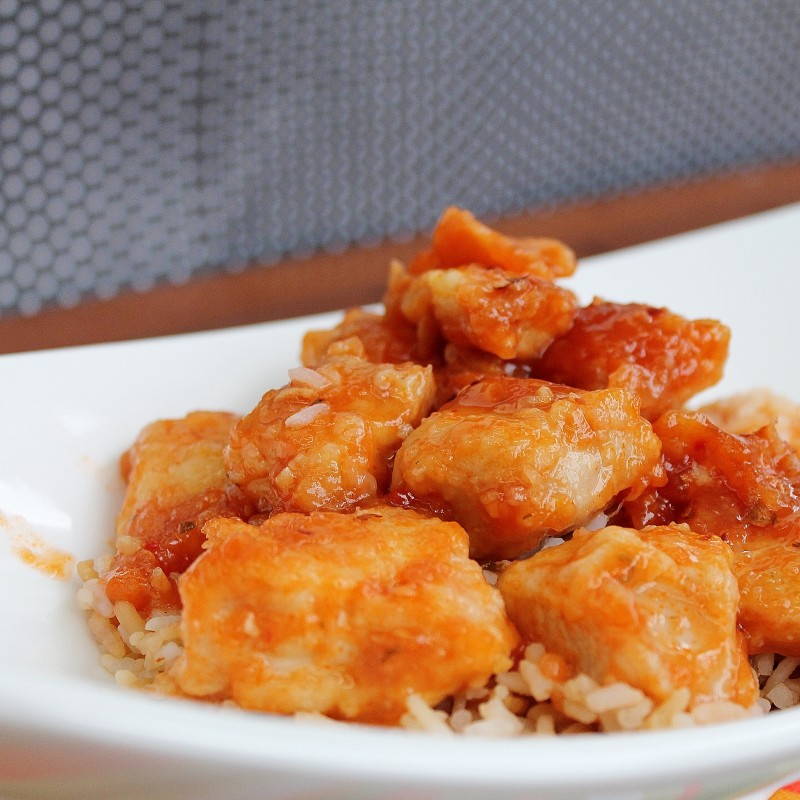 We don't eat out or order in much, a layover I think from our years as starving students (I'm still a student, but at least now I'm not usually starving).  Plus, three kids do not you the favourite person make when you head out to a nice establishment.
When we do order in, one of Carl's top choices is Chinese.  As a big guy, he appreciates the ridiculous nature of the portion sizes bad Chinese food is famous for.  At the food court he will snicker at my 6″ sub sandwich and dig into his rice, chow mein, chicken, and pork feast.  Now I'm well aware that what we call "Chinese food" is really nothing like the food you would eat if you lived in China, but with Sweet 'n' Sour Chicken this good, who cares?  Also, this doesn't come with the wrenching gut death of those massive boxes of cheap Chinese food. Nor do you have to use chopsticks.
Sure, it's a bit more work and I have NO WORDS for how horrible the cornstarch-and-egg coated chicken feels on your fingers, but the result is chicken with perfect texture and sweet-sour flavour, and the trademark bright colour I associate with the dish.  Also, I love that cornstarch is used since that means this dish is gluten free!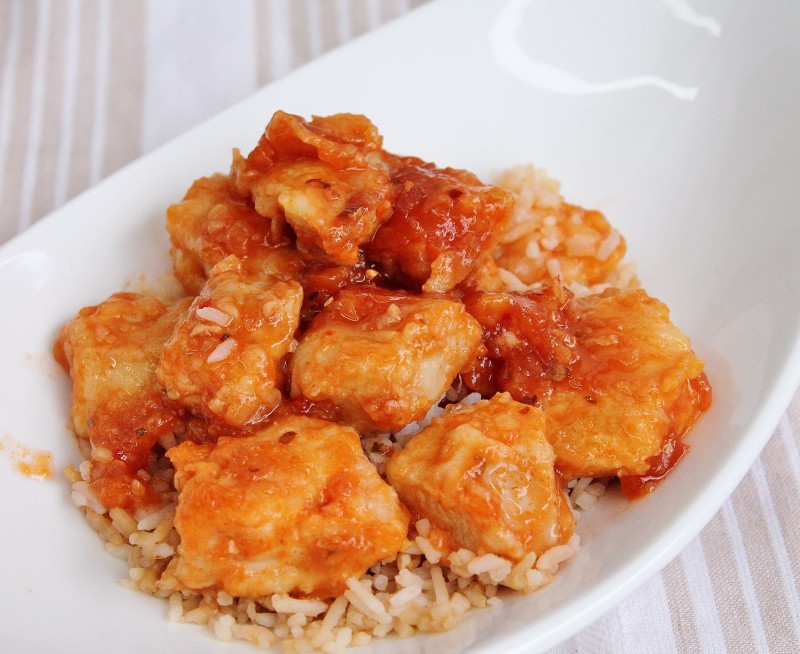 I just may be won over by rice yet, if I keep finding recipes like this to serve it with.
Thank you to whoever shared this recipe on Facebook – please keep telling me about your delicious dinners so I can make them too!  And of course, thanks to Mel's Kitchen Cafe for the recipe that's making so many people happy :) Add this to your meal plans for next week – you're gonna love it!

Sweet & Sour Chicken
Ingredients
3-4 boneless, skinless chicken breasts, cut into 1" pieces
Salt and pepper
1 cup cornstarch
2 large eggs, beaten
¼ cup canola oil
SAUCE:
¾ cup granulated sugar
4 tablespoons ketchup
½ cup apple cider vinegar
1 tablespoon soy sauce
1 teaspoon garlic salt
Instructions
Preheat oven to 325 degrees F. Lightly grease a 9x13" baking dish and set aside.
Heat oil in a large skillet over medium heat while you prep the chicken. Season the chopped chicken with salt and pepper. Place the cornstarch in a large Ziploc bag, add the chicken and seal, tossing to coat the chicken. Whisk the eggs together in a shallow pie plate. Dip the cornstarch-coated chicken pieces in the egg and place them carefully in a single layer in the hot skillet (They should sizzle immediately. You won't be able to fit them all at once, cook the pieces in batches). Cook for 1-2 minutes and then flip each piece over to cook on the other side for 1 minute until golden but not all the way cooked through. Place browned pieces in a single layer in the prepared baking dish and repeat with the remaining chicken pieces.
Mix the sauce ingredients together in a medium bowl and pour evenly over the chicken in the baking dish. Bake at 325 degrees for one hour, stirring once or twice to coat chicken evenly with sauce. Serve over rice or noodles.