I've posted homemade marshmallows before.
For someone who had only ever tasted (and not liked) store bought marshmallows, they were a revelation in what a marshmallow is supposed to be.  I can't go back to store bought ones, and homemade ones are such an easy and fun science experiment that they are well worth the time for the rare occasion when I need marshmallows.
So why, you may ask, am I posting homemade marshmallows again?
Well, the previous recipe contained egg whites.  While some people have qualms about raw egg whites, I am not one of those people.  However, allergies are different than qualms, and something I much more readily accommodate.  When my family was here over Christmas, I promised to bring along a dessert for Christmas dinner that my sweet sister Erin could eat.  Erin can't eat gluten, dairy, or eggs.
As you can imagine, I was briefly stymied.  All the sweets you've seen on this site have pretty much all those ingredients. I started by searching a very popular, well-known blog and found a recipe that only required me to buy the appropriate gluten free flour.  The results were, as Carl tactfully put it, quite possibly the worst cookies ever made.  Thinking it was me and my trouble with math (I was trying to double the recipe), I tried again, with a single batch.  The results were just as terrible.  It's not often I throw food away, but I had nightmares about the after taste of those cookies for days.
It was back to the drawing board, and my mind went to marshmallows.  I knew my recipe had egg whites in it, but I remembered the mixture looking and tasting very marshmallow-like before those egg whites were added, and a quick Google led me to discover that other people had tried this successfully.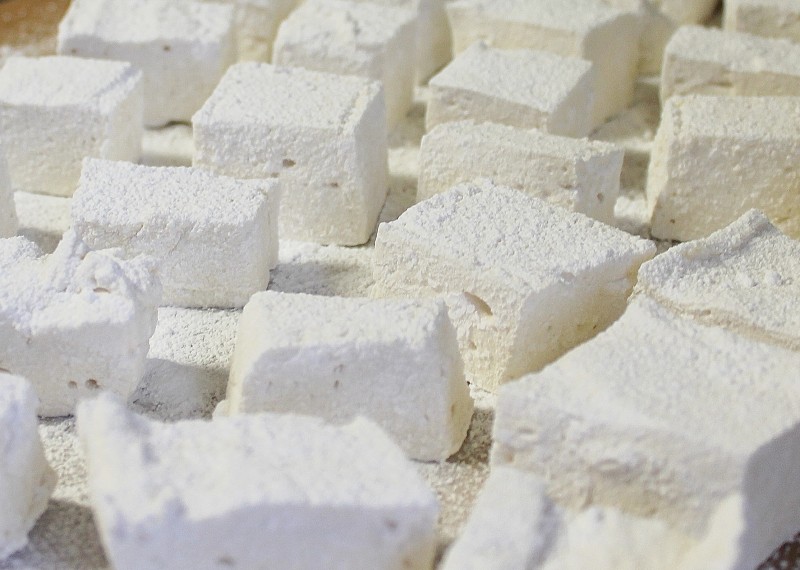 These were a big hit, a perfect sweet bite that is gluten, dairy, and egg free but doesn't require you to buy a single special ingredient.  You can also change them up by adding different extracts, or mix in some cocoa powder for chocolatey marshmallows.  If drizzling with chocolate, ensure you buy dairy free chocolate (Enjoy Life makes great chocolate chips and chunks out of all natural ingredients, which is what I used here).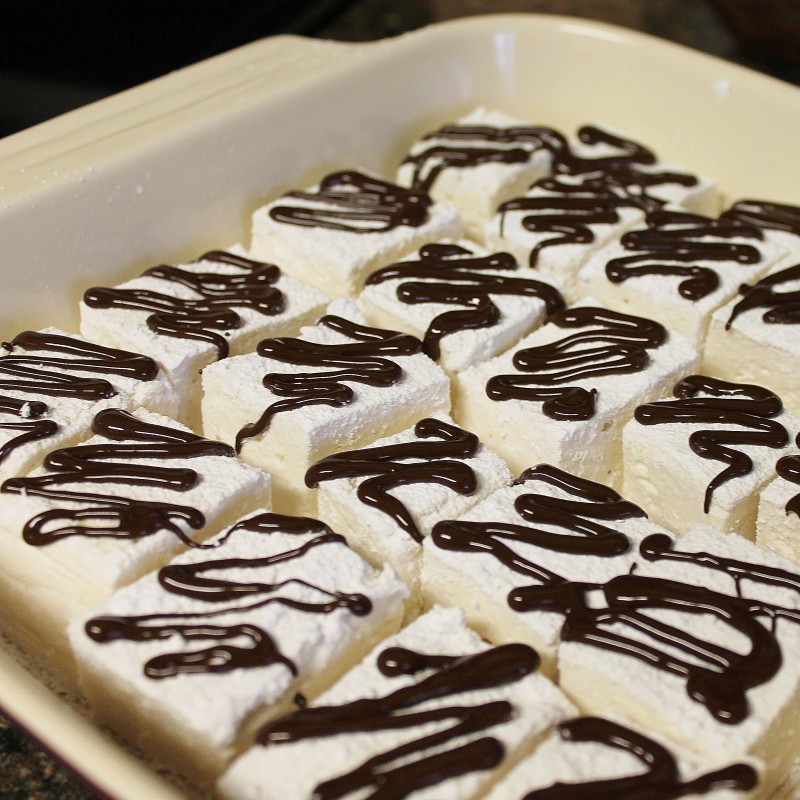 The differences I noticed between these and the egg white ones was that these were slightly softer and stickier, so the ones I ate the next day could've used another roll in icing sugar to prevent sticky fingers.  They also don't bake the same – I used some on top of my S'mores Bars and they didn't hold their shape nearly as well as the egg white version did.  In taste and texture, however, these marshmallows were just as good, so whether you're dealing with allergies or qualms about raw egg whites, you're sure to love these infinitely more than store bought marshmallows.  And they melt just beautifully into a mug of hot chocolate :)
If you know of other desserts without gluten, dairy, or egg that don't require any unusual ingredients I'd love to hear about them!
Have a great weekend everyone!

HOMEMADE MARSHMALLOWS (egg, gluten, and dairy-free)
A fluffy, soft marshmallow perfect to enjoy on its own or in a big steaming mug of hot chocolate.
Ingredients
Non-stick cooking spray
2 tablespoons plus 2 teaspoons powdered gelatin
1⅓ cups cold water, divided
¾ cup plus 2 tablespoons light corn syrup
1¾ cups granulated sugar
1 tablespoon vanilla extract
Pinch of salt
1 cup confectioner's sugar/powdered sugar
Instructions
Lightly coat a 9x13" baking dish with nonstick cooking spray, then line the dish with plastic wrap. (The cooking spray will hold the plastic wrap in place.) Spray the plastic wrap with non-stick cooking spray as well. Set aside.
Whisk together the gelatin and one cup of cold water in the bowl of a stand mixer. Allow to sit while you prepare the sugar mixture.
In a small saucepan, combine the corn syrup and granulated sugar.
Add ⅓ cup water and just barely stir - you want all the the sugar to be damp but to stay a bit away from the edge of the pan to prevent scorching.
Cook over high heat until the sugar reaches the firm ball stage, 245 degrees F on a candy thermometer (about 7-8 minutes).
Remove the pan from the heat and allow to cool to 225 degrees F, about 10 minutes.
When it has cooled, turn the mixer on low with the paddle attachment and slowly pour a stream of the sugar syrup down the edge of the mixer bowl into the water and gelatin mixture.
Once all of the syrup has been added, turn the mixer up to medium-high speed.
After 5 minutes of mixing, add the vanilla and salt.
Continue mixing until the mixture is very thick and the bowl feels cool, about 15 more minutes.
Fold in additional flavouring, if desired.
Pour the mixture into the prepared baking dish and smooth the top with a spatula coated in non-stick cooking spray.
Cover lightly and refrigerate until set, about 2-3 hours.
When the marshmallows have set, coat a large cutting board or jelly roll pan with ¼ cup of the confectioners' sugar.
Invert the marshmallows onto the confectioner's sugar and peel back the plastic wrap from what is now the top of the marshmallows. Cut into approximately 1" cubes with a large knife or pizza cutter sprayed with non-stick cooking spray.
Put the remaining ¾ cup confectioners sugar in the pan you just took the marshmallows out of and roll the marshmallows in the sugar to coat all 6 sides.
Drizzle with or dunk in chocolate, if desired.
Makes about 80-100 marshmallows, depending on size.
Notes
Try adding different extracts, food colouring, or cocoa powder to the mix - mint chocolate marshmallows, pink strawberry marshmallows, yellow lemon marshmallows...the possibilities are endless, and they are perfect party food as they can be made to fit any theme.
Source: Adapted from
Love and Flour
and
Smitten Kitchen
.