LEFTOVERS.
People seem to love 'em or hate 'em, and I love a good set of polarized camps!  I am that person that just has to take a stance on an issue, whether I really feel strongly about it or not, because I feel very uncomfortable sitting on the fence.  So here you have it: I LOVE LEFTOVERS!
Feel free to disagree with me, but I'll warn you that I can get pretty uncivil.  And I have reasons to back up this stance.
Up with extra food in my fridge!  Food that is ready to be eaten! Food that makes my microwave worthwhile! Food that proves I managed to make dinner last night!  Success.
But sometimes leftovers get out of control.  Like after big holidays.  Yes, I'm looking at you, Christmas.
Eggnog? Gravy? These things are hard to use up, especially if you have long since run out of rum and turkey.
I was worried my vibrant cranberry sauce was going to go the route of those odd leftovers, when I remembered how great all things are encased in brown sugar, butter, and oats.  These bars can just as easily be made with canned pie filling or canned cranberry sauce, but this homemade cranberry sauce seriously couldn't be easier.  You put some cranberries, sugar, and orange juice in a pan, let it cook for 10 minutes, and voila!  Tart, sweet cranberry sauce with a hint of zesty orange flavour.  If you like your cranberry sauce classic, with the gorgeous bright colour of fresh cranberries, the simple recipe I've included here delivers on all counts.  And if you like oat bars at all, you're gonna love these.  Leftovers or not, these are worth making cranberry sauce for at any time of year.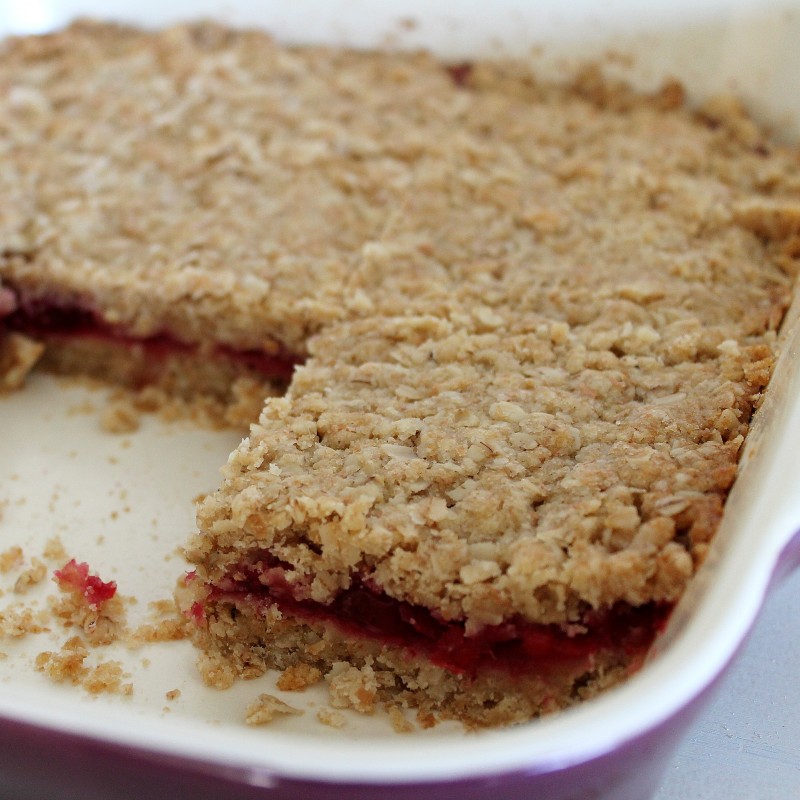 I didn't have much cranberry sauce leftover, so my middle layer is fairly thin with a high oat to fruit ratio, which was fine with me because I luuuuurve the oats, but you could certainly make the middle layer thicker if you prefer, if you have more leftover cranberry sauce or want to add a few extra berries – throwing in some fresh raspberries would not be out of place at all!  Just make sure you let the bars cool before cutting if you want nice crisp cut lines.  If you want to eat it warm, scoop it out as more of a fruit crisp and top with some ice cream – you really can't go wrong either way.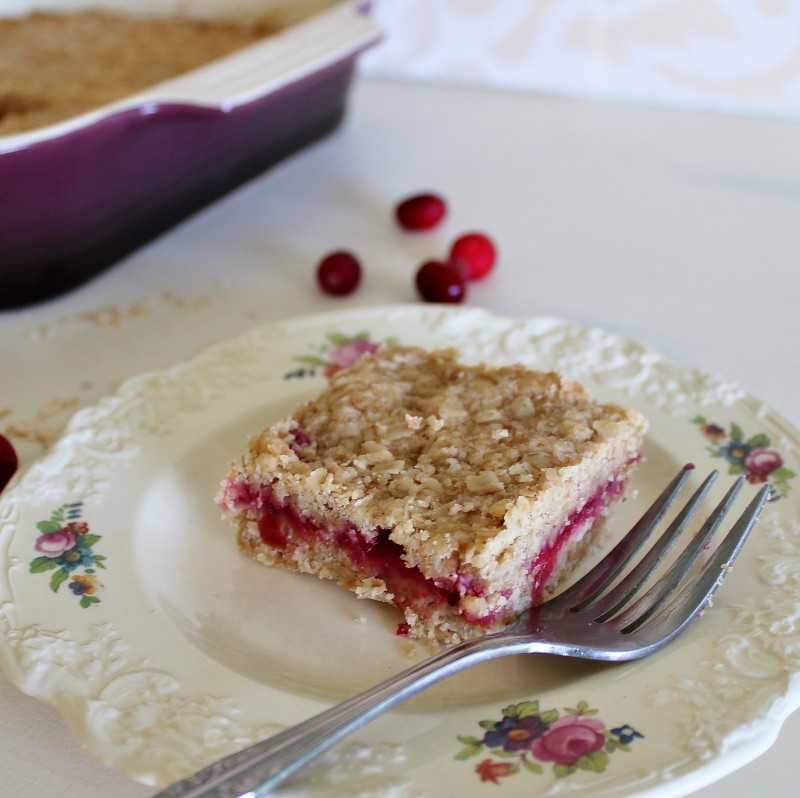 And never fear, I have a great recipe coming your way tomorrow that uses up some of that leftover eggnog.  We don't let even the grossest leftovers go to waste 'round these parts.
I know you'll love these bars because they have the best ingredients (brown sugar, butter, and oats!) all in one place, they're easily adaptable to your favourite fruit since you can substitute any pie filling for the cranberry sauce, and they're great for little hands to help with.  My 2-year-old son has become my usual kitchen helper, and this recipe involves digging your hands into the ingredients to get them combined – he was in his little boy glory and I didn't have to get my hands dirty. Happiness abounds :)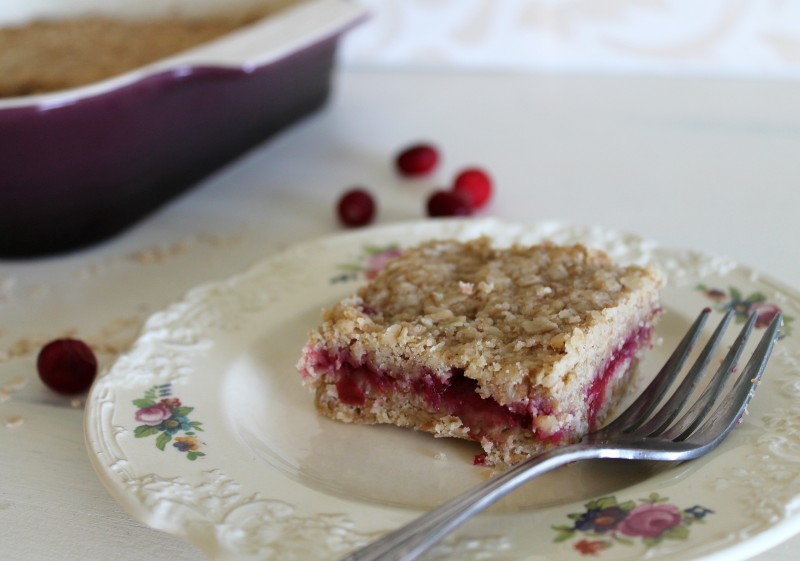 Cranberry Sauce Oat Bars
Ingredients
1½ cups whole wheat flour
½ tsp baking soda
1 tsp baking powder
¼ tsp salt
1 cup butter or margarine, softened
1 cup brown sugar
1½ cups quick oats
1½ - 2 cups cranberry sauce (recipe below)
INGREDIENTS FOR CRANBERRY SAUCE:
1 cup sugar
¾ cup orange juice
1 bag (12 oz) whole cranberries
1 tsp cornstarch
Instructions
Combine flour, baking powder, soda and salt. Rub in butter with fingers or cut in with pastry blender. Add brown sugar and oats. Mix well with fingers.
Spread ½ of the crumbs in a greased 9x13" or 11"x11" pan. Pat to smooth.
Cover with cranberry sauce.
Cover with remaining crumbs. Press down firmly.
Bake at 325º for 30-35 minutes, then increase heat to 375 and bake another 3-5 minutes to brown slightly. Allow to cool in pan before slicing into squares.
FOR CRANBERRY SAUCE:
In a medium saucepan over medium heat, stir together sugar and orange juice until sugar is dissolved. Stir in the cranberries and cook until the cranberries start to pop (about 10 minutes). Very quickly stir in cornstarch and let simmer for another minute. Remove from heat and mash with the back of a fork to achieve desired consistency - personally, I don't like any whole berries to be left standing :)
Let cool to room temperature. Sauce will thicken as it cools. Store at room temperature or in the fridge for up to a week.
Notes
These bars can be stored in an airtight container (or covered in the baking dish) at room temperature for up to a week. They can be frozen for longer storage. The cranberry sauce can be made ahead, as it keeps very well, covered, at room temperature or in the fridge for up to a week. Source: Original Hidden Ponies recipe