I've been seeing cookie dough dip variations everywhere lately, on Pinterest, other blogs, and even when hanging out with my big sister.  If you're like most people I love, finding a way to legitimately eat massive quantities of cookie dough as an appetizer sounds like a great idea.  And you'd be right.  My sister makes a mean cookie dough dip, which I have been known to consume in not-insignificant quantities.
However, I have to be the party pooper here and break the  news.  I've eaten my fair share of cookie dough, and I consider myself something of an authority on how cookie dough tastes.  "Cookie dough dip" does not taste like cookie dough.
Unless you put a brick of cream cheese in your cookie dough?
Which I have done (remember THESE cookies?), but still, that dough tasted much more cookie dough-like than cookie dough dip does.  Just because there are chocolate chips and a bit of butter and brown sugar does not a cookie dough make, and "cookie dough dip" is proof of that.
But still, I didn't want to stop eating this dip – I just wanted to stop thinking it was going to taste like cookie dough, because really, who needs that kind of disappointment?
Instead, let's just call this another kind of cream cheese dip.  With that in mind, if you like cream cheese, I think you'll love this creamy, peanut butter-y dip which mildly resembles cookie dough and comes together in five minutes flat.  I personally think it's best eaten with crisp, sweet apple slices, but it wasn't half bad slathered on graham crackers either. This quick, easy combo has been my evening snack for too many evenings in a row, but with the apples I can convince myself it's not so bad :) If you're feeling adventurous or low on sugar, toss in some toffee bits or swirl in some caramel sauce…you can't go wrong with caramel apples either!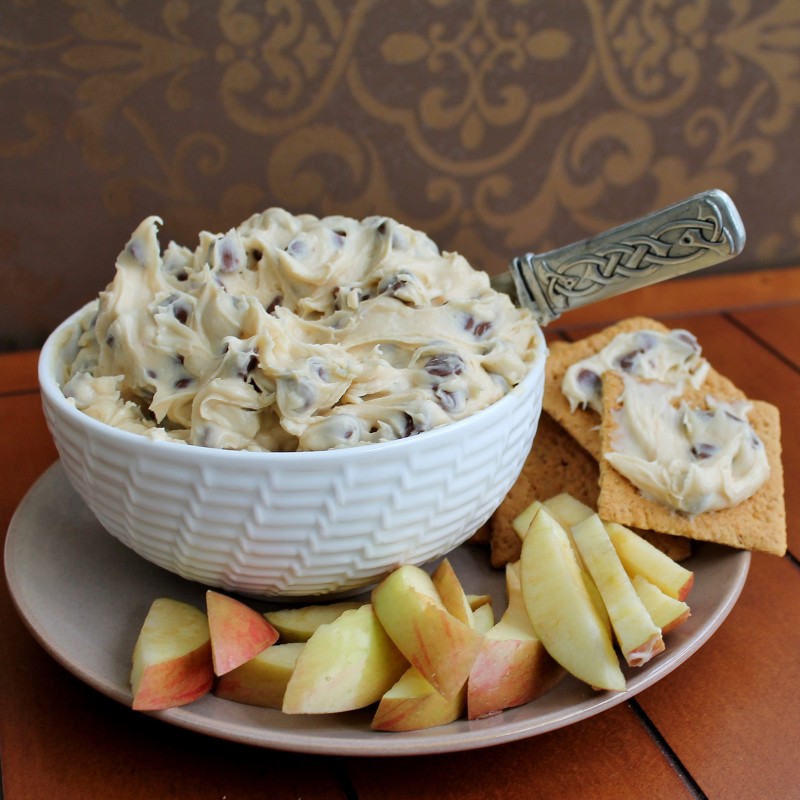 *ps: I have PLANS, people, and a REAL cookie dough dip, one that actually tastes JUST LIKE cookie dough, is coming soon to a blog near you. Basically, we're just making this eggless cookie dough a bit thinner and dipping things in it.

Peanut Butter Cream Cheese Dip
Ingredients
1 (8 oz/250g) package full fat cream cheese*
½ cup butter, at room temperature
2 Tbsp peanut butter
1 cup powdered sugar
4 tablespoons brown sugar
1½ teaspoons vanilla
1 cup chocolate chips, preferably milk chocolate
Instructions
Cream together cream cheese, butter, and peanut butter until very smooth.
Add all remaining ingredients and mix until well combined.
Serve with graham crackers or apple wedges.
Notes
*You can use low fat cream cheese, but the dip will have more of a "whipped", creamy consistency than if using full fat cream cheese. We enjoy it both ways! Makes about 1½ cups of dip.