Who doesn't want to eat happiness?
I know I do.
You may know these as peanut butter blossoms, kiss cookies, or any other number of names – they're a popular cookie with many variations, including my mini egg ones for Easter.  Growing up, one of my sisters dubbed these "happy cookies", and the name stuck.  In our family cookbook, if you want to make these, you're looking under "H" in the index :)
A huge thank you to my sister Sarah who made the cookies you're seeing with her kids and was kind enough to snap me some photos – if you're wondering, as I was, how some of the kisses came out round, it's because those are Aero balls :)  Since these are called Happy Cookies, don't limit yourself to the traditional kisses – grab whatever makes you happy and press it into the top of a warm, soft, peanut butter-y cookie.
Ok, maybe limit yourself to food, don't press the people or pets that make you happy into these cookies.  Rather, press these cookies into them.  They will love that more.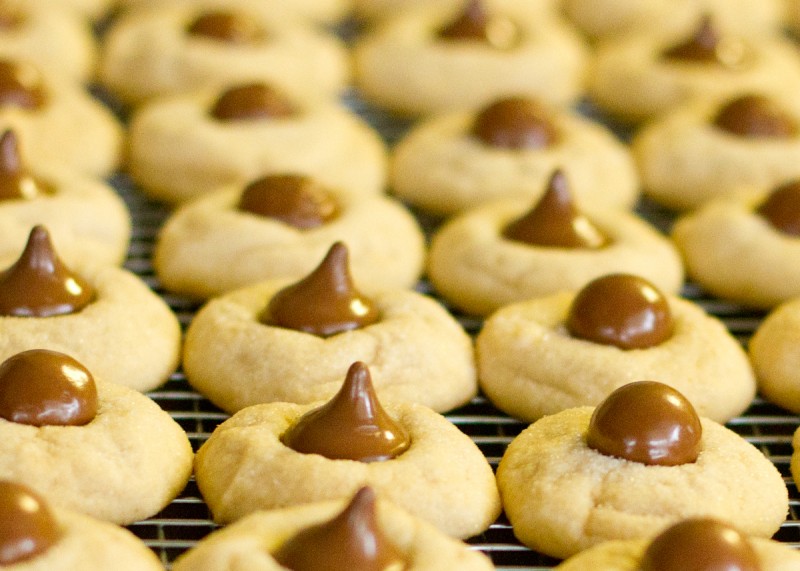 Perfect for a cookie exchange, a hit with adults and kids alike, peanut butter and chocolate remain one of my favourite treat combinations.  If peanuts are off limits or you just want some other options, since 'tis the season for the wonderful tradition of bake exchanges, here are a just a few of our other favourites that travel well, freeze well, and are sure to please in the flavour department.
Lemon White Chocolate Sugar Cookies
Whipped Shortbread (my personal favourite)
Bake exchange or not, I highly recommend making every one of these. But for today, start with happiness in a cookie :)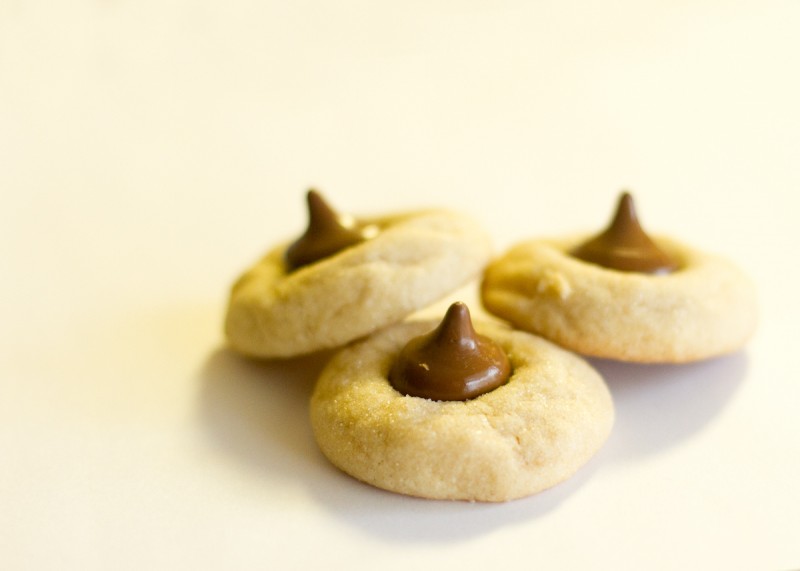 Happy Cookies
Classic peanut butter blossom cookies.
Ingredients
1¾ cups flour
1 tsp baking powder
⅛ tsp baking soda
½ cup butter or margarine, softened
½ cup peanut butter
½ cup sugar
½ cup packed brown sugar
1 egg
2 tbsp milk
1 tsp vanilla
sugar for rolling balls in
chocolate kisses or other chocolates for cookie centres
Instructions
In medium mixing bowl, stir together flour, baking powder and soda. Set aside.
In large mixing bowl, beat butter and peanut butter on medium speed for 30 seconds. Add sugars and beat until fluffy, another 2-3 minutes.
Add egg, milk and vanilla and beat well.
Gradually mix in flour mixture until well combined.
Shape dough into 1" balls. Roll in additional sugar to coat. Place balls on an ungreased cookie sheet.
Bake at 350º for 10-11 minutes, until edges are set and bottoms are lightly browned. Remove pan from oven and immediately press a chocolate into the centre of each cookie. Remove and cool completely on racks.
Makes about 50 cookies.
These cookies are linked up at
Taste and Tell
for Cookie Month!