Has it actually been a whole week since we chatted?
Oh dear.
I've been working hard though, much to Carl's amusement when he comes home late at night to sights like these: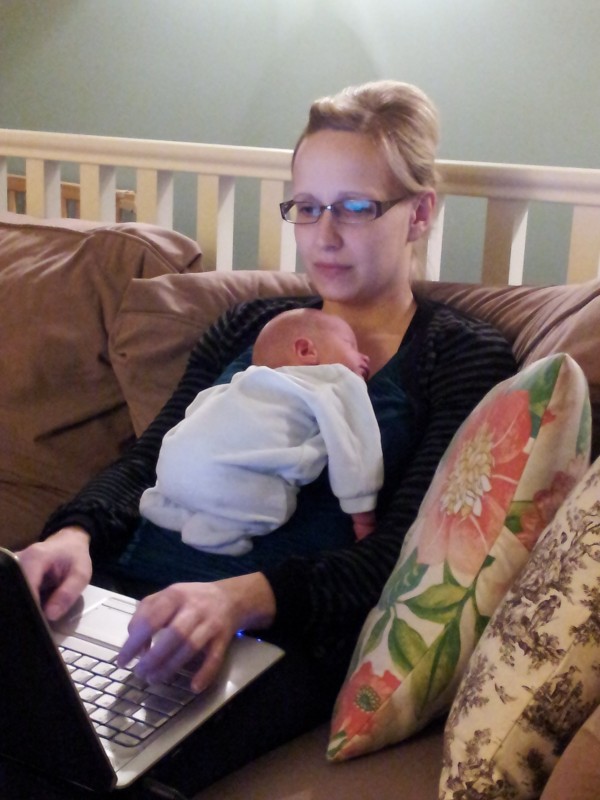 "Look Mom, no hands!"
But I miss blogging.
And I wish I could blame the baby, but really, he sleeps.
Liiiike…….that's pretty much all he does.
So it's not really his fault.
It's the foggy, sleeping-pattern-confused brain he's given me that makes my homework take SO.MUCH.LONGER that is to blame.  My evenings are disappearing before my very eyes. I am simultaneously so excited for this semester to be over (hellooooo, last brush with Philosophy I hope to ever have) and so sad that I probably won't be in any courses next semester due to ridiculous wait lists for the two online courses I wanted.
Emotional roller coaster, why you so coasty?
I need snacks for this ride.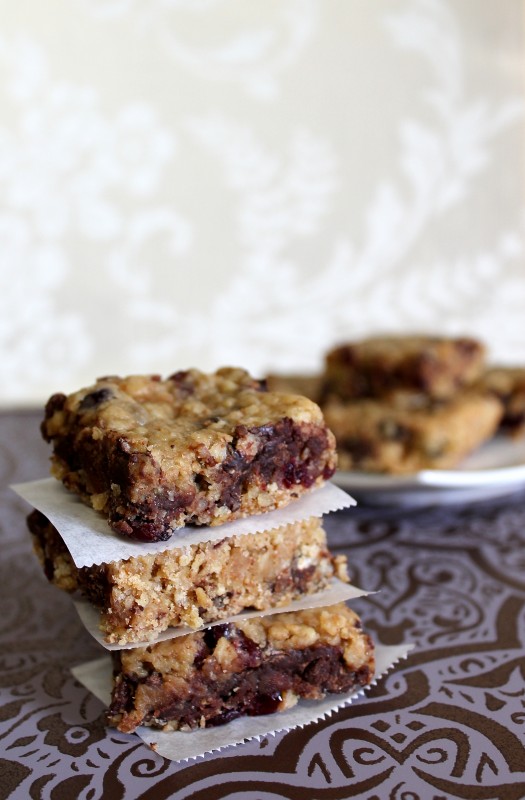 I have been eating a lot of these since making them last week.  This is a recipe that, if you're anything like me, I know you will love.  Butter, brown sugar, and oats?  Alllll over it.  Not to mention chocolate.  And they're bars, which = SO quick to make!  Oats are supposed to be good for milk production when breastfeeding, if you're wondering, so I can totally justify not telling the rest of my family where I hid these.  This is basically my favourite kind of cookie in bar form, and you can totally customize it to suit your tastes with white chocolate, raisins, nuts, coconut, flax seeds, or anything else you love in your oatmeal cookies!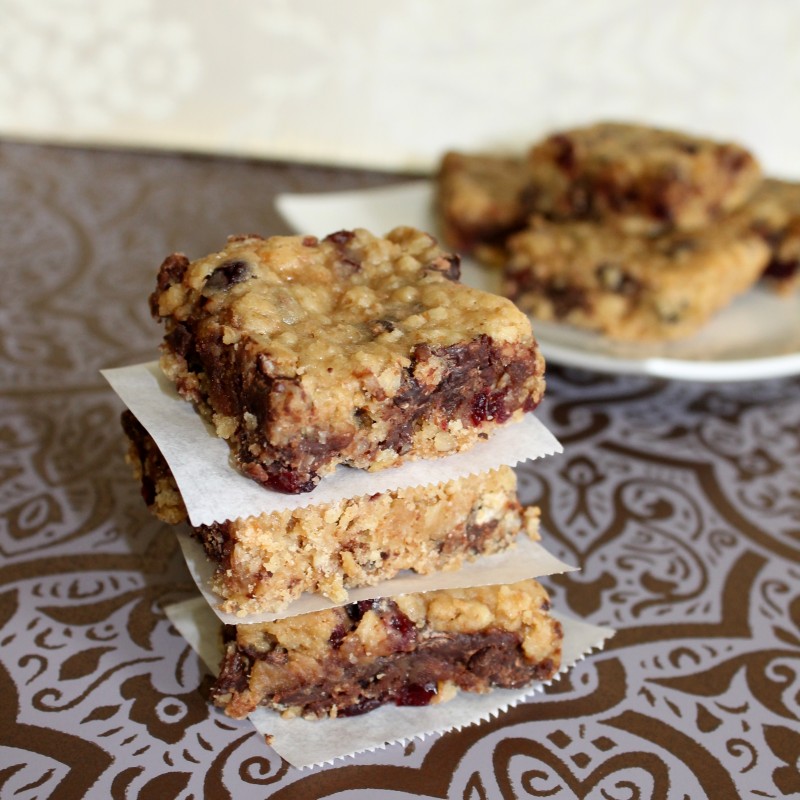 These travel well and would be a great lunch box snack or bake exchange contribution…hooray for bake exhange season!  Have a great weekend everyone :)

Cranberry Chocolate Oat Bars
All the flavours of an oatmeal cookie in a dense, chewy bar.
Author:
Anna @ Hidden Ponies
Ingredients
1 cup dried cranberries
¼ cup orange juice or milk
1 cup all purpose flour
½ cup whole wheat flour (or an additional ½ cup all purpose flour)
1½ cups quick cooking oats
1 tsp baking powder
¼ tsp salt
¾ cup butter or margarine, room temperature
1½ cups packed brown sugar
2 eggs
½ tsp vanilla
1 cup chocolate chips or chocolate chunks
Instructions
Preheat oven to 350 degrees F. Lightly grease a 9x13" baking dish and set aside.
Combine cranberries and juice or milk in a small bowl and microwave for 30 seconds on full power. Set aside while you mix the rest of the ingredients (this helps prevent the cranberries from sucking moisture out of your bars and drying them out).
Combine flours, oats, baking powder, and salt in small bowl.
In another bowl, beat the butter and sugar until light and fluffy, 2-3 minutes.
Add the eggs and vanilla and beat well.
Gradually add the flour mixture to the butter mixture, beating until well combined.
Stir in cranberry mixture and chocolate chips.
Spread dough firmly in prepared pan and bake for 25-28 minutes, until center is set and top is slightly golden.
Cool completely on rack before cutting into squares.
Notes
These are also delicious with a ½ cup of nuts or coconut stirred in along with the chocolate and cranberries! Store at cool room temperature or in the fridge - I actually liked these best cold. They also freeze well.
Adapted from
Kraft
.