Could I have thought of any longer of a title?  Maybe if I'd included the butter, eggs, and brown sugar?
I was going to call them plain ol' "Chocolate Chip Quinoa Cookies", but given that the quinoa is a smaller portion and less of a texture contributor than the oats I couldn't really leave out the "oatmeal" part, could I?  And cranberries and almonds – I wanted you to know about those.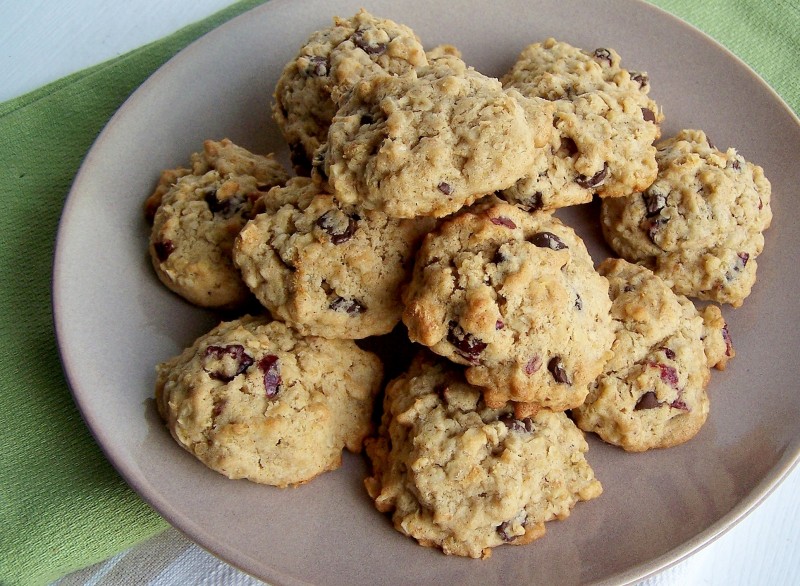 See, a title like that and I don't even have to tell you anything else about these cookies!
Instead we can talk about something else, like cats.
My cat has proven himself exceptionally cat-like as of late.  All summer, he spent his time roaming the neighbourhood, catching and torturing lizards and small birds, chasing bugs and butterflies, and generally entertaining himself.  With the colder weather and heavy rain, he is not-too-happily resigning himself to more time indoors, and he is suddenly all "Heeeeeeeey" *sideways sleazy eyes*, and "Peeettttt me" *steps on computer keys and inserts tail up my nose*.  
Then he is all "make me my own bed on which to lie, and yes, I will also be making your furniture hairy for the next few months", and "feed me more, your usual scoops are no longer being complemented by lizards innards".  
At least 12 times a day he is meowing at the patio door to be let out, and when I hurry to his assistance with my invaluable opposable thumbs he is all "let me put my body only halfway out and gauge the weather…I may be needing my rain slicker and boots".  When I get impatient and kick him fully out or pull him fully back in, he is all *woeful and murderous looks* and chases me around to bite my toes and calves with nips that go beyond friendly.
He is also getting a little more sensitive than usual with the kids' loving, as proven by two long railroad track scratches down poor Gemma's face last week…although she probably deserved it, given her propensity for long, squeezing hugs.  Now that Carl set up the baby room in our ensuite he seems somewhat contented, apparently thinking this haven with a bed has been set up just for him, so we'll see how he reacts when the baby arrives and he is no longer allowed to sleep in the crib all night!
I wanted a cat over a dog because I love their individual personalities and quirks, but this is going a little far :)
Back to the cookies for a second – if you want to get on the quinoa bandwagon (it's a big, fully loaded one), these cookies are a great place to start.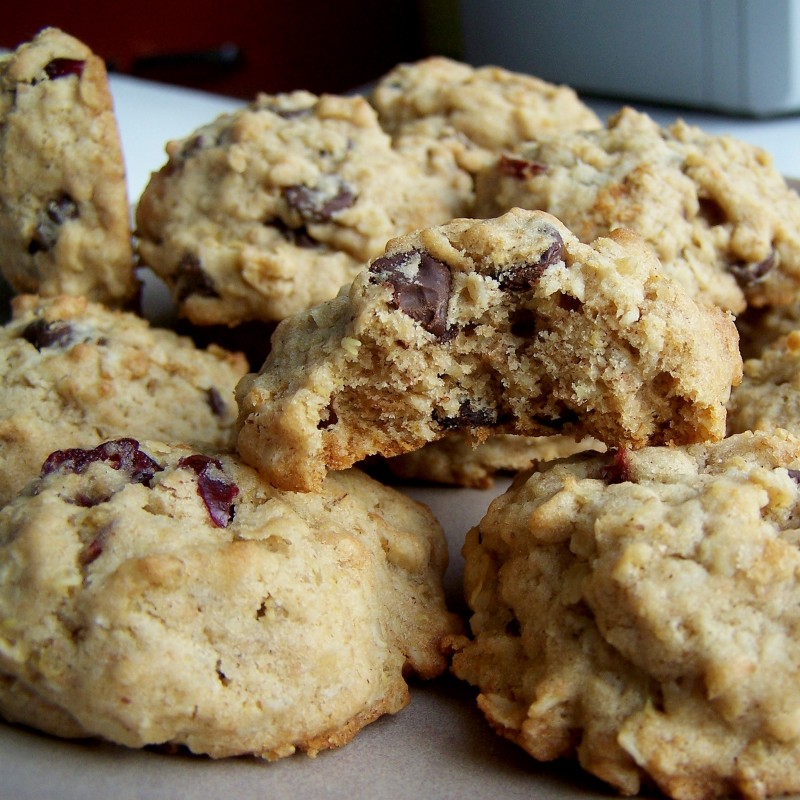 I cooked up quinoa this time with the sole intent of using it in baking, since besides this recipe for lettuce wraps, I've yet to find a dinner recipe I really enjoy it in.  It makes a great addition to baking in place of or in addition to oats, adding a similar hearty taste and texture, and the protein boost keeps you feeling full and satisfied!  One of these cookies and I'm good to go.  I was actually surprised when I googled it how hard it was to find a quinoa cookie recipe that looked good and used no strange ingredients (besides quinoa, I guess), so I was happy to discover how easy it was to create my own version!  These definitely still taste like a good cookie, not a health food, and when it comes to sweet snacks, that's a necessity in my books.  
And my kids' books.  Oh look, they like them a lot :P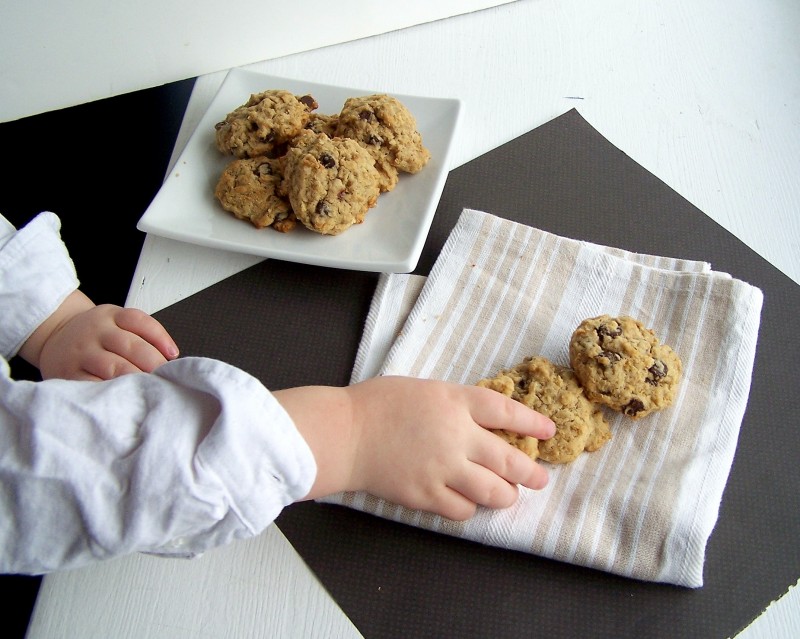 I didn't have any sliced almonds to add but they would be a great addition so I've included them in the recipe, and the almond extract gives the cookies a unique flavour, but you could certainly omit both and stick with a traditional vanilla extract-based oatmeal cookie.  Pomegranate arils would also be a wonderful replacement for the dried cranberries!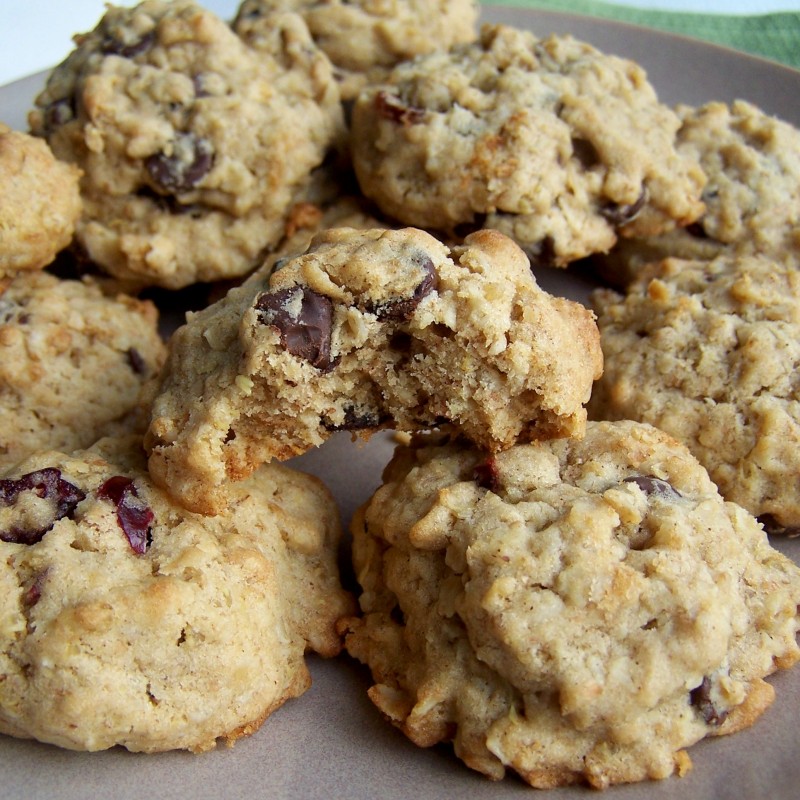 Have a great weekend!

CRANBERRY CHOCOLATE ALMOND OATMEAL QUINOA COOKIES
Author:
Anna @ Hidden Ponies
Ingredients
1 cup all purpose flour
1 cup whole wheat flour
½ tsp cinnamon
1 tsp baking soda
1 tsp baking powder
½ tsp salt
¾ cup butter, softened
1 cup brown sugar
½ cup vegetable oil
1 Tbsp vanilla extract
1 Tbsp almond extract
2 eggs
2¼ cups quick cooking oats
¾ cup cooked, cooled quinoa
½ cup dried cranberries
1 cup chocolate chips
½ cup sliced almond (optional)
Instructions
Preheat oven to 375 degrees. Line baking sheet with parchment paper and set aside (if you aren't using parchment paper, just use an ungreased cookie sheet).
Whisk flours, cinnamon, baking soda, baking powder, and salt in a small bowl and set aside.
With electric mixer, beat butter and brown sugar until creamy. Add vegetable oil, vanilla, almond, and eggs and beat well.
Add the dry ingredients to the butter mixture and stir to combine.
Stir in oats, cooked quinoa, cranberries, chocolate chips, and almonds.
Drop batter by tablespoonfuls onto prepared cookie sheet and bake at 375 degrees for 10-12 minutes, until edges are just barely golden. Let cool for 1 minute before removing to rack to cool completely.
Notes
Makes about 4 dozen cookies.
The cookies do not spread much during baking, so feel free to put them close together on the cookie sheet! If you prefer a flatter cookie, flatten dough slightly with the palm of your hand before putting the tray in the oven.