You won't even believe what got finished this week.
Any guesses?
Oooooh, that's right, whose spindles are white all the way to the tippy top?!  Oh yeah, MINE are! Eat that, old orange oak.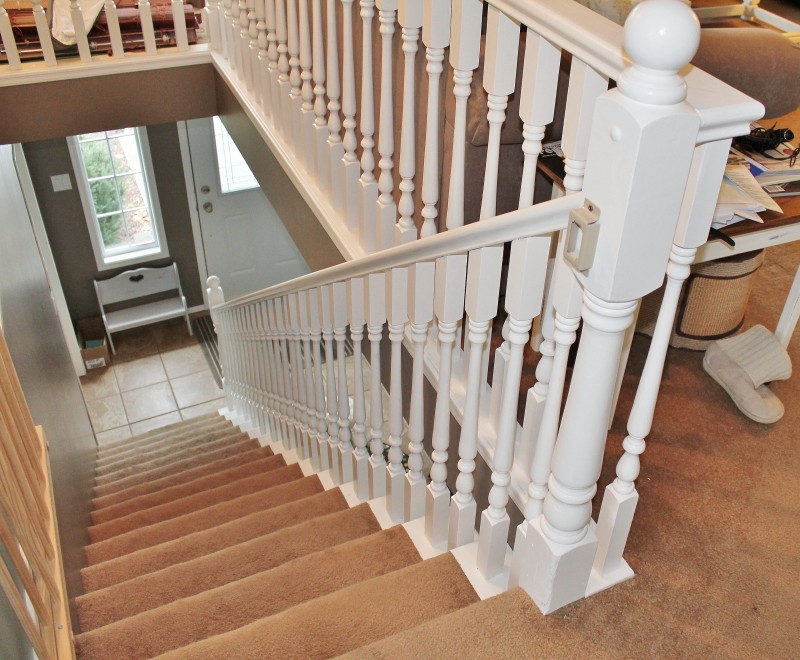 (Side note: have you ever seen a flight of stairs so in need of a baby gate?! Long, narrow, and rock hard tile of death at the bottom, situated immediately adjacent to the play room!  The only ones that beat them are my parents' basement stairs, which boast an open side with no railing whatsoever.)
Anyway, I could not be more thrilled to check that particular job off the to-do list.  Unfortunately, I wrote that particular to-do list so very long ago that I have no idea where to locate it to do said checking off, and, due to my fear that the list will contain other forgotten tasks, I think I'll just write it on this week's to-do list and promptly mark it done.  Productivity and self-delusion at their combined finest.
Not only did the spindles get painted, we managed to complete another task I couldn't do on my own – picture hanging.
Now it's not that I don't know how to hang pictures – I do.  Hammer in a nail randomly, hang the picture, determine what needs to be changed, remove and relocate nail, and rehang picture.  Repeat as needed until perfection is attained.
Despite this system that has served me well until now, this particular picture hanging feat was well beyond the realms of both my math and measuring ability and my patience limits, two weaknesses that seem to escalate into outright, ragingly angry incompetence when both are called for at the same time.  Ask me to do simple math or a quick measurement and I might acquiesce.  Require me to be patient and I may settle into a deep breathing pattern.  But ask me to patiently do math and measuring?  Watch. Out.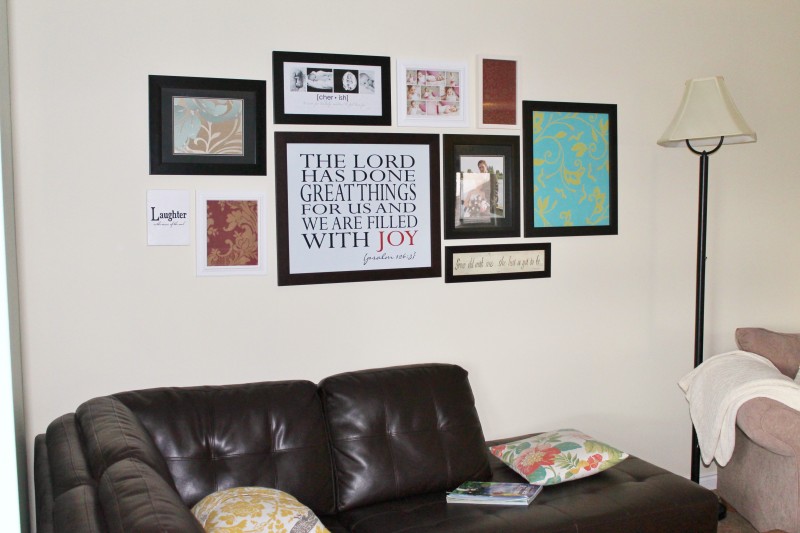 So, here's how it went down.
We have a couple big walls in our living room that have bugged me since the day we moved in.  I never seemed to have anything the right size to fill them, and everything we tried ended up being just not quite right.  The room has never felt homey to me, and, since I spend many an evening surrounded by those walls, I knew I had to keep trying.  After seeing several multi-frame displays in magazines and online, I knew this was something I could do.  I wouldn't have to buy anything new, since that wasn't really an option, and I could still hang the painting I plan to do one day on the adjoining wall without having to coordinate it with anything.  Also, it would cover all the holes from our previous attempts. :)
I gathered every picture frame in our house, emptying walls in our bedroom, the kitchen, and the living room (making this kind of a make-more-work project, as now those rooms need some work).  Then I laid them all out on the floor and tried to make some semblance of order out of them.  In my mind, this was the easy part.  Of course, even that turned out to be too difficult for my spatially challenged self, so Carl swooped in and took care of layout too, much to my relief.
He then carefully measured the whole works and aligned the frames so they would all fall an inch apart, with perfect vertical and horizontal lines.  I watched in amazement as they fell into place effortlessly, despite all hanging in different ways and at different heights with different sorts of hooks – the hocus pocus of a measuring tape seems to actually have some science behind it.  I swapped out the pictures that wound up sideways with some festive wallpaper until I get my updated pictures printed, which should be very soon since I now want to lose the mats in the frames that have them and just go clean and simple with bigger pictures and the single frame.
It was kind of neat (yes, I use that word) to discover that most of my frames were pretty similar and could work together, despite having been bought over a period of about six years for various rooms and purposes.  Apparently my tastes don't change too much.  This finally fills a good chunk of our wall in a way I'm happy with, and also has the potential to be added on to as our family grows.
So, what did I do all week while Carl tackled these horrible, patience-trying jobs?  
I recruited the kids and we made our whole family out of toilet paper rolls, obviously :)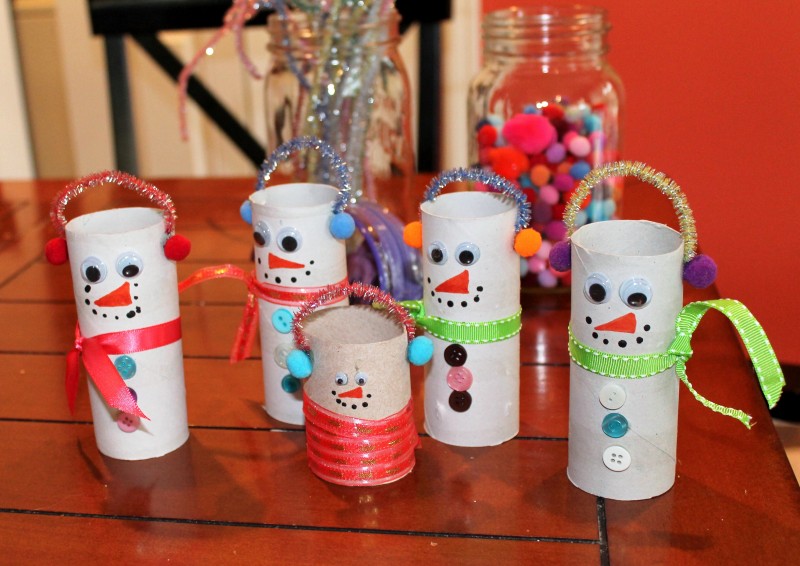 Marriage is all about balance, after all.