Confession: it's First on the First time, when we try something new and scary in the kitchen, or something we've been putting off, or something we've just never done homemade, but this month's challenge isn't a first for me.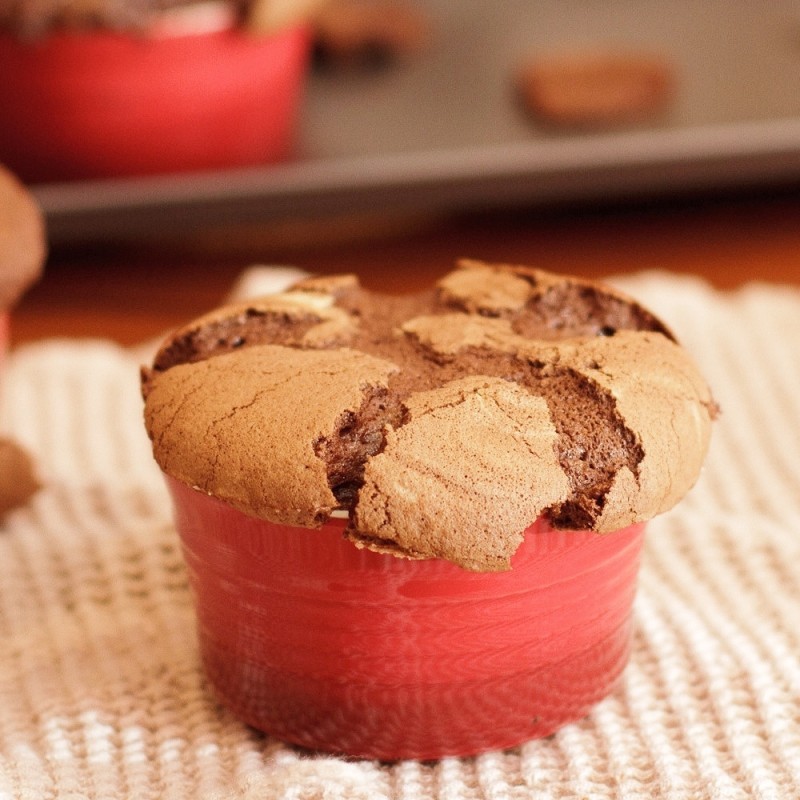 Souffles are definitely the stuff of legend in my mind, but I've made these about half a dozen times now and they've risen and fluffed beautifully every single time, so I'm feeling like I cheated by making the same recipe again instead of trying something new.  But really, if something ain't broke, don't fix it, right?
Rich dark chocolate, a crisp, light exterior, and an incredibly decadent, warm, almost mousse-like center…dessert perfection in my books.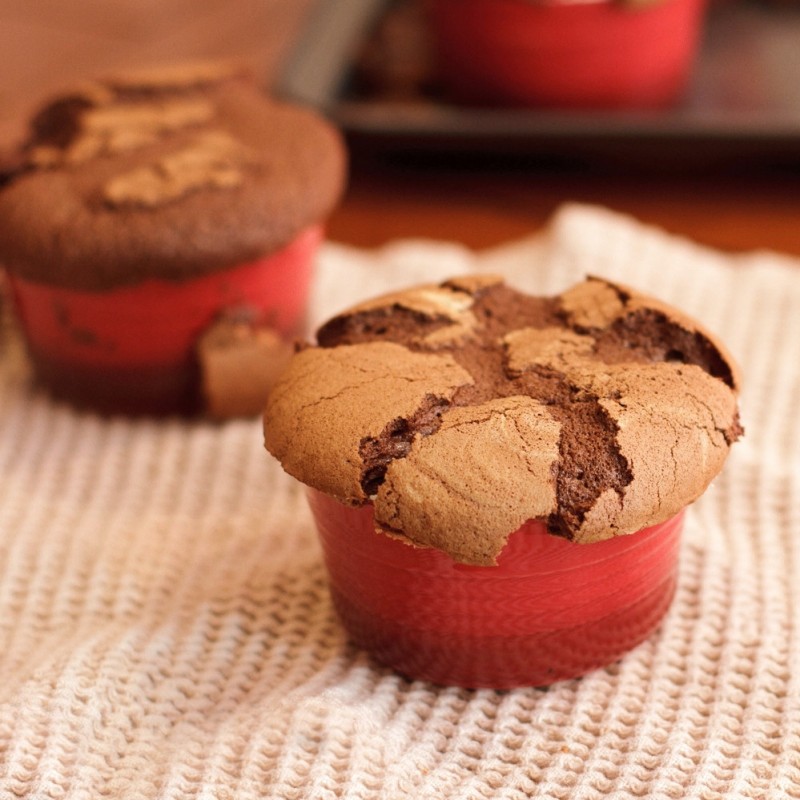 One day I'll get to a cheese souffle, and try a raspberry souffle with a chocolate center, or a vanilla Greek yogurt souffle, because those all look and sound incredible.
But chocolate souffle will always have my heart as the #1 souffle.  I got this recipe from my friend Kate, and it's wonderful, gorgeous, and sweet, just like her.  Oh, did I mention they're gluten free?!
A perfect holiday dessert, these can be prepped and refrigerated up to 2 days in advance – just let them sit at room temperature for 30 minutes before baking as directed.  A dollop of whipped cream makes a great finishing touch…we were enjoying these at 10:00 in the morning in order to get pictures with acceptable lighting, so we went the "low fat" route ;)  Thanks to my sister Sarah for bringing her camera along on a playdate and patiently photographing the food before she was allowed to eat any :)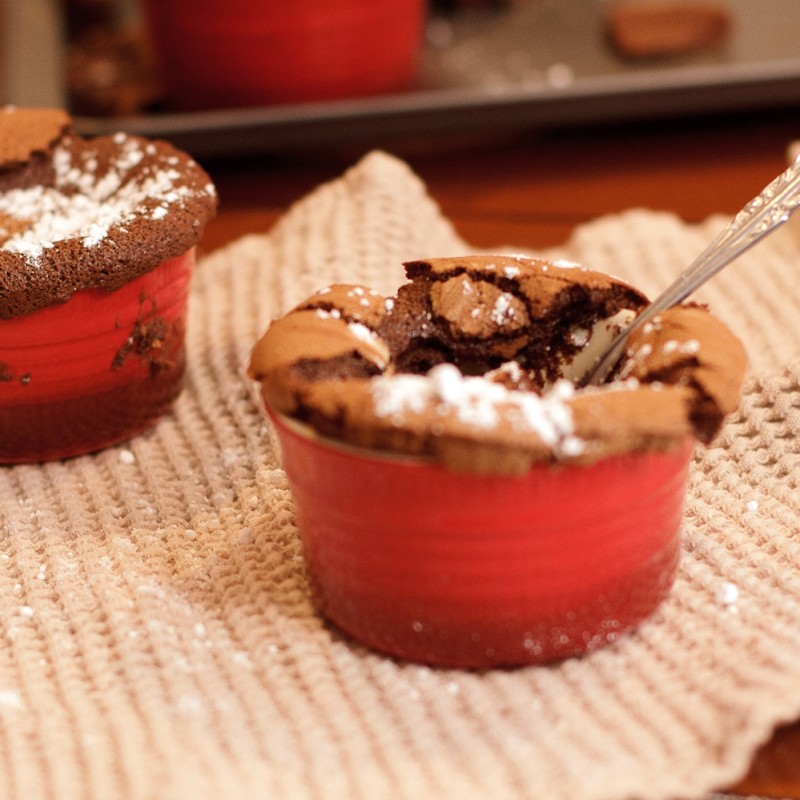 Don't let souffles scare you – mix 'em up, put 'em in the oven, and just don't open the door till the timer goes.  They fall fairly quickly after being removed from the oven, so if you don't serve them right away they'll look a bit deflated, but rest assured, they WILL be delicious.

DARK CHOCOLATE SOUFFLES
Author:
Anna @ Hidden Ponies
Ingredients
½ cup butter, plus more for greasing dishes
8 oz good quality dark chocolate
3 whole eggs plus 4 egg whites, ideally at room temperature
1 cup sugar, divided
Pinch of salt
1 tsp vanilla
Instructions
Grease 8 custard cups with some melted butter, stroking upwards with pastry brush to help soufflés rise high. Then coat with a thin layer of sugar. Set in freezer to cool.
In a bowl set over a saucepan of hot water, melt chocolate with ½ cup butter. (Or melt carefully in the microwave, stirring regularly...or melt chocolate and butter over low-medium heat in a small saucepan...whatever your regular method for melting chocolate and butter :)). Remove from the heat.
In separate bowl, beat 3 whole eggs with ½ cup sugar. Whisk slowly into chocolate and add vanilla.
In another bowl, beat egg whites on high speed until soft peaks form. Add remaining ½ cup of sugar, 2 tbsp at a time, until stiff peaks form. Fold slowly and gently into chocolate mix with a spatula, making sure egg whites are fully incorporated..
Spoon into custard cups or ramekins, filling them to close to the rim for maximum rising effect. Level them off and make sure rims are clean.
Bake at 350 degrees for 25-27 min. DO NOT open oven while baking or the soufflés will fall!
Check out the other First on the First-ers' souffles below, and if you want to
join us
next month we'd love to have you!