So I have no idea what day it is, ever.
One week into being at home and all semblance of routine seems oh so long ago.  Now I'm understanding why my mom did laundry on Mondays and Thursdays, grocery shopping on Tuesdays, and housework on Fridays – she just needed something to mark which day it was!
Thankfully, sweets are always good at keeping me on track, so I'm pretty confident today must be Saturday.  Like, 80% sure. Which is good enough for me.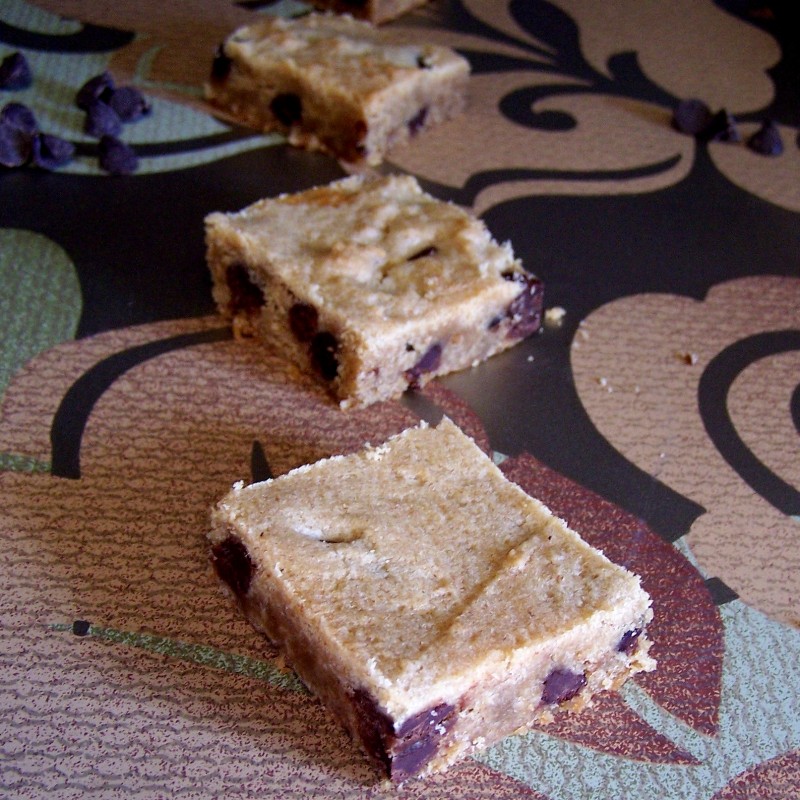 These squares are a super simple, classic, must-have recipe.  They're really just my mom's famous peanut butter cookies baked in bar form, because sometimes you don't want to bother with batches of cookies.  Carl actually declared that he liked these better than the cookies, and I have to agree from the perspective that I'm satisfied that I've had a snack after one square, while I need two or three cookies for the same effect.  Not that I'm sure one square isn't the equivalent of 3 cookies anyway – in fact, since they're thicker and denser, that's probably pretty much exactly what they equal.
But let's not split hairs.
Let's make delicious squares.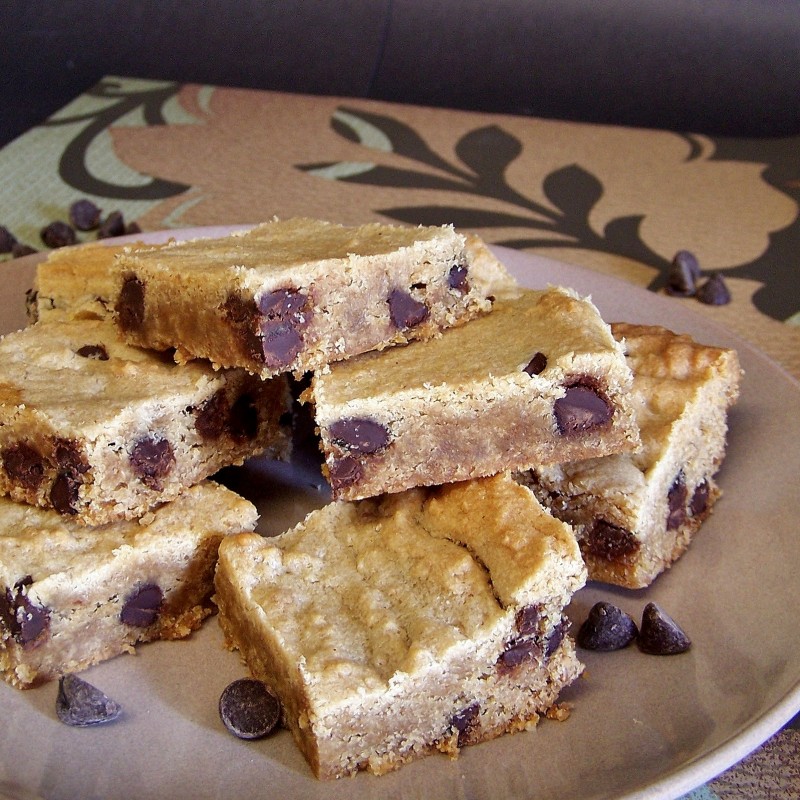 Or squares AND cookies, which is actually what I did – I doubled the recipe and put half the batter aside in a baking dish to bake into squares as soon as my cookies were done, which was perfect for making little cookies for the kids to munch on while the squares baked!  I've included the instructions for that since the oven temperatures are different for cookies and squares.
Enjoy, and have a great weekend :)

PEANUT BUTTER CHOCOLATE CHIP SQUARES
Author:
Anna @ Hidden Ponies
Ingredients
½ cup butter or margarine
½ cup peanut butter
½ cup sugar
½ cup brown sugar
1 egg
½ tsp vanilla
1¼ cups flour
¾ tsp soda
¼ tsp salt
½ cup chocolate chips
Instructions
Preheat oven to 350 degrees.
With electric mixer, cream butter, peanut butter, sugar, brown sugar, egg, and vanilla until very smooth and creamy.
Stir together dry ingredients, then mix them into the creamed mixture.
Stir in chocolate chips.
Spread evenly in lightly greased 8x8" or 9x9" pan and bake for 20-25 minutes, until edges are golden. (The center may still look slightly "jiggly" - it will set and settle as it cools, and these are better slightly underdone, as they will dry out quickly otherwise.)
Notes
To make cookies AND squares: Preheat oven to 375. Prepare batter as directed, DOUBLING all ingredients. Spread half the batter in a lightly greased 8x8" or 9x9" baking dish and set aside while you make the cookies. For cookies, spoon rounded teaspoons of batter onto ungreased cookie sheet and bake at 375º for 9-11 minutes, until edges are just golden. Cool slightly before removing to rack to cool completely. (Makes about 3 dozen cookies). When cookies are done, reduce oven temperature to 350 degrees and bake squares as directed.
If you like peanut butter and chocolate together as much as I do, here are a few more recipes you might want to try!
Whole Wheat Peanut Butter Chocolate Chip Oatmeal Cookies
Peanut Butter Oreo Ice Cream Pie
Flourless Peanut Butter Oatmeal Cookies
Yeah, we love our salty-sweet pb and chocolate combo around here!  Protein, right?  We all need peanut butter for the protein.  And the chocolate?  Well, the chocolate.
Need I say more?