Wanna know how I spent my Friday, so I can make excuses for why there were no Saturday sweets to be found and no First on the First bread pudding to read about today?
I was making the following things and not taking a single picture (good thing I took some other days :)):
2 dozen pumpkin spice muffins
2 dozen chocolate zucchini banana muffins
2 dozen whole wheat lemon raspberry muffins
2 dozen cranberry white chocolate scones
8 dozen pumpkin gingersnaps
4 dozen lemon white chocolate sugar cookies
4 dozen chewy granola bars
4 dozen chocolate chip squares
3 dozen no-bake peanut butter chocolate squares
1 giant pan of potato and leek soup
When my friend Alyssa, who's due in 3 weeks, emailed me to ask if I'd be interested in a mass production baking day, I leapt at the chance.  Stocking my freezer is something that always sounds like a really good idea, but  that I never actually do by myself.  Granted, none of these recipes is guaranteed to help us lose the baby weight, but we now have handy breakfast, lunch, and snack items to eat throughout the day and to feed our other kids, who are bound to get hungry no matter how tired we are.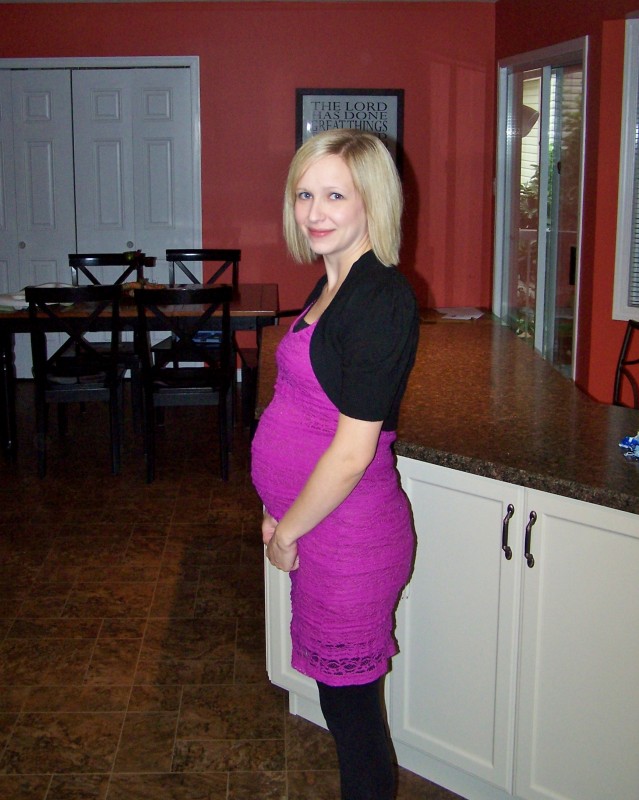 Realistically, this stock-up probably won't even last until our baby arrives, since in 6 weeks we'd normally go through that much anyway.  I did stash all the snack items safely away, but since I'm enjoying a pumpkin muffin as we speak, and Carl is scarfing the scones like they're going out of style, I think I'll be restocking the breakfast items.
(For the record, Alyssa came over around 3 pm and we managed to make all this with the exception of the cookies by about 7:30 pm, while monitoring and feeding dinner to 3 kids aged 4 and under…so if it seems daunting, don't worry, it really isn't!)
Needless to say, by the time we left my hot kitchen and sat down to put our puffy feet up, nothing else was happening :)  So between that and work and church and family and finishing my TV cupboard (capital "Y" Yay!), this weekend sort of morphed me into October without me even noticing!  This year is more than flying by – it is rocketing.
So I may not have made bread pudding this weekend, but I DID make some fabulous French bread last week that would work really well in bread pudding if, unlike me, you didn't eat one loaf immediately upon baking and use the other to experiment under Eggs Benedict the next day (for the record, it was a highly successful experiment – I recommend it).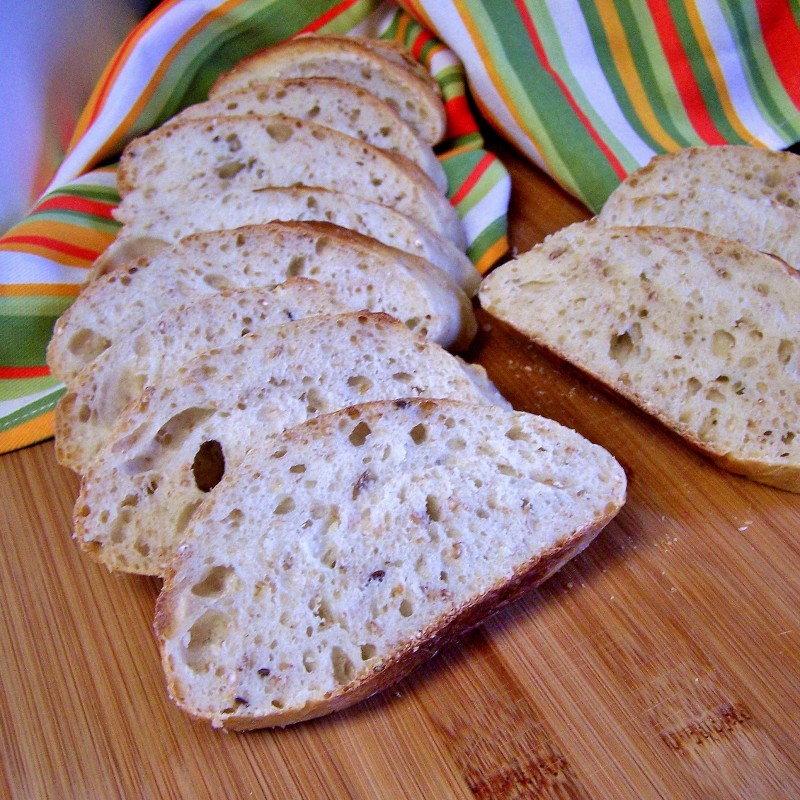 I am by no means a proficient bread maker, so the fact that this worked flawlessly for me gives me great confidence that it will do the same for you!  If you like French bread, with it's crisp, chewy crust and soft interior, this is the easiest homemade version I've come across to date.  It doesn't make large loaves – they could even be used as large baguettes. Throwing water into the bottom of your oven and listening to it sizzle and steam is also fun :)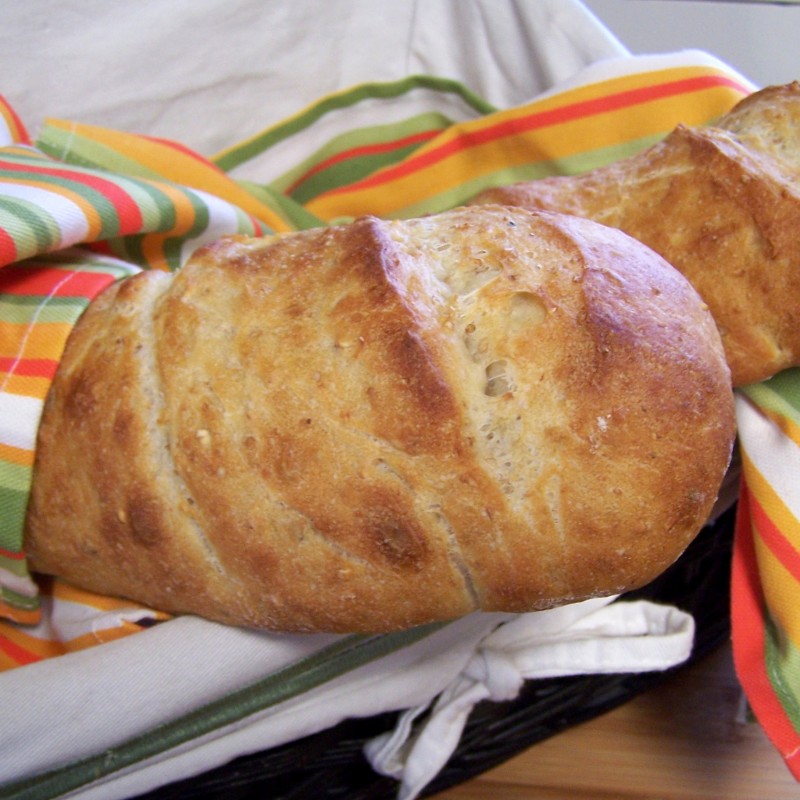 Enjoy, and if you like bread pudding check out the links below from people who realized the changing of the  month was upon us!

Homemade French Bread
An easy homemade French bread that can also be made slightly smaller and used as a baguette.
Author:
Anna @ Hidden Ponies
Ingredients
1½ cups warm water (just above body temperature)
1 tsp sugar
2¼ tsp yeast (1 packet)
4 cups bread flour or all-purpose flour (I used 3 cups all-purpose + 1 cup multigrain bread flour)
2 tsp salt
Instructions
In the bowl of a mixer fitted with the dough hook, stir together the warm water, yeast, and sugar.
In another bowl, stir together 3¾ cups of the flour and the salt. Turn mixer on low speed and pour the flour/salt mixture gradually into the yeast mixture.
Once it's all in, turn the mixer up to medium speed and mix for 3 minutes. Dough should pull away from the sides of the bowl and form a ball. If it's too sticky, add more flour by the tablespoon until it comes together.
Dust a clean work surface with the remaining ¼ cup of flour. Turn dough out onto the surface and knead until elastic and smooth, 5-7 minutes. Form into a ball and place dough into a greased bowl and cover with plastic wrap or a damp tea towel. Allow to rise in a warm, draft-free place for about 90 minutes, until doubled in size.
When it's risen, turn dough out onto a lightly floured work surface, punch down, and divide the dough in half. Shaping one half at a time, roll or spread the dough into a rectangle, approximately 12" long and 3-4" wide, then fold the rectangle inward onto itself length-wise to form a long loaf. Pinch the edges together to form a seam. Place, seam side down, on parchment paper-lined baking sheet. Repeat with other half. Cover and let rise another 30-45 minutes.
Preheat oven to 450. Place a large inverted baking sheet into the oven to preheat too.
When dough has completed second rise, take a sharp knife and cut shallow slits diagonally across the tops of the loaves.
Have a ½ cup of water standing by.
Remove the heated baking sheet from the oven, keeping it upside down. Carefully place your loaves onto the inverted hot pan (pick up the parchment paper and slide the whole works over - I found this the easiest way).
Place the pan back on the centre rack of the oven. Just as you are about to close the oven door, toss the ½ cup water into the bottom of the oven. Close the door immediately.
Bake 20-23 minutes, until loaves are golden and firm to the touch.