I think it's high time we had a theme week here at Hidden Ponies!
We almost had a breakfast theme going, but it was never quite official or quite consistent – so welcome to official MUFFIN WEEK!  An official name means good things are sure to follow :)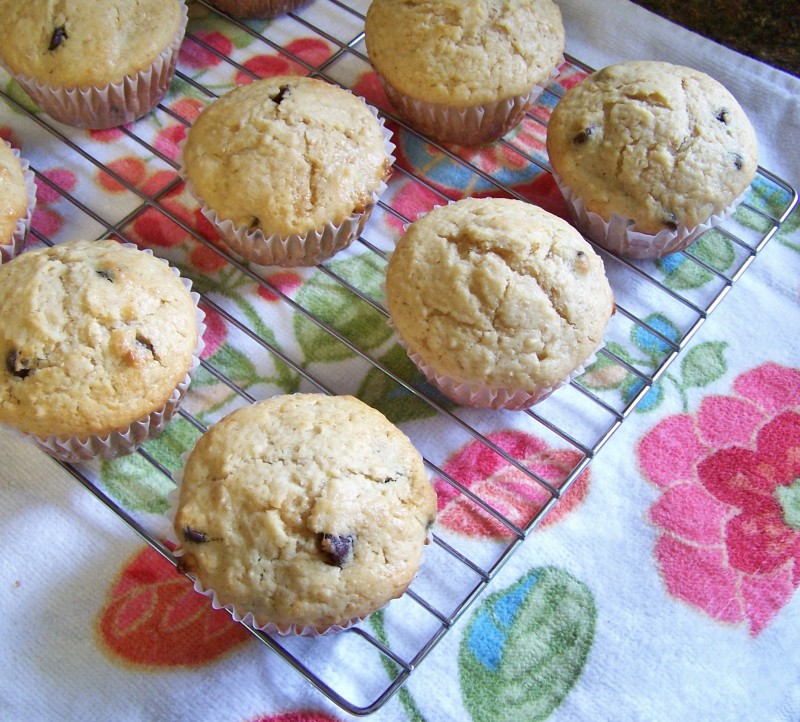 Today's muffin recipe is a simple hit – a muffin that tastes very similar to the base for Chocolate Chip Cookie Dough Cupcakes.  Vanilla and chocolate chips, brown sugar and butter – the makings of a delicious chocolate chip cookie, all sealed up in a perfect little healthier muffin package, kept moist with vanilla yogurt.  My kids and I devoured these, and Gemma didn't even complain about me using up all her special yogurt, vanilla being the only kind she'll eat due to the guaranteed absence of "chunks", which so often turn up uninvited in fruit yogurts.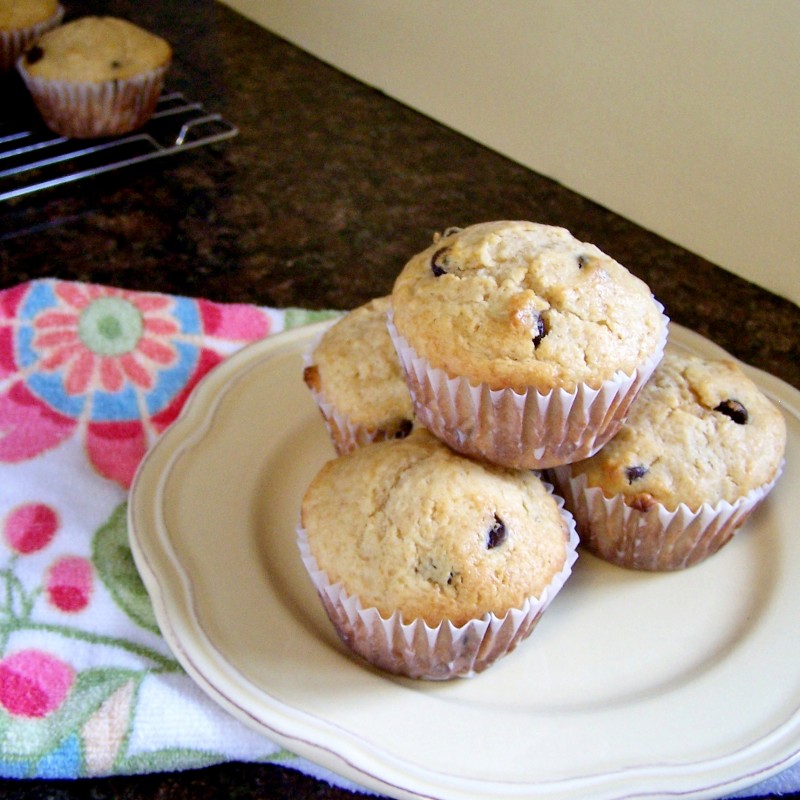 Stay tuned for two more great muffin recipes this week – as if we didn't have enough delicious muffin recipes for you already…check out our Recipe Index for a hefty list :)  What can we say, we really love our muffins!
What other themes would you like to see get their own week?  We'd love to hear from you and we'll do our best to oblige!

Vanilla Chocolate Chip Muffins
Author:
Anna @ Hidden Ponies
Ingredients
½ cup butter, softened
¾ cup brown sugar
¼ cup granulated sugar
2 eggs
¾ cup vanilla yogurt
1 tsp vanilla
½ cup 1% or 2% milk
2¼ cups all purpose flour
1 Tbsp baking powder
¼ tsp salt
1 cup regular or mini semi-sweet chocolate chips
Instructions
Preheat oven to 400 degrees. Line a 12-cup muffin pan with muffin papers and set aside.
In a large bowl, cream together butter and sugars until fluffy. Add eggs and vanilla and beat well, then beat in yogurt and milk.
In a small bowl, combine flour, baking powder, and salt, and add all at once to wet mixture. Stir just until combined and dry ingredients are all moistened. Stir in chocolate chips.
Divide over muffin cups (they will be quite full) and bake for 20 minutes or until lightly browned.
Cool in pan before removing to rack to cool completely.
Notes
These are delicious warm with butter, or can be stored at room temperature in an airtight container for 2-3 days. For longer storage, freeze in an airtight container. The yogurt can be substituted with sour cream - add an additional tsp of vanilla if doing this to increase the vanilla flavour. For a kid-friendly snack, these make great mini muffins too - reduce baking time to about 12-14 minutes, or until a toothpick comes out clean.