Ok, I give in.
All the pumpkin recipes circling the blogging world and covering Pinterest make my head spin…and make me very, very hungry.  I'm not much of a bandwagon jumper, but this is definitely one of those times I am happy to follow the crowd – it's a smart crowd.  It's time to break out the pumpkin (not that I had it away for long!) and move completely and irreversibly into the world of fall food. Bring on the apple pies, hot chocolate, pumpkin cream cheese muffins, soup, lasagna, cinnamon buns, and so many other delicious things no one feels like eating when it's sticky and hot outside.
And bring on the pumpkin chocolate toffee coffee cake.  As fun to say as it is to eat :)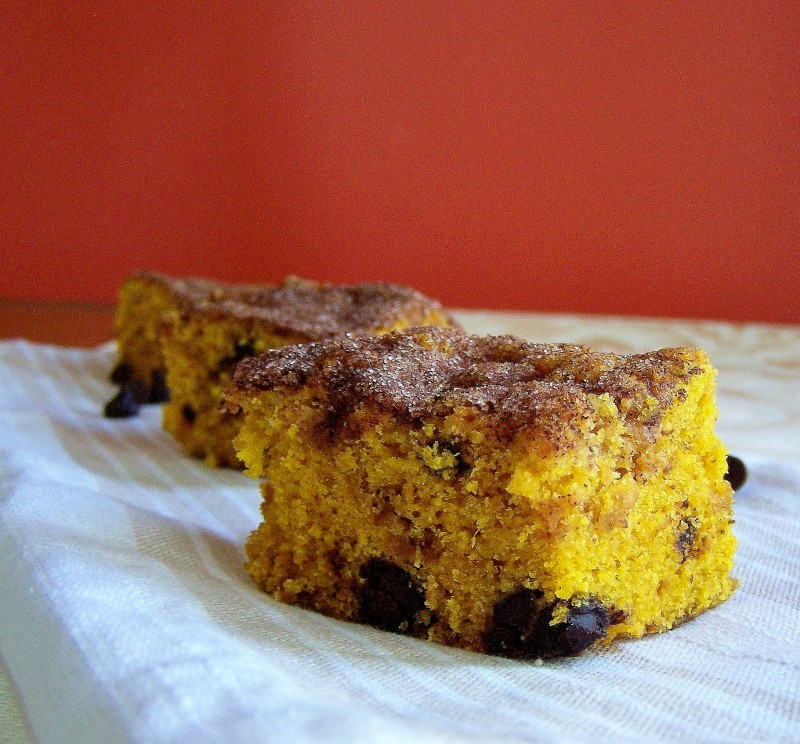 Pumpkin has such an amazing way of keeping all things moist, and paired with chocolate chips, cinnamon, and toffee bits it is absolute snacking perfection.  These are a cross between chocolate chip squares and cake, meaning they hold together well enough that you don't need a fork.  If you want more of a cake feel, top them with the cinnamon sugar mixture, but if you love plain chocolate chip squares skip that step for a smooth (and less messy) top :)
These stay fresh on the counter for about a week, perfect for drive-by snacking or for unexpected guests.  And the smell when they're cooking?  Let's just say I wouldn't bake apple pie if I was trying to sell my house in the fall – I'd make these.

Pumpkin Chocolate Toffee Coffee Cake
Author:
Anna @ Hidden Ponies
Recipe type:
Dessert; Cake
Ingredients
2 cups all purpose flour
1 tsp cinnamon
1 tsp baking soda
½ tsp salt
1 cup butter
1¼ cups granulated sugar
1 egg
1 tsp vanilla
1 cup pure pumpkin puree
2 Tbsp ground flax seed (optional)
¾ cup semi-sweet chocolate chips
½ cup toffee bits (Skor or Heath bits)
TOPPING (optional):
¼ cup sugar mixed with ¼ tsp cinnamon
Instructions
Preheat oven to 350 degrees.
Lightly grease a 9x13" baking dish or line with parchment paper or foil, leaving an overhang on all sides to lift them out for easy cutting later. Set aside.
In a medium bowl, whisk together flour, cinnamon, baking soda, and salt; set aside.
Cream butter and sugar on medium-high speed until smooth; beat in egg and vanilla. Beat in pumpkin puree (mixture may appear curdled).
Reduce speed to low, and add dry ingredients (including flax seed if using). Mix on low until just combined. Fold in chocolate chips and toffee bits.
Spread batter evenly in prepared pan. If desired, sprinkle with cinnamon sugar topping.  Otherwise, leave as is.
Bake until edges begin to pull away from sides of pan and a toothpick inserted in center comes out with just a few moist crumbs attached, 35 to 40 minutes. Cool completely in pan on cooling rack.
When cool, cut into 24 squares.
Store in an airtight container at room temperature for up to a week, or freeze for longer storage.
Cake recipe adapted from Martha Stewart.