I have a new favourite breakfast.
And a new favourite lunch.
And I'm sharing them both with you on the same day, can you believe it?
AND I'm sharing them conveniently close to sharing homemade granola with you, which can be put to good use in this "recipe" of sorts…although I admit I used a box of granola cereal on these, because it had to be used up after Carl picked it by his very own self and then didn't like it.  See, my monotonous cereal decisions aren't looking so bad now after all, ARE they Carl.
I've been meaning to try these since I saw the idea somewhere (probably Pinterest), and I'm so glad I finally did.  These are seriously easy, and seriously satisfying.  I'm the type of person that likes to snack all day long, and feels mildly hungry pretty much all the time when I'm not snacking, but these wraps filled me up in such a way that I ate one for breakfast at work at 8:00 and literally had no interest in eating anything else until noon!  For me, that is crazytalk.
These have that perfect combination of sweetness, saltiness, crunchiness, softness, prettiness, portability-ness, and healthiness.  A whole grain wrap filled with nut butter, fruit, and granola?  Sign me up.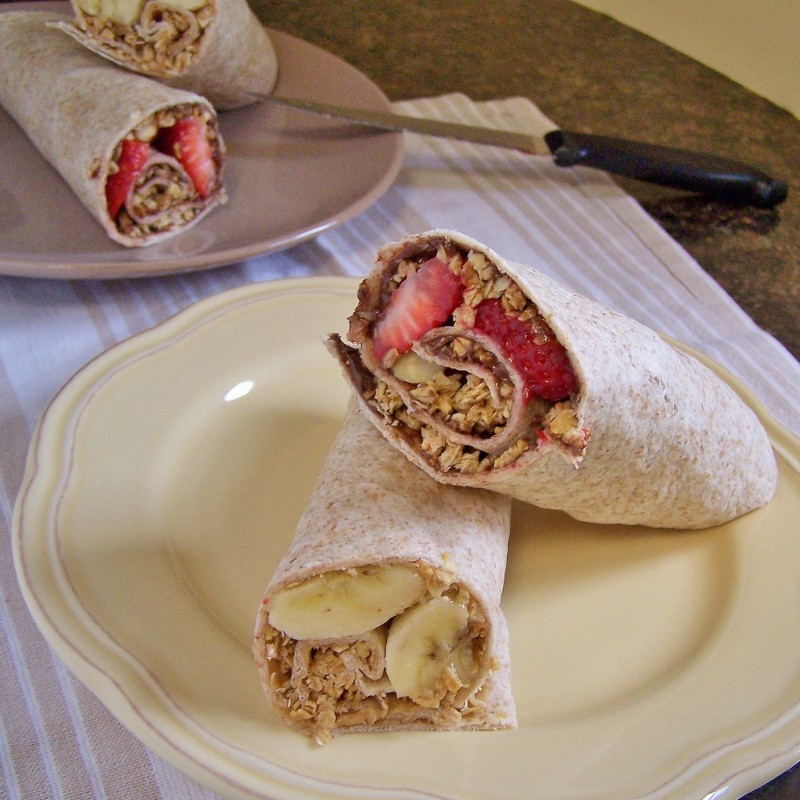 And sign my kids up – they both loved these, and they were a fun alternative to toast for breakfast or sandwiches for lunch!  They would be perfect packed in a lunch box for kids or to take to the office yourself, and they would definitely be a satisfying backpack option for hikes and such since they don't need to be refrigerated!
The possibilities here are endless. My favourites so far are strawberry and Nutella a la this grilled sandwich and classic peanut butter and banana, my pregnancy staple.  Peanut butter and apple would be great…raspberries and peaches would be amazing in the chocolate one, or with some almond butter.
What combinations do you see yourself making?  How many fruits and nut butters can we get involved here?
I definitely recommend spreading your base flavour and granola all the way to the edges and keeping the fruit in the middle for a neat and tidy wrap with maximum flavour merge-ation throughout.  Start with a small, tight roll until you hit the fruit, then roll the fruit up all in one go and continue to finish the roll.  At least that's what worked for me…but  y'know, that's just how I roll.
Hooo boy, I slay me. :)
Enjoy!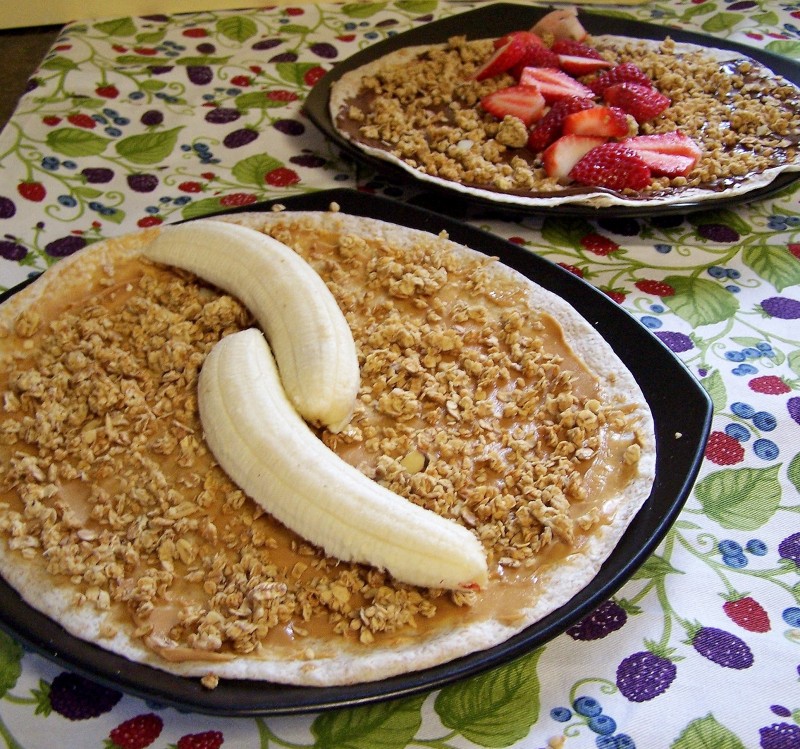 Ingredients
Whole grain tortillas
Nut butter of your choice (peanut butter, Nutella, almond butter, etc.)
Fruit of your choice
Granola
Instructions
Spread each wrap generously with nut butter. Sprinkle granola evenly over the surface, leaving a small edge uncovered all the way around. Place fruit down the center of the wrap and roll up lengthwise. Slice in half and serve.