I pride myself on being pretty good at grammar and spelling, and years of avid reading mean there aren't many words I haven't come across and have at least an inkling of how to spell.
"Cantaloupe", apparently, is not a word that authors use often.  And I don't think the handwritten signs at grocery stores can be trusted, because I'm pretty sure that's where I picked up the habit of spelling it "cantelope".  Rhymes with "antelope"?
Fortunately I figured out my error thanks to the squiggly red underlines provided by Microsoft, and today I can accurately tell you about this Cantaloupe Soup!  Phewf :)
So, cold soup.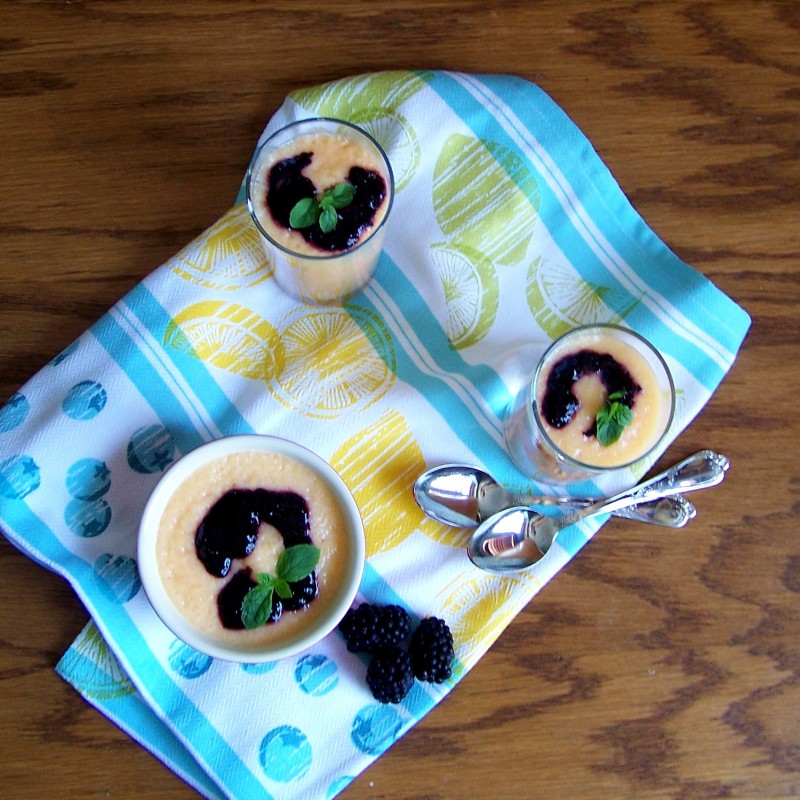 Have you had it?  Have you thought about it?
I'd thought about it, but never had it, and was not really intending to try it anytime soon.  Some things are best left alone, and soup…well, soup is meant to be hot.  There are two famous cold soups I've heard of – vichyssoise and gazpacho, aka cold potato leek soup and cold tomato soup, respectively.  I LOVE both of those soups hot, and knew better than to try to eat them cold. Yeeuch.
But that's what First on the First challenges are for, to get me out of my comfort zone and trying something new!  This month Carrie and Kate chose to send out summer with cold soups, so I set about hunting for one I thought might be edible.  I found this recipe by the lovely Angela, who I knew could be trusted on flavour, and I adapted it to what I had on hand.
I feel like I always have the longest of stories for First on the First challenges, so I'll try to keep this brief:
Sunday lunch. Cold soup. Gemma's help.  Blackberry puree. Mom leaves kitchen. Enthusiastic stirring meets edge of counter. Yellow flower girl dress. Disaster.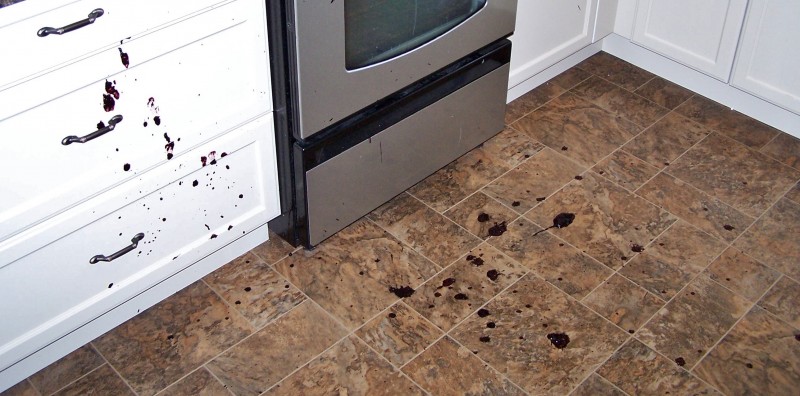 I was SO on the ball this month, making this recipe only a couple weeks into the month rather than waiting until August 31st!  Apparently lack of time pressure does not a successful result make.
When the open food processor full of blackberry puree hit the floor, the blackberries were literally spread from one end of our kitchen to the other, with a substantial amount on my beautiful girl in her beautiful flower girl dress that she had only worn once before.  I got the dress in the wash double-time while Carl tried to gently blot the blackberry globs off the ceiling.  If you've ever tried that on a highly absorbent textured ceiling, you've probably also repainted over the resulting bluish purple smears.
But we prevailed in the end – the cantaloupe mixture had tasted so promising and was waiting in the fridge, so we went for round two on the blackberry puree after Carl had taken care of the cabinets, fridge, and floor in our vicinity, and we drizzled it with abandon on our fruity base.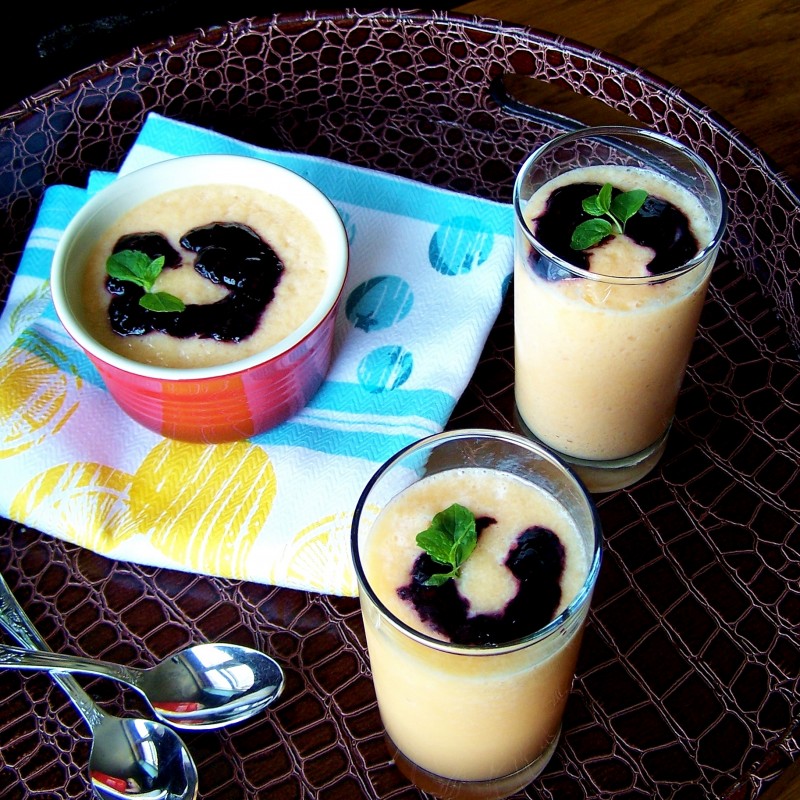 But still, it was cold soup.
Carl legitimately questioned why I had put his smoothie in a bowl with a spoon, and was happy to transfer it to a glass and drink it.  I have trouble with the texture of smoothies, which I get around with a straw, but I felt funny putting a straw in my "soup", so I didn't eat much.  The kids did love it – but what's not to love about pureed fresh fruit?
While the flavours were fresh and delicious (the blackberry puree is a must) and the colour was pretty, and it came together in about 10 minutes, I still don't see the appeal.  I'll be sticking to my hot soups for the foreseeable future.

Cantaloupe Peach Soup with Blackberry Drizzle
Author:
Anna @ Hidden Ponies
Ingredients
FOR SOUP:
1 medium cantaloupe, peeled, seeded, and chopped
2 peaches, peeled and sliced
Juice of half a lemon
Pinch of salt
¼ - ½ cup milk or coconut milk
FOR DRIZZLE:
About 16 blackberries
½ tsp balsamic vinegar or apple cider vinegar
GARNISH:
Fresh mint or basil (optional)
Instructions
Puree cantaloupe, peaches, lemon juice, and salt in food processor until smooth. Add milk to reach desired texture and smoothness. Refrigerate until ready to serve (you want it quite cold).
For drizzle, puree blackberries with vinegar of your choice. Drizzle on chilled cantaloupe mixture and garnish with fresh mint or basil.
Be sure to check out the other participants cold soups below and see if they liked the idea better than me :)  If you're interested in joining us for these fun monthly challenges,
click here
for all the deets!