Yesterday I went to my first day of school, for about the 30th time, and it was as good as ever, even if I was showing up in a minivan.  I absolutely love fresh, clean, lined paper, new pens that flow smoothly over the page, and the slightly overwhelmed feeling I get when I look at an entire course outline and realize how much work I have to do in the next 3 months.
I also went to the doctor yesterday for my 30 week check up and saw him look baffled again. "WHAT is this baby doing?" is what he wonders aloud each time.  From the get-go this little munchkin has not believed in curled-up, cozy, regular-baby positions.  It spent a good number of weeks lying sideways, trying desparately to see through my skin to the outside world, and focusing all its (considerable) kicking energy on my upper right side.  It has now migrated to have its head lodged in my right rib cage with legs fully extended so its toes can tickle my bladder, aka completely upside down to where he/she should be heading in preparation for eventual exit.  Which means more frequent doctor visits from now on and more sweet-talking to my belly to convince it that I really don't have the time or patience for anything other than an easy, natural birth :)  I wish the previous two had thought to leave notes as to how being a fetus is supposed to be done.
Needless to say, all this makes sitting pretty impossible.   YOU try sitting comfortably with a small person standing straight up in your insides.  I spend the vast majority of my days standing, interspersed with a midday nap on the days I'm home, and reclined sitting in the evening while I do important things like blogging and cheering on Josh in MasterChef :) I am becoming a pro at the straight-backed squat, since cleaning up toys, taking your turn at cards, and putting on socks all pose interesting challenges when you are unable to bend at the middle.
When I have to spend a lot of time standing, I tend to spend a lot of time in the kitchen.  Standing in the middle of my living room or the bathroom always feels a bit odd.
And what better thing to do when standing in the kitchen than stir a big ol' pot of soup?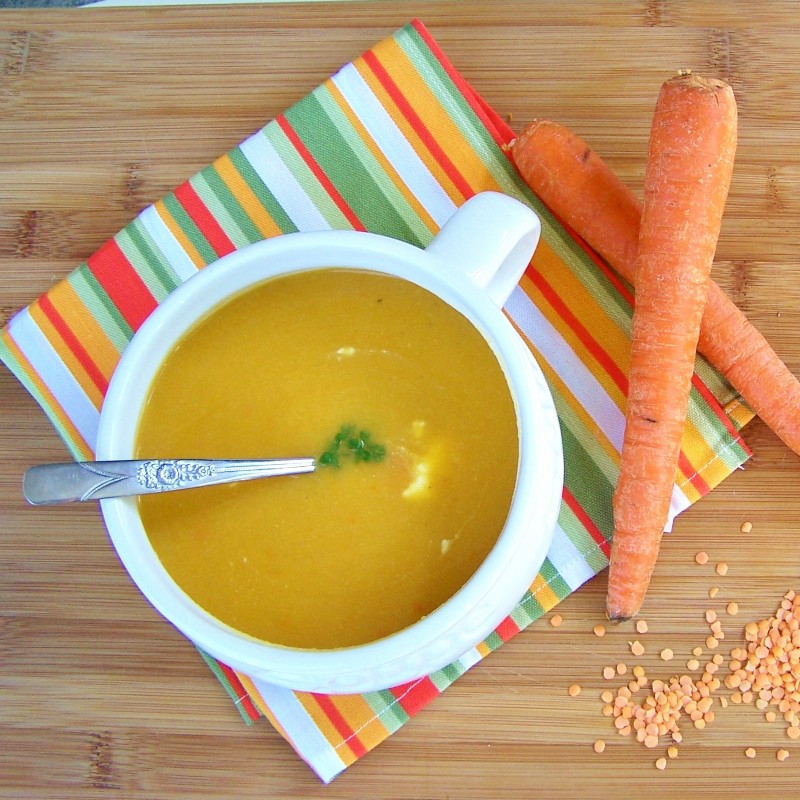 I am not hanging on to summer with the desperation and defiance of many.  I am already 128 steps into fall, and can't wait for more days that just scream "SOUP".  That is a cry I will answer.
One of my favourite soups is this gorgeous carrot lentil number.  It's just jam-packed with healthy goodness, and can be whipped up in a mere half hour, or even a bit less!  If you've never worked with lentils, I highly recommend it – they don't require any special techniques or soaking, and are such a great source of fibre and folate.  This soup is so quick to make – it barely leaves time to make these biscuits, or a batch of muffins, both of which are perfect accompaniments.
Soup has to be my favourite way to pack a ton of nutrients into my day, and the rich smell and colour of this soup just seal the deal.  If you're hanging on to summer, save this in the back of your mind…one day, when you hear the scream for  "SOUP", you will have a ready answer.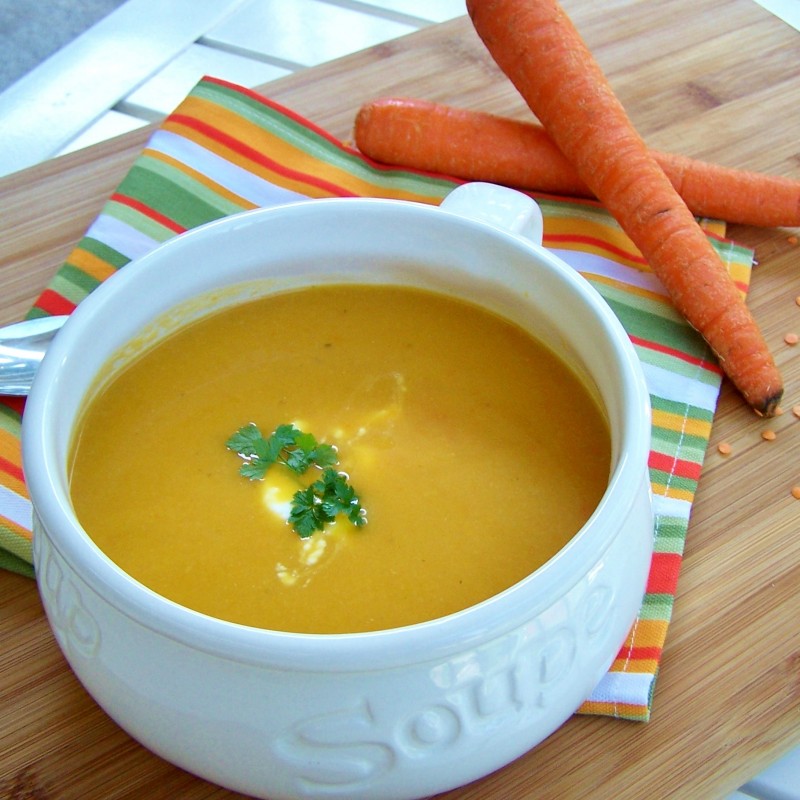 Author:
Anna @ Hidden Ponies
Ingredients
1 tbsp canola oil
3-4 large carrots, sliced
2 onions, chopped
2 cloves garlic, minced
1 tbsp minced fresh ginger root (or 1 tsp dried ginger)
1 tsp ground cumin
½ tsp salt
¼ tsp pepper
6 cups vegetable broth or chicken broth
¾ cup red lentils
Instructions
In large saucepan, heat oil over medium heat.
Cook carrots, onions, garlic, ginger, cumin, salt and pepper in the oil, stirring often, until onions are softened, about 5 minutes.
Add broth and lentils; bring to boil. Reduce heat, cover and simmer until carrots and lentils are tender (15 to 20 minutes).
With an immersion blender or in batches in a blender or food processor, purée lentil mixture until smooth. Return to pan and heat through.
Garnish with sour cream or yogurt and cilantro or parsley, if desired.
Notes
Recipe barely adapted from Canadian Living Magazine, March 2010