Let me start off by saying that this was not my favourite dessert ever.
Normally I'm all "oh-so-delicious", "must-make", "best thing ever"! and I totally mean all those things.  So I want to be completely upfront so you know you can trust me all those other times – straight up, this was a dessert I would file under "just ok".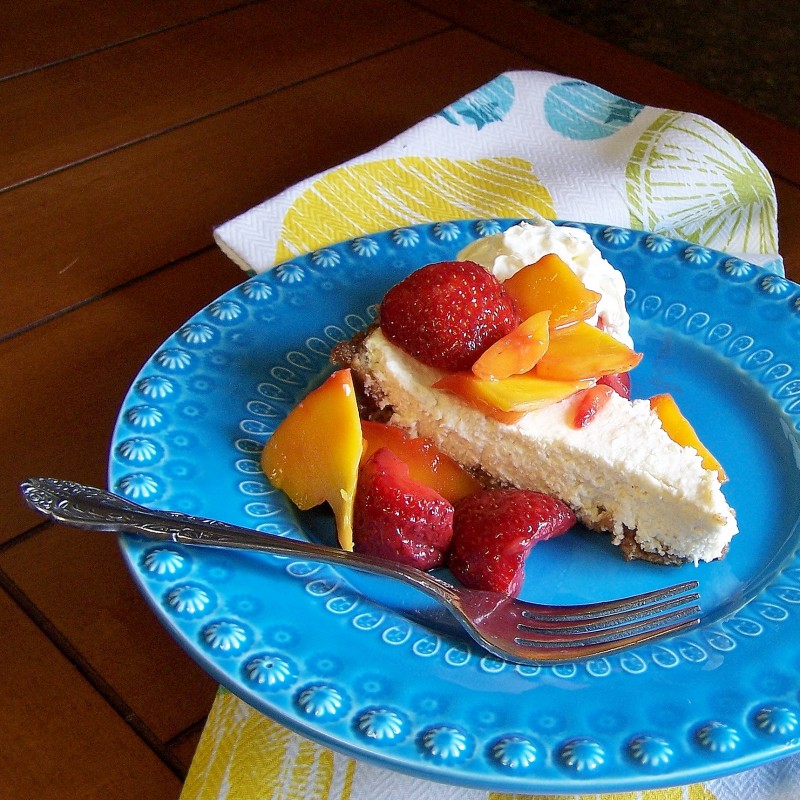 However, it disappeared quickly and I thought it was still worth sharing since different people have different tastes, and this IS a great gluten free dessert option!  I made this dessert as part of our Greek night awhile back, thinking the honey and Greek yogurt in it qualified it as sufficiently "ethnic" – can you tell I've never been to Greece? :)  The gluten free eaters had an option besides baklava, and the men who like a "sample plate" had that option.  It was also a great healthy option for the kids, and Gemma loved it.
My main complaint with this dessert was NOT the taste – the taste was fantastic.  Lightly lemony, slightly sweet from the honey – nice and light and fresh.  I take issue with the texture created by the ricotta cheese used in place of cream cheese in this cheesecake – call me old-fashioned, but if I'm eating cheesecake I want rich, creamy, and definitely not healthy.  This cheesecake is creamy but doesn't have that smooth richness provided by good ol' fat :)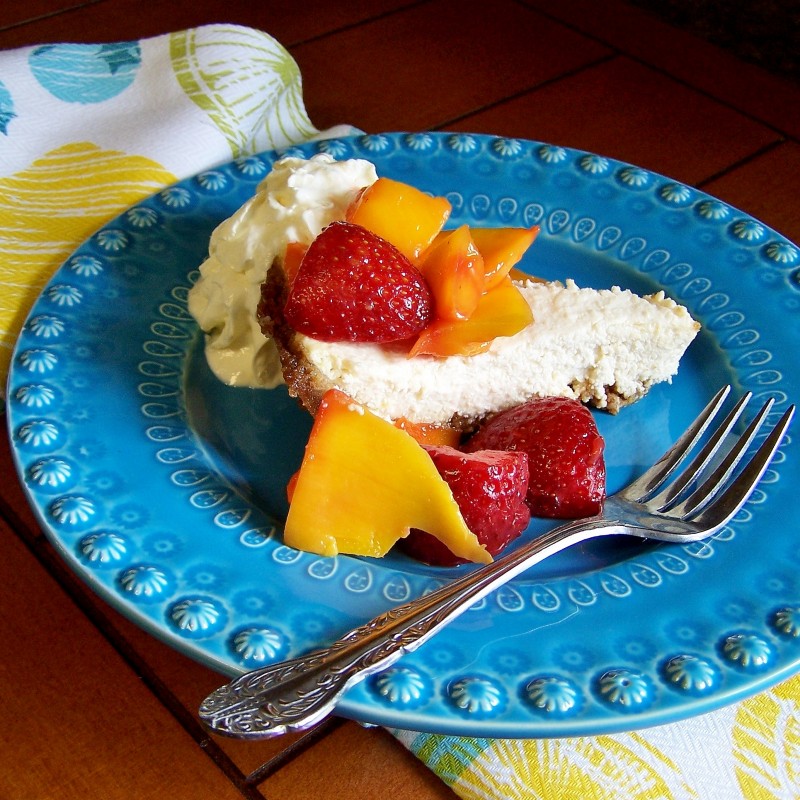 But, different strokes for different folks, and I'm sure some of you even like your desserts to be healthy!  If that's the case, this is a perfect, fresh, easy option.  And I'm sure most people don't have the texture issues I do – as a kid, I gagged on mashed potatoes and jell-o; as a young adult I was completely incapable of swallowing a pill; as an adult I would never get a smoothie down without a straw.  My gag reflex is, to say the least, in good shape.
Having said that, if you try this, let me know what you think!  Is the difference minimal and totally worth it for the health value?  Or is traditional, cream cheese cheesecake still the way to go?

Saturday Sweets: HONEY YOGURT CHEESECAKE
Ingredients
YOGURT "CHEESE":
2 cups (500 mL) 2% or higher yogurt
2 cups (500 mL) ricotta cheese
CRUST
2 cups gluten free gingersnap crumbs (*see note)
1 teaspoon finely grated lemon zest
¼ teaspoon salt
¼ cup unsalted butter, melted
FILLING
1 recipe yogurt cheese (above)
¼ cup honey
1 large egg
1 teaspoon finely grated lemon zest
1 teaspoon vanilla extract
TOPPING
1½ cups diced fresh mango and/or strawberries, or fruit/pie filling of your choice
Instructions
Prepare yogurt "cheese" a day before needed. Stir yogurt and ricotta together and place in a cheese cloth (or large paper coffee filter) in a large strainer. Place strainer over a bowl, wrap loosely with plastic wrap and chill for 24 hours. Discard whey (liquid in bowl), and refrigerate yogurt cheese until ready to use.
*Do not skip this step or your filling mixture will be way too runny.
CRUST:
Preheat oven to 325 F.
Combine gingersnap crumbs, lemon zest, salt, and melted butter in a small bowl and press into an ungreased 9-inch pie plate. Bake for 10 minutes, then set aside to cool while preparing filling.
FILLING:
For filling, in a medium bowl, whisk yogurt cheese with honey, egg, lemon zest, and vanilla. Spoon into cooled pie shell and bake for 30 minutes. Cool to room temperature, then chill at least 4 hours or overnight before serving.
Top with diced mango or topping of your choice immediately before slicing.
Notes
For gluten free crusts, I use ground up gluten free gingersnaps (available at most large supermarkets) in place of graham crumbs. Process them in your food processor until they reach the texture of sand or slightly larger. The additional butter in the cookies compared to traditional graham crumbs means you need to add less butter to the crust. If using traditional graham crumbs, increase butter to ⅓ cup.
Hope you all have a great weekend :)