Little known fact: Carl and I dream of one day owning a fabulous Bed & Breakfast.
We've stayed at a only a couple of B & B's in our lives so far, but we love the friendly atmosphere, the great locations, and, obviously, the delicious breakfasts.  I don't eat heavy breakfasts but I would definitely agree that breakfast is the most important meal of the day.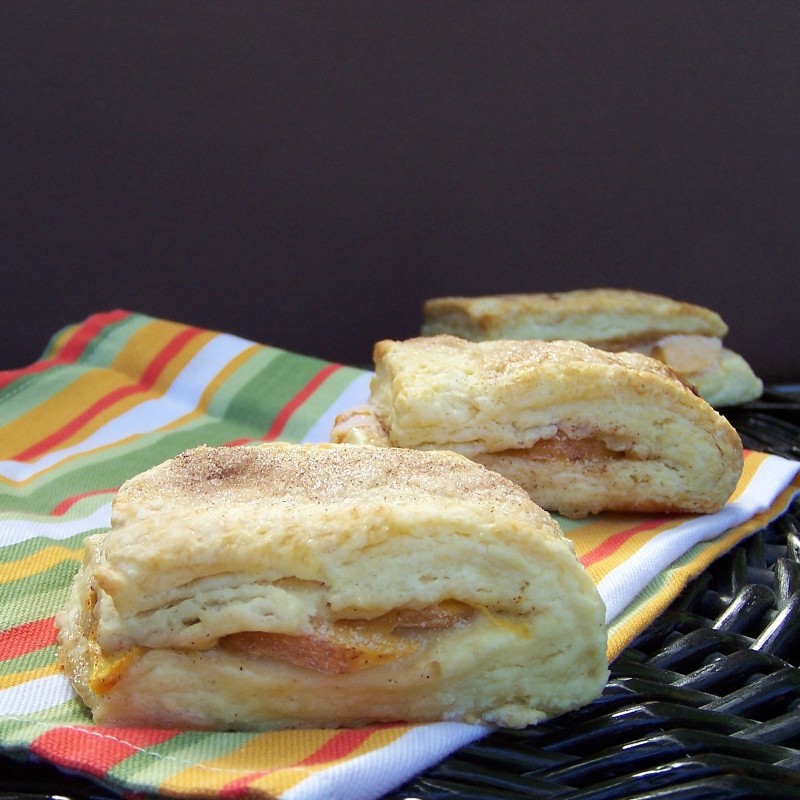 I love the idea of decorating a complete home with a consistent theme, the comfort of guests in mind, and the constant flow of interesting people you're sure to meet in such a line of business.  I also love the idea of getting up early with Carl (the established expert in things like eggs and waffles), making a fresh, delicious breakfast for said interesting people, then having the bulk of the day (and my house) to myself.
So if you hear about a great deal on a great big old house in a great location (preferably by the water), and you want someone willing to fix it up and make it a place where you can come to stay…you know who to call :)  One day, right?
Most Bed and Breakfasts serve a hot breakfast as well as fruits and various pastries, and scones would have to be one of those pastries at our place!  The second I saw these scones on Annie's Eats, they bumped everything else on my "to-make" list to the bottom of the stack.  These are a perfect seasonal addition to my morning routine, and would certainly be a welcome treat on a breakfast tray.
I can't wait to try them with other fruit – for some reason the layer of fruit sandwiched in the middle seems so much more special than small pieces of fruit scattered sporadically throughout.  This is a perfect way to use up the last few peaches that didn't make it into Peach Raspberry Crisp, and actually, they're good enough to buy a whole new carton of peaches for…which is what I did immediately after making them once.
Ingredients
FOR CINNAMON SUGAR:
2 tbsp. sugar
¾ tsp. ground cinnamon
FOR SCONES:
3 cups all-purpose flour
¼ cup granulated sugar
1 tbsp baking powder
½ tsp baking soda
¾ tsp salt
¾ cup COLD butter, cut into cubes
1 large egg, beaten
1 tsp vanilla extract OR almond extract
¾ cup buttermilk or soured milk, plus more for brushing
2 ripe peaches, sliced thinly
Instructions
In a small bowl, combine sugar and cinnamon - set aside.
For the dough, combine the flour, sugar, baking powder, baking soda and salt in a large bowl. Whisk briefly to blend.
Add the cubed, cold butter cut the butter into the dry ingredients using a pastry cutter or two knives until the largest butter pieces are the size of peas.
In a small bowl, combine the egg, vanilla, and buttermilk. Add to flour mixture and mix with a fork until a dough forms. Knead briefly with your hands, about 10-15 times, until the dough has come together. Do not overwork the dough - it can result in tough, dense scones rather than flaky ones.
Preheat the oven to 400˚F. Line a large baking sheet with parchment paper and set aside.
Turn the dough out onto a well-floured work surface - I used a large silicone mat to make the folding step easy as I could just pick up half the mat and fold it over without any risk of breaking the dough. Wax paper or parchment paper would also work. (If the dough is too soft to shape, chill it for 10-15 minutes before proceeding.)
Roll the dough out into a 10 x 12-inch rectangle. Brush half of the dough lightly with buttermilk. Lay the peach slices in a single layer over the buttermilk side of the dough. Sprinkle evenly with about half of the cinnamon-sugar mixture. Carefully fold the other side of the dough over the peaches as if closing a book.
Slice the dough into 10 equal-sized pieces and transfer to the prepared baking sheets. Brush the top of each scone with a bit more buttermilk and sprinkle with additional cinnamon sugar. Bake until the tops are golden brown and the scones are baked through, about 17-20 minutes. Let cool 2-3 minutes on the baking sheet, then carefully transfer to a wire rack to cool further. Serve warm.
Notes
To sour milk (if you don't have buttermilk), pour 1 tsp of vinegar or lemon juice into a measuring cup, then fill to required amount with regular 1% or 2% milk - despite it's name, buttermilk is not a high-fat milk. Let stand for 3-5 minutes to let it sour - if you do this first it will be ready when you are done mixing your dry ingredients. These scones freeze well - let cool completely, then freeze, individually wrapped, and reheat in the microwave for 45 seconds or as needed.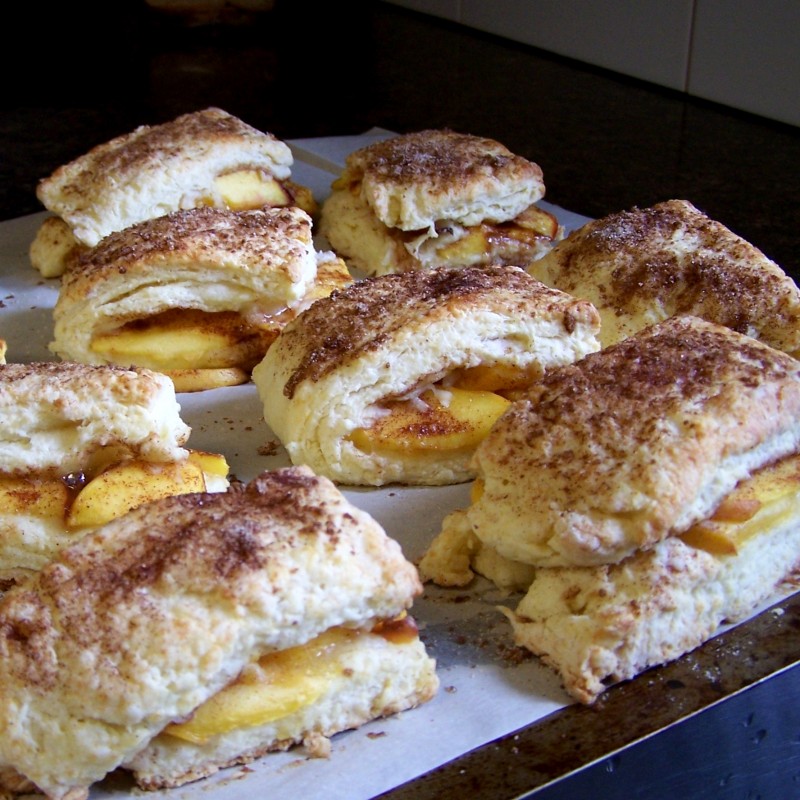 *Recipe adapted from Joy the Baker via Annie's Eats, both of whom feature a lovely step-by-step photo of the folding process.  If you haven't read Joy's blog, you really should check it out…her style and writing are seriously some of the best, and the recipes…yes please, I'll take one of everything.