Have you noticed cherries are all the rage lately?  If not, here's the facts: They kinda are.
So are brightly coloured pants.
I hope?
Because I have some and I love 'em.
And you all know being all the rage is what I'm allll about.
*jokes*
Cherries are one fruit that only seems to be affordably in season ever-so-briefly, and for some reason freezing them just doesn't happen in my house the way it does with berries.  Do a lot of you freeze cherries to use year 'round?  I need to know how it works so I can know ASAP whether I need to follow suit.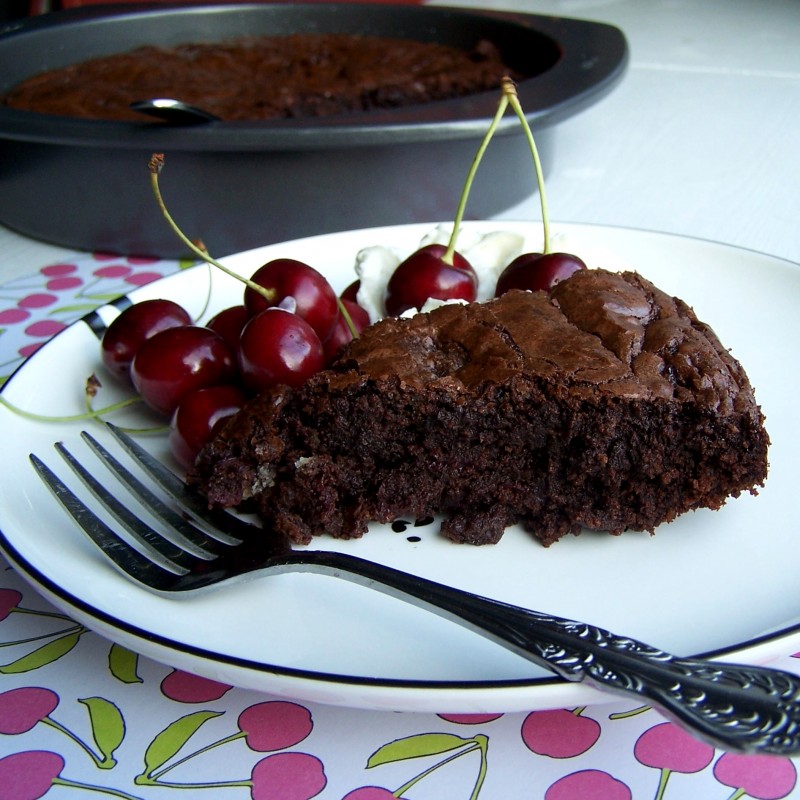 Today's recipe is actually one I've posted before, but I made it in a different pan this time so now it was kind of a cake, and I didn't have the dark chocolate it called for so I switched it up (I know, I can't even follow my own recipes), and it was still SOCRAZYGOOD I just had to post it again.  Last time I posted these I declared them the best brownie I'd ever tasted, and the assertion stands.  In fact, I'm willing to put this solidly in the list of "Top 3 things I've baked, EVER".  And it's in the running for top spot.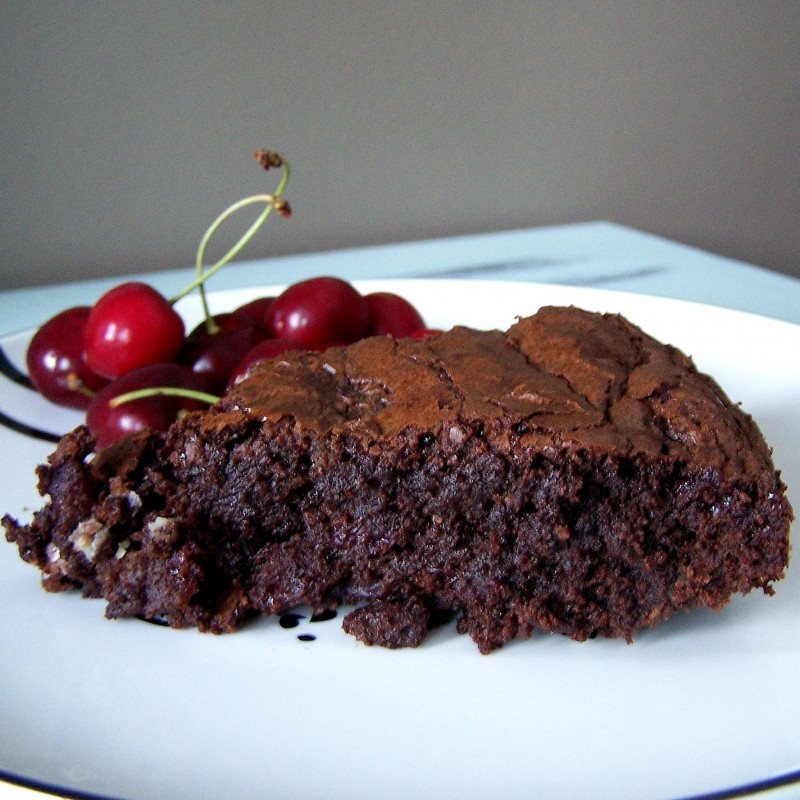 You don't need to make this with the roasted cherries, as they're a perfectly rich, fudgy, slightly underbaked, crackly-topped, stay-soft-for-days brownie anyway.  But the roasted cherries in there are really a nice surprise, and the juices from roasting add another depth of sweet flavour that perfectly complements the chocolate.  I can even see almonds being a nice addition here, and I am not usually the sort to sully brownies with nuts.  I'm wondering  if I can somehow work some merlot in next time, since the depth of chocolate flavour reminds me of these dark chocolate gems, one of my "Top 3 favourite cookies EVER".
I am all about the rankings today, I think the upcoming Olympics are already getting to me :)
So try 'em out if you have some cherries handy, or if you don't, or if you want to roast some strawberries and try that, because, well, also, YUM, and if you let me know how it goes in the comments you will officially make my list of "Top Several Favourite People EVER".  I know, right?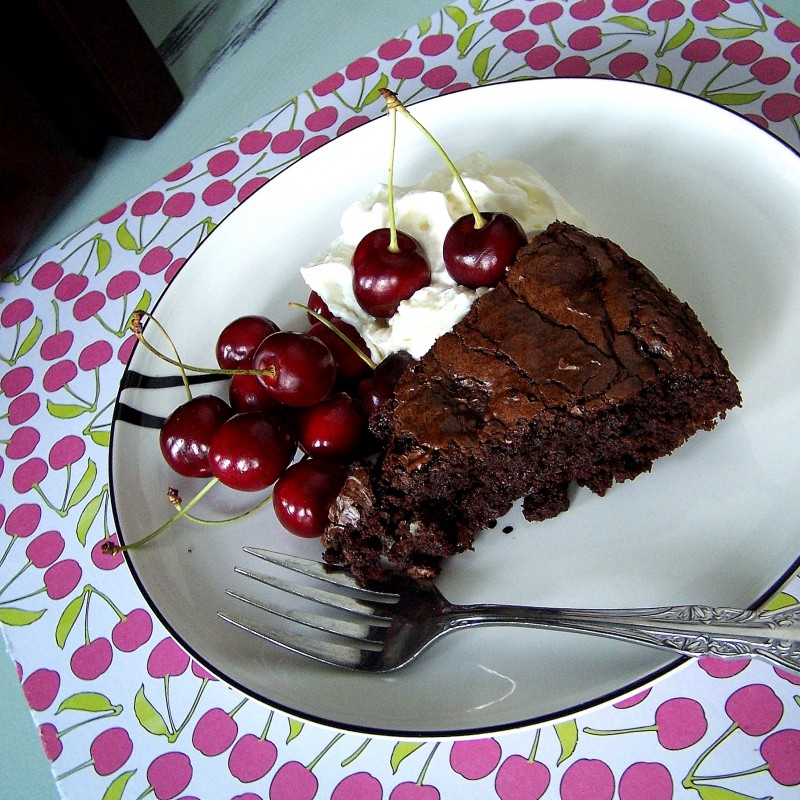 Roasted Cherry Chocolate Brownies (or Cake)
Ingredients
1 cup fresh cherries, pitted and quartered, tossed with 1 Tbsp sugar
2½ cups (1 lb/approx 16 oz.) dark or semi-sweet chocolate, roughly chopped
½ cup butter (if it's unsalted butter, add 1 tsp salt to recipe)
4 large eggs
¾ cup sugar (increase to 1 cup if using dark chocolate)
1 tsp vanilla extract
½ cup all-purpose flour
1 tsp baking powder
Instructions
Preheat oven to 450 degrees.
Combine chopped cherries with 1 Tbsp sugar on a parchment paper-lined baking sheet. Roast for 10 minutes. Remove from baking pan to a small bowl and transfer to the fridge or freezer to cool down.
Meanwhile, lower oven temperature to 350 degrees. Lightly grease a 9" pie plate or cake pan, or an 8x11" baking pan; set aside.
Melt chocolate and butter, stirring, until completely smooth. Let cool slightly.
In medium bowl, whisk together eggs, ¾ - 1 cup sugar, and vanilla until well blended. Add the melted chocolate/butter and mix until incorporated. Fold in flour and baking powder. Stir in roasted cherries.
Pour batter into prepared pan and bake for 28-33 minutes, until brownies no longer jiggle in the center when shaken. (A toothpick will not come out totally clean...you want these to be slightly underbaked).
Let cool before slicing, then store in an airtight container at room temperature for up to 5 days. These also freeze well.