When I'm pregnant, I don't grow leg hair.  Apparently this is a sign of it being a boy on the way, and indeed, a boy is what I had last time around when I noticed this fantastic phenomenon, but I honestly can't say if it was the case the first time around, when I had a girl.  I was so busy with working two jobs and trying to finish off my university semester that I quite frankly don't think I would have shaved my legs even if they had been hairy.
Anyways, to establish relevancy, all the time this pregnancy perk saves me means much more time to spend in the kitchen!
Which meant it was finally time for me to crack a box of phyllo dough.
I don't know why the stuff has always scared me – everyone assured me it was easy to work with, but it was up there with puff pastry on my list of things I was pretty sure would not work for me.  Puff pastry was first conquered with Chelsea at my side when we made homemade sausage rolls, and it turned out everyone was right – it's crazy easy to use.
We recently hosted a Greek theme night with friends, and pulling the dessert straw gave me the perfect opportunity to conquer my phyllo fears.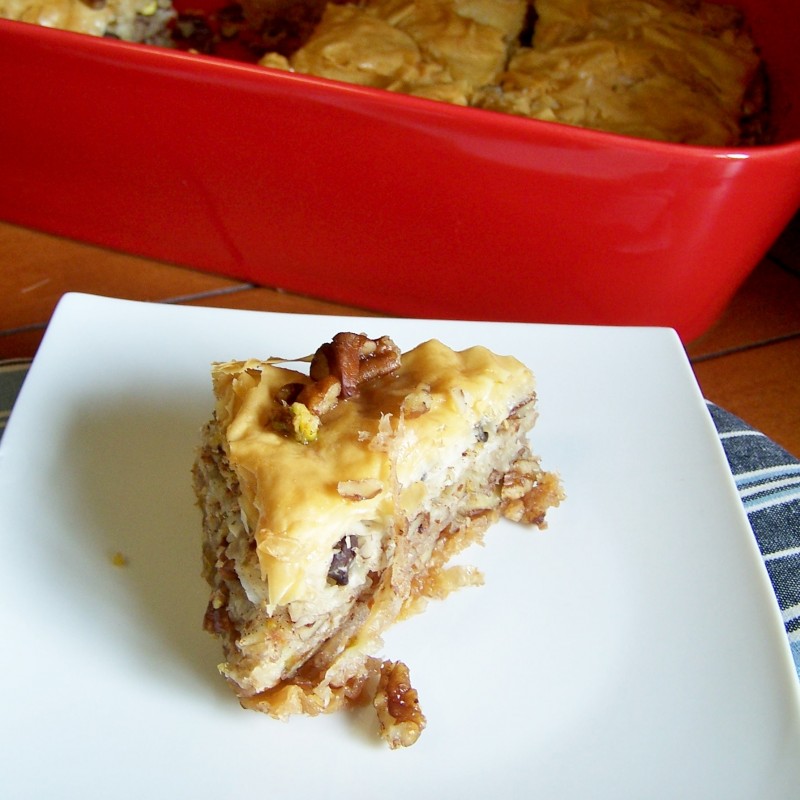 I've only had baklava once before, and I couldn't believe how easy it was to make at home!  I assumed all those layers meant a difficult dessert.  Before I get into the recipe though, I have to share the full dinner menu to get you into the Greek food mood. We enjoyed:
Tzatziki
Hummus
Greek salad
Roasted potatoes
Rice
Lemon chicken kebabs
Greek ribs
Shrimp scampi
All in all, a totally delicious meal.  I am blessed with some seriously great cooks for friends.  We all agreed that Greek food was an easy favourite, with simple, consistent spices and flavours and a real focus on fresh ingredients and letting their natural flavours shine.  I could not stop eating the Greek salad, and it's inspired me to keep it handy in my fridge all summer long!
Dessert consisted of a gluten free Honey Yogurt Cheesecake which I hope to share soon and this baklava.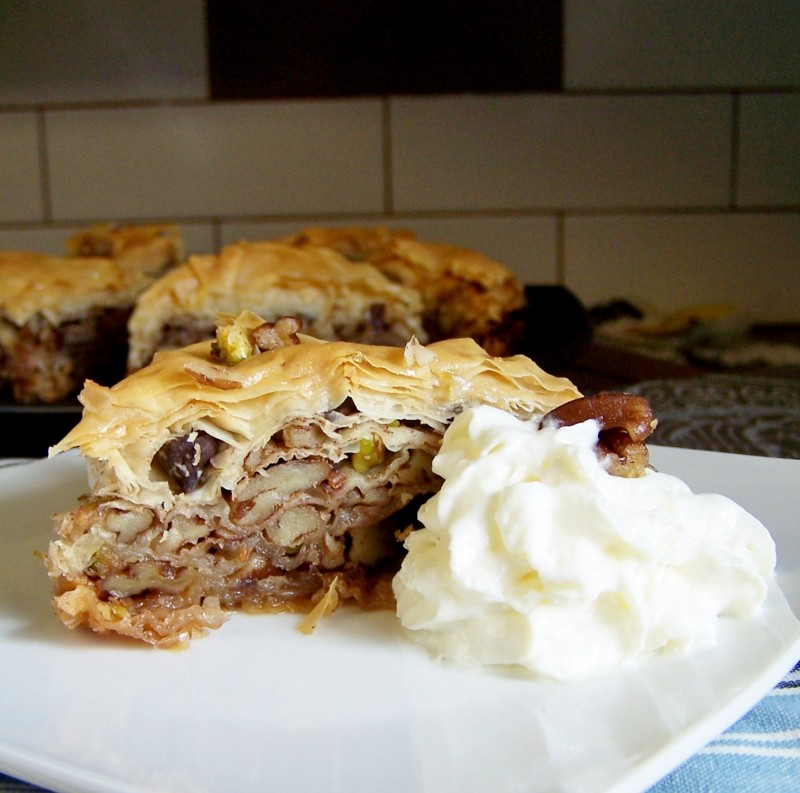 This dessert really couldn't be simpler, and the phyllo kept its crunch for several days stored at room temperature, despite my concern that it would get soggy.  It also freezes well, which is good since it makes a big pan and the sweetness means a small piece is usually enough.  It does take some time to assemble and bake (don't start at 9:45 pm like I did), but each step is totally basic, and pouring the hot sugar over the baked dessert produces a fantastic crackling sound and lets out a rich, buttery smell that lets you know the dessert is going to be goooo-od.
Use your favourite nuts, add orange or lemon zest to the sauce, add dried cranberries or raisins to the filling – this is totally personalizable, but I do recommend keeping your flavours simple and classic for this classic dessert.  Having said that, I definitely added a handful of chocolate chips in with the nuts on my top layer because by 10:00 pm you can't resist a thing like that :)  But I will be the first to admit they were totally unnecessary amidst all those pistachios, almonds, pecans, and buttery pastry. Whether you have a Greek night in your future or not (I hope you do!), find an excuse to make this soon!

Buttery, flaky pastry layered with cinnamon coated nuts and all doused with a sticky sweet sauce.
Author:
Anna @ Hidden Ponies
Ingredients
1 (16 oz) pkg phyllo dough (usually found in the freezer section, near the pie crusts and puff pastry)
1 pound chopped nuts (pistachios, pecans, and almonds are my favourite)
1 cup butter, melted
1 tsp ground cinnamon
1 cup water
1 cup granulated sugar
1 tsp vanilla extract
½ cup honey
1 tsp grated lemon or orange zest (optional)
Instructions
Preheat oven to 350 degrees. Lightly grease the bottoms and sides of a 9x13" pan.
Chop nuts and toss with cinnamon. Set aside.
Unroll phyllo dough and cut entire stack in half to fit the pan. Cover phyllo with a damp cloth while working to keep it flexible.
Place two sheets of dough in the pan and brush completely with some melted butter. Repeat, two sheets at time, buttering after each two sheets, until you have 8 sheets layered. Sprinkle with 2-3 Tbsp of nut mixture and top with two more sheets of dough. Butter thoroughly, sprinkle with nuts, and layer with two more sheets of dough.
Continue with layers (2 sheets dough, butter, nuts, dough, etc.) until you run out of nuts. The top layer should then be 6-8 sheets deep with just dough and butter, like the bottom layer.
Using a sharp knife, cut unbaked baklava into diamonds or squares all the way to the bottom of the pan.
Bake for about 50 minutes, or until baklava is golden and crisp.
While baklava is baking, make SAUCE: Boil water and sugar until sugar is melted. Add vanilla, honey, and zest. Simmer for about 20 minutes, then remove from heat until baklava is done baking.
When baklava is done baking, remove from oven and immediately pour or spoon sauce all over it. Let cool before serving.
Notes
This dessert is best served without any cutlery - the easiest way to eat it is to pick it up and bite it :) Serving it in cupcake papers works well!