Skillet cookies.
Also known as the reason I bought a cast iron skillet.
Also known as the reason I no longer fit a size zero skirt (that could also be because I'm not 17 anymore).
Also known as how to win friends and influence people with only one dish and 30 minutes from "hey, we should have some dessert" to "hey, dig into this giant warm, gooey skillet cookie. Would you like ice cream with that?"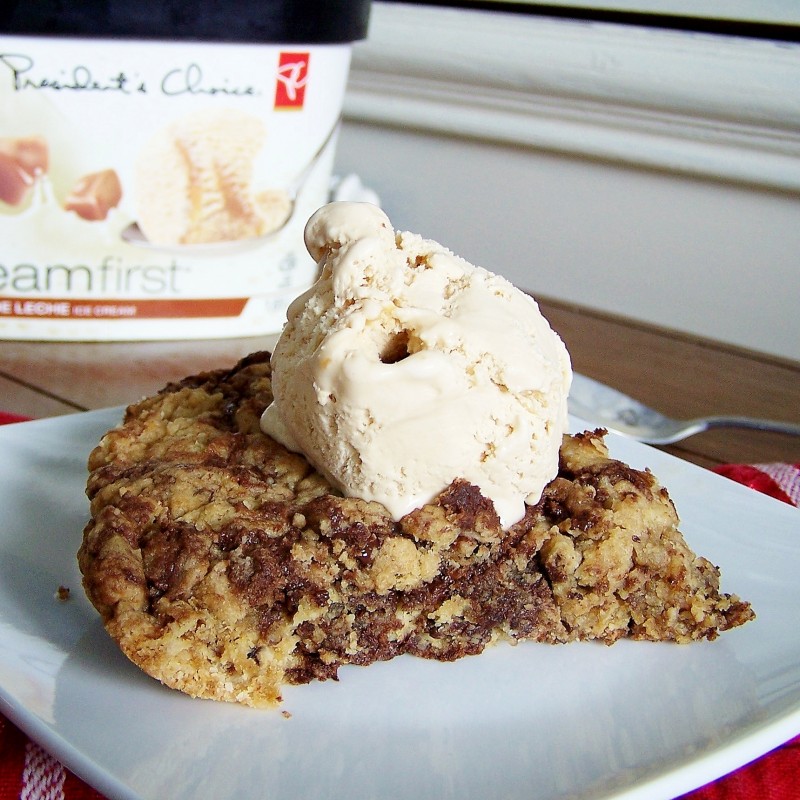 This is basically an entire batch of cookies, with basic ingredients mixed up quickly all in one pan, cooked as one giant cookie, and ready to dig into with the largest available spoon moments after it comes out of the oven.
If you don't have a skillet, mix all the ingredients in a saucepan and transfer it all to a pie plate to bake – now you'll have two dirty dishes instead of one, but I'm sure you'll get over it, because, well, really.
Have a fabulous weekend!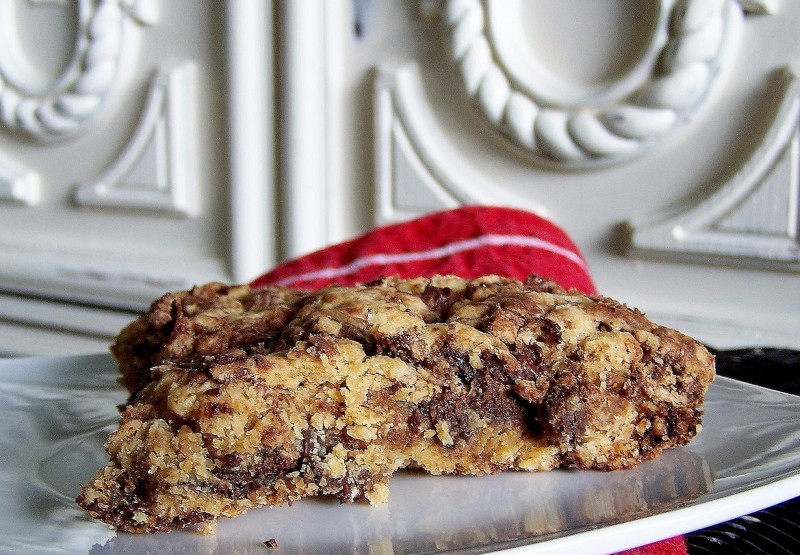 Peanut Butter & Chocolate Skillet Cookie
A decadent jumbo peanut butter cookie with rivers of warm chocolate...serve with vanilla ice cream for a perfect treat.
Author:
Anna @ Hidden Ponies
Ingredients
⅓ cup peanut butter
¼ cup butter
¾ cup packed brown sugar
1 tsp vanilla
1 large egg
3 tsp water
1½ cups all purpose flour
½ tsp baking soda
¼ tsp salt
1 cup chocolate chunks or ¾ cup chocolate chips
Instructions
Preheat oven to 350 degrees.
Melt peanut butter and butter in an 8" oven-safe skillet (cast-iron is great). Stir in sugar and vanilla and remove from heat. Let rest until pan is warm but no longer very hot, about 5 minutes.
Crack an egg onto the mixture and whisk it in with a fork. Add water and dump flour, baking soda and salt right on top. Carefully stir it all together, until smooth and well-mixed. Stir in chocolate chunks (they will get a little melty and fill the cookie with chocolate!).
Bake for 17-20 minutes, or until starting to turn golden on the top and around the edges, but still soft in the center. Serve warm with vanilla ice cream - just scoop out a big piece with a spoon like cobbler.
Tastes just as good reheated in the microwave the next day!
Notes
If you don't have an oven-safe skillet, this bakes just as well in a 9" pie plate or 8" cake pan. Mix the ingredients in a medium saucepan on the stove, then transfer to baking dish to bake.

Recipe adapted from <a href="http://www.sophistimom.com/one-pan-skillet-cookie/" data-mce-href="http://www.sophistimom.com/one-pan-skillet-cookie/">Sophistimom</a> - her dark chocolate chunk version is absolutely amazing too!