Last night we had two university volleyball teams over for a barbecue, so I thought I should make things look presentable.  In case someone should wander the halls, I pulled the bed together and threw on the accent pillows that so often lie unnoticed on the couch in our room.  At bedtime, Carl pulled back the duvet and crawled in, and a look of confusion crossed his face – what was this lump at the bottom of the bed?  And the pile of clothes between our pillows? And why couldn't he find the sheet?
Me: Oh, you thought I actually made the bed? *giggles* How adorable.
What I did make was this cake! A better use of time, yes?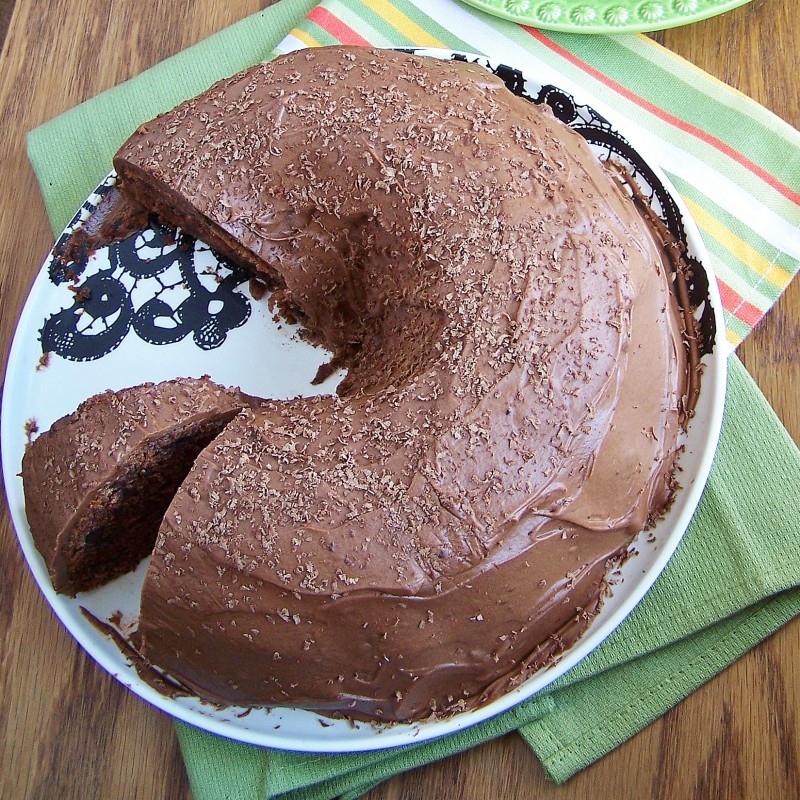 Official zucchini season is fast approaching, which means I can use up all the zucchini in my freezer with legitimate hope of restocking it in the near future.  Which is to say, if I know you, and you find yourself with zucchini on your hands and some to spare, feel free to send it my way! :)
I will make you one of these cakes in thanks.
This is the probably the cake I remember eating most often growing up.  My mom would always make several when the zucchini were on the vine and fast approaching the size of small school buses, and they would certainly never go to waste! Half the deliciousness of this cake is in the rich chocolate icing, so I don't recommend skipping that part – it may have veggies in it, but this is truly a decadent cake.
A lot of friends and boyfriends growing up were first introduced to zucchini in this cake – given a hefty slice of chocolate cake after church, you could always immediately see them wonder, "what's the green stuff in this cake??" and the first bite would be tentative.  But I've yet to meet anyone who didn't love this moist, chocolatey cake, with that distinct special flavour that comes from zucchini in baked goods.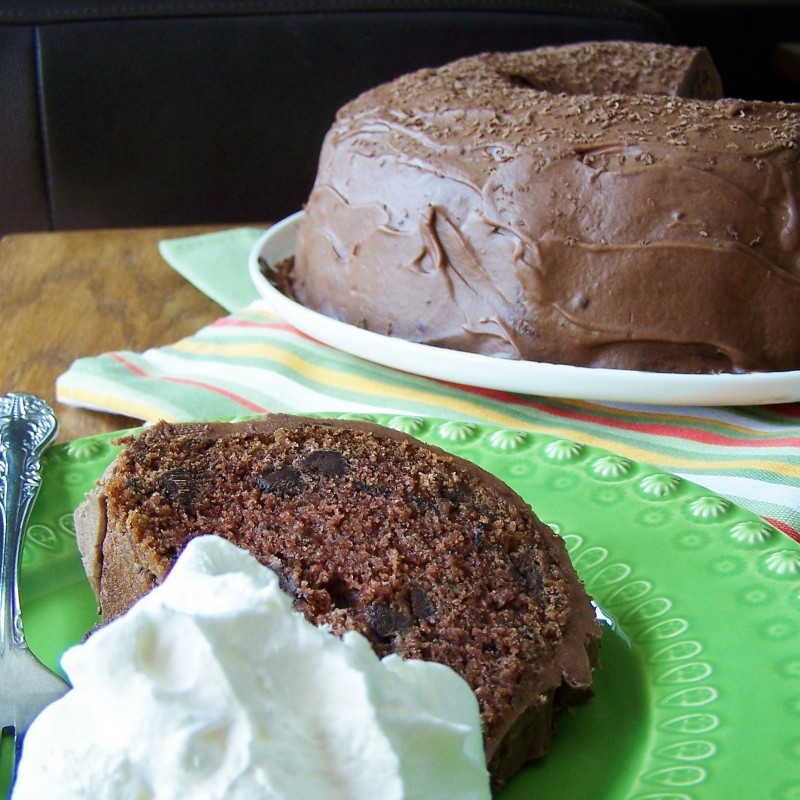 I hope you all have a great weekend – I guess my day today will be spent doing some actual cleaning instead of the glossing over that happens all week :) With all the leftover cookies and mini cinnamon buns from last night's barbecue I don't think I can justify spending the day in the kitchen instead…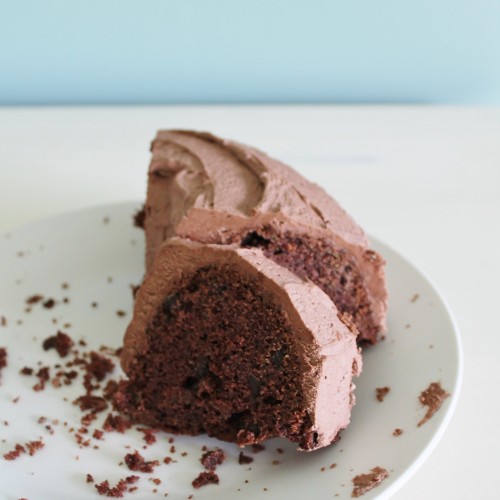 DOUBLE CHOCOLATE ZUCCHINI CAKE
Author:
Anna @ Hidden Ponies
Ingredients
CAKE:
½ cup butter or margarine, softened
½ cup vegetable oil
1¾ cups sugar
2 large eggs
1 tsp vanilla
½ cup buttermilk or soured milk
2½ cups flour
¼ cup cocoa
1 tsp baking soda
1 tsp baking powder
½ tsp salt
½ tsp. cinnamon
2 cups grated zucchini
1 cup chocolate chips
CHOCOLATE ICING:
½ cup butter or margarine
⅔ cup cocoa
3 cups icing sugar
⅓ cup milk
1 tsp vanilla
Instructions
If you need to sour the milk, then add 1 tsp. vinegar or lemon juice to ½ cup cold milk and let stand 2 minutes before using.
Cream together butter, oil and sugar. Mix in eggs, vanilla and buttermilk or sour milk.
Combine flour, cocoa, soda, baking powder, salt, and cinnamon.
Add dry ingredients to wet ingredients and mix well. Stir in zucchini and chocolate chips.
Pour batter into lightly greased bundt pan (or two 8" or 9" cake pans - see note) and bake at 350 degrees for 55-60 minutes, or until toothpick comes out clean.
Cool in pan for a few minutes before running knife around edge to loosen and removing to rack to cool completely.
FOR CHOCOLATE ICING:
Melt butter and stir in cocoa.
Add icing sugar and milk, alternately, beating between additions. Mix in vanilla.
This is a great, easy-to-spread icing. After icing, put the cake in the fridge for half an hour to let the icing firm up before covering with plastic wrap.
Notes
If baking in 2 cake pans, reduce baking time to 30-35 minutes. Cake is done when tester comes out with only a few crumbs. Store the iced cake in the fridge, but let sit at room temperature for 15-20 minutes before serving for maximum flavour. For longer storage, wrap un-iced cake in plastic wrap and then foil, and freeze. Defrost in the fridge and ice when needed.
*Recipe from my Mom, via our family cookbook – I have no idea what the original source is, and I've been eating this since I was knee-high to a grasshopper, but if anyone knows please let me know so I can add it! :)