When it comes to cake and cupcakes, box mixes have spoiled a lot of things for me.
They're just so. darn. good.
But I don't want to use a box mix.  I just want it to have that same light, fluffy, almost-dry, stick-to-the-back-of-your-throat crumb texture that stays fresh for days and doesn't take over from any filling or icing additions without any of the chemicals which are obviously so useful in creating that.
So for that reason I consider these cupcakes a huge, wildly successful accomplishment, because folks, people are gonna think you used a mix.  In my cupcake world, there is no higher compliment than that.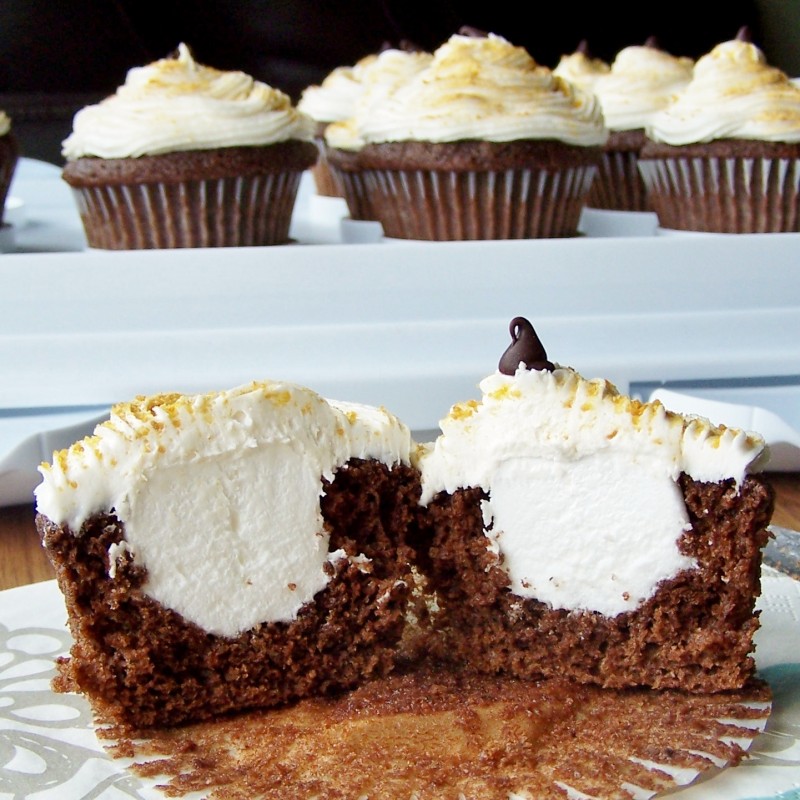 I made these cupcakes 2 days before I need to ice and serve them, and they maintained their softness and fresh, light crumb perfectly.  I made sure the icing had nothing in it that could spoil so they can be stored at room temperature, which preserves the best flavour and texture in cake.  And the surprise centre really did surprise eaters, which I love.  These are perfect for little hands to help with, and were actually Gemma's idea since she wanted to make special cupcakes for Father's Day – she loved stuffing the marshmallows into the hollowed-out cupcakes!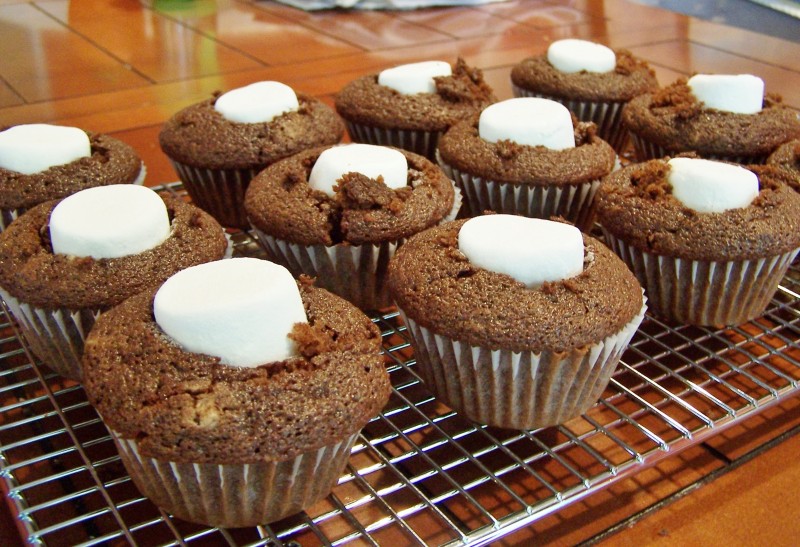 Fair warning: these are definitely not for the faint of sweet-tooth, with that big sugary marshmallow and the fairly sweet icing (basically a plain buttercream with a little marshmallow mixed in), but I absolutely loved them.  I can usually take or leave cupcakes, but I definitely ate two of these in about a two hour span.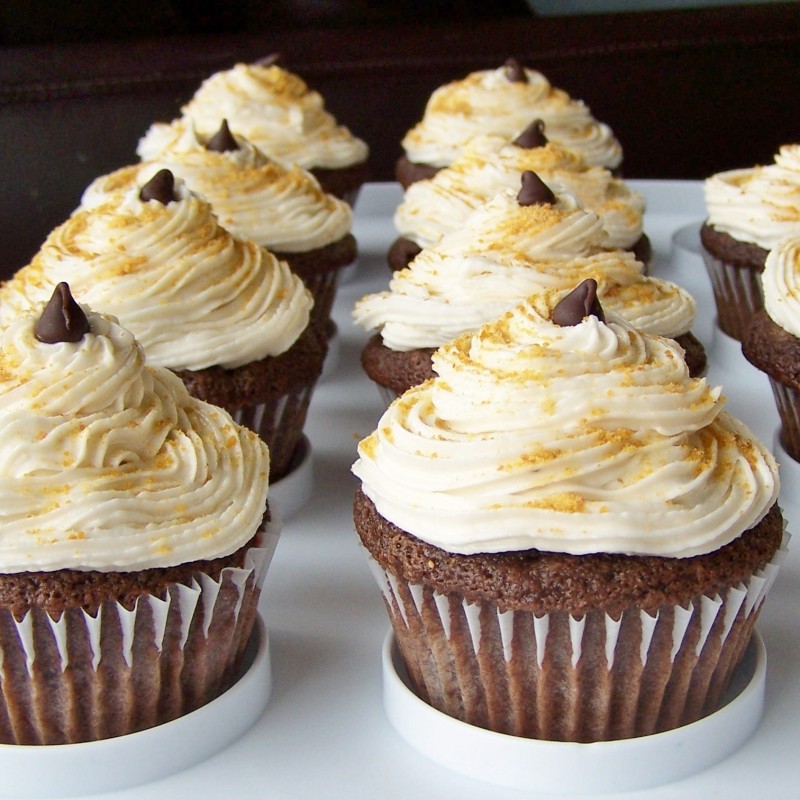 You could also make them with just a mini marshmallow centre  if you want a less sweet (but also less grand) surprise :)  The marshmallows don't add too much flavour to the icing, but they do tie the sweetness in perfectly to the cupcake and give the icing a pretty sheen.  A sprinkle of graham crumbs on top added a bit of interest and hinted at the flavour combo without giving anything away, but these would be fun to decorate in all-out s'mores form too, with chocolate chips, mini marshmallows, and wedges of graham crackers atop the icing!  I hope you'll try these – they are a perfect summer cupcake and lots of fun to serve to kids and adults alike!

CHOCOLATE SURPRISE CUPCAKES
Author:
Anna @ Hidden Ponies
Ingredients
1 cup cake and pastry flour (you can substitute all-purpose but they won't be QUITE as light and fluffy :))
½ tsp baking powder
¼ tsp baking soda
¼ tsp salt
1 cup granulated sugar
¼ cup canola oil
1 egg white
1 whole egg
2 tsp vanilla
3 oz unsweetened chocolate, melted and slightly cooled
⅔ cup buttermilk
12 large marshmallows
MARSHMALLOW BUTTERCREAM ICING:
½ cup butter, softened
3½ cups confectioner's sugar, divided
8-10 large marshmallows
1 tsp vanilla
2 Tbsp HOT water
Instructions
Preheat oven to 350 degrees and line a 12-cup muffin tin with paper liners.
In a small bowl, whisk together flour, baking powder, baking soda, and salt.
In larger bowl, or bowl of electric mixer, cream together sugar and oil until well combined. Add egg white and beat well. Add whole egg and beat until mixture is very smooth.
Beat it vanilla and melted chocolate.
Alternately beat in flour mixture and buttermilk: Start with ⅓ of the flour mixture, then half the buttermilk, then another ⅓ of the flour, then the remaining buttermilk, and finally the remaining flour. The batter should be very smooth.
Scoop batter into prepared pan, dividing evenly over 12 cupcakes. Bake for 20-22 minutes, until tops of cupcakes spring back when lightly touched and a tester comes out clean or with a few moist crumbs.
Let cool in pan on rack for 5 minutes, then remove cupcakes from pan and, while hot, use a spoon to scoop out enough of the center to fit a marshmallow. Don't worry if the marshmallow doesn't fit all the way in - the heat from the cupcake will melt it a bit and it will smoosh down.
Nibble on cupcake scraps while you let them cool completely before icing :)
When cupcakes are cool, PREPARE ICING:
Cream butter and 2 cups of confectioner's sugar until fairly well mixed.
Melt marshmallows in microwave for about 30 seconds, stirring to complete melting. Add that sticky mess and your vanilla to the icing and beat (the marshmallow will stick to the beaters quite a bit at this point!).
Add another 1½ cups confectioner's sugar and 2 Tbsp hot water and beat until icing is completely smooth. Add more water or confectioner's sugar if necessary to achieve desired consistency.
Ice and decorate cupcakes as desired (if you're just spreading on a thin layer of flat icing, you will likely only need half of this icing recipe).
Notes
Store in an airtight container at cool room temperature for up to 4 days (refrigerating not recommended, but do keep them out of a sunbeam or the icing might get melty :))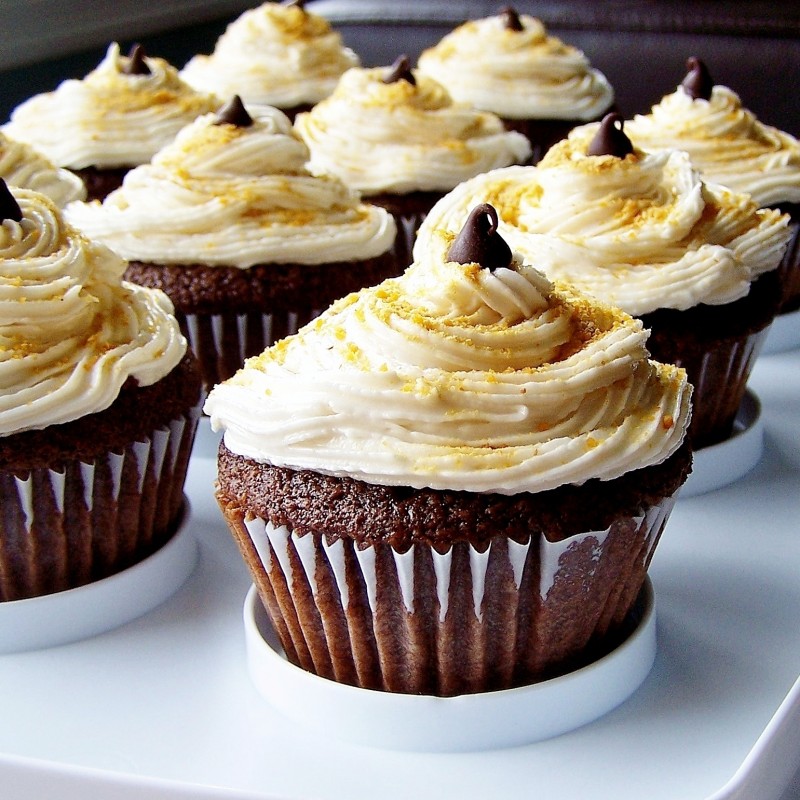 Cupcake recipe liberally adapted from Julie Hasson, from the previously reviewed 150 Best Cupcake Recipes, icing recipe my own.