I know, it's summer. But where I live in the Fraser Valley, you certainly wouldn't know it to look outside.
We're in the middle of the coldest June on record, and rain is the norm.  Quite honestly, I am heavily in favour of cool weather and a little dampness, so I'm not complaining.  The weather is also fostering my winter food fetish.  And I can't tell you about my pumpkin infatuation and not share a couple delicious pumpkin recipes!
Well, I could, and I thought about saving them for fall, but I can't wait that long.  I highly recommend making some Whole Wheat Pumpkin Banana Muffins, and that's probably going to leave you with some leftover pumpkin unless you found a mini-can somewhere.  So you should definitely make Pumpkin Scones with the addition of a 1/2 cup of mini chocolate chips and drizzle them with a couple ounces of semi-sweet chocolate, because that's delicious.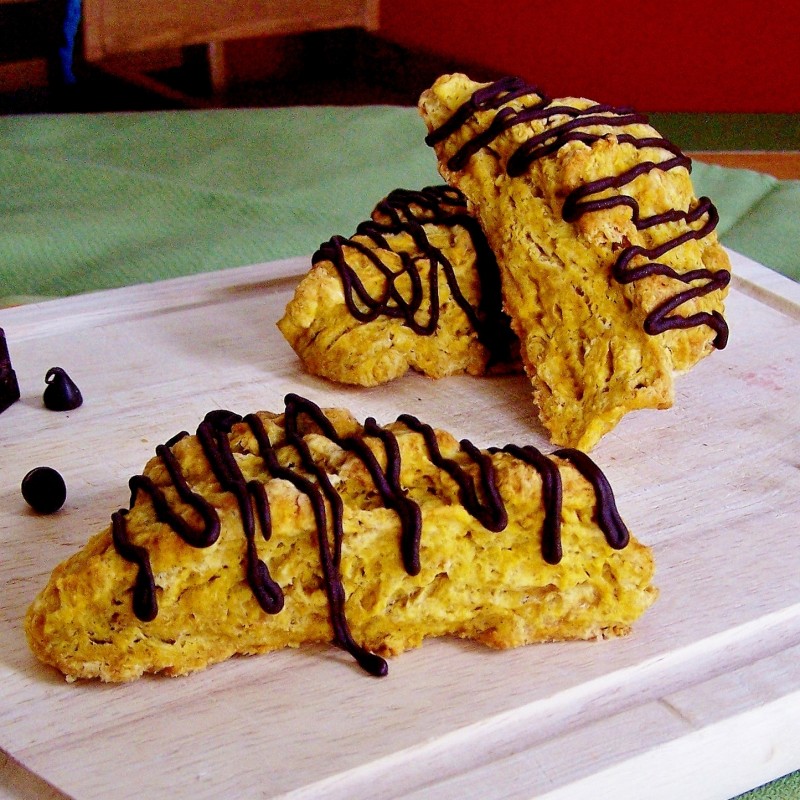 And then. THEN.
My friends, I saved the best for last.
Then you need to make these Pumpkin Spice Breakfast Cakes I found on Tasty Kitchen, contributed by the indubitably fabulous Jessica, who makes my mouth water like nobody's business. Well, her food does.
You know what I mean.
Awkward.
Oh look, a distraction!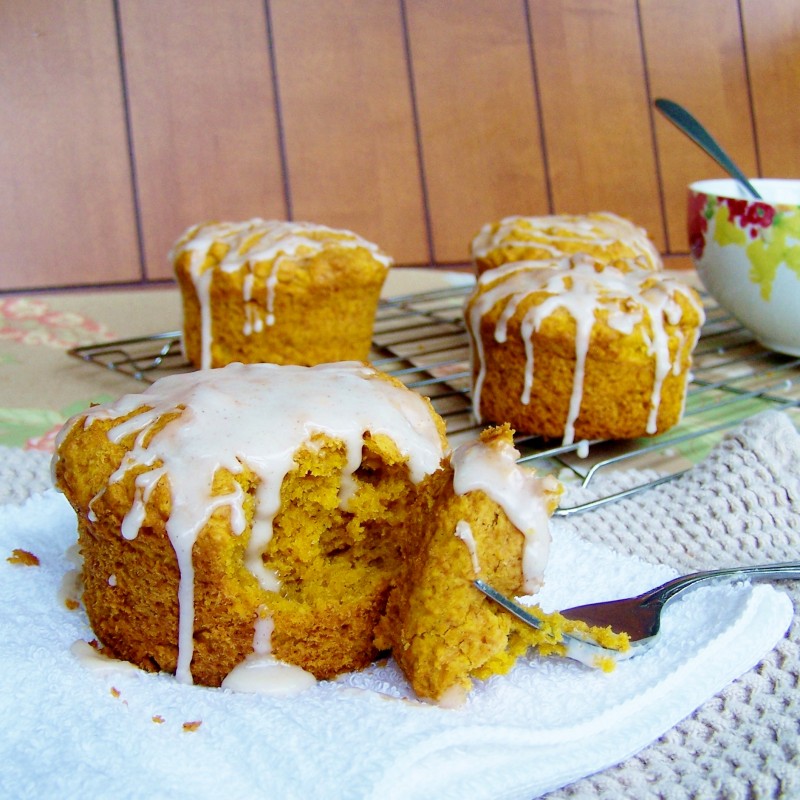 I first made these breakfast cakes, ooooh, probably about 1.75 years ago, aka immediately after seeing them, and they are an easy recipe that works every time with fabulous results.  Also, they are cake. For breakfast. With whole wheat flour. Do you see why I love this?
So how is it even possible I haven't told you about them yet? I clearly couldn't wait until fall.
If you like pumpkin even at all, these delicious little cakes are a must-try.  If you don't have ramekins, go buy some ;)  Then you can also make molten lava cakes, and souffles, and individual fruit crisps, and other fun things!  Alternatively, use a jumbo muffin tin and call them muffins – no one will complain, because they will have their mouths crammed full of orange deliciousness! If using a muffin tin, I recommend dividing the batter over at least 6 instead of 4 portions – even more happy people!  One cake is definitely a hearty breakfast – my kids shared one and that was plenty.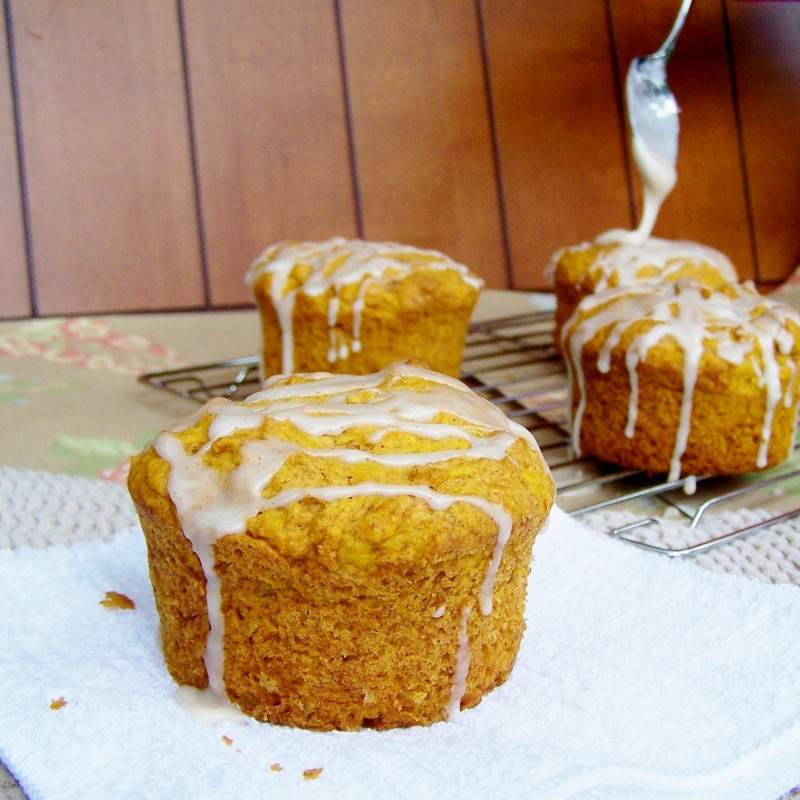 Props to Gemma for the perfectly timed icing drizzle in the background!  Four-year-olds sure can be handy to have around :)
These taste just as good reheated the next day as they do fresh, or, for longer storage, freeze them in an airtight container or wrapped in plastic and reheat in the microwave for 45 seconds when needed.
Do you have any fall foods that you like to enjoy all year long?  Am I the only person wondering how I can combine rhubarb and pumpkin into something delicious?? Or is a summer food you want all winter long? (That one's raspberries for me – hooray for frozen fruit!)
Have a great weekend!!

Saturday Sweets: PUMPKIN SPICE BREAKFAST CAKES
Ingredients
½ cup butter or margarine, room temperature
½ cup sugar
1 egg
2 tsp vanilla
⅔ cup puréed pumpkin
⅔ cup whole wheat flour (all-purpose works fine)
¼ cup cake flour (all-purpose works fine)
2 tsp baking powder
¼ tsp salt
¼ tsp pumpkin pie spice OR ground ginger
½ tsp cinnamon
Instructions
Preheat oven to 350 degrees.
Cream butter and sugar with electric mixer until light and fluffy. Add egg and mix well. Add vanilla and pumpkin and mix until smooth.
Mix dry ingredients together and add to pumpkin mixture, mixing just until combined.
Spray 4 individual size ramekins with cooking spray and divide batter between them. Bake for 33-35 minutes, or until a tester comes out clean from the center. (Alternatively, use a regular or jumbo muffin tin and fill cups about ¾ full).
For an extra treat, add a drizzle of icing – try adding maple syrup or cinnamon or cream cheese to the icing for bonus points :)  Of course, they are also amazing with a healthy dose of melty butter!