My little sister's big day is coming up this summer and I'm so excited to see her walk down the aisle, to see my little girl be a flower girl, and just to see my whole family together for the first time since last summer (I know, a lot of families go longer, but for us, that's loooong; it seems like years).
It's funny when you're pregnant how your goals change.  Rather than "I need to lose a few pounds for this wedding, what with the family pictures and all", my goal has been "I don't want to gain more than 5 pounds before the wedding".  This is a reasonable goal, since I'll only be about 5 1/2 months pregnant, but my doctor's reaction was priceless on my last visit.
Dr.: So, have you started gaining much weight yet?
Me: Weellll, my sister's getting married this summer so I don't really want to gain much weight before then, so I don't think so.
Dr. (weighs me and discovers weight has remained exactly the same) : Ooooh, WOMEN! Will the VANITY never CEASE?
Me: Yes. It will cease. The second I am PUSHINGOUTA BABY it will cease, leave me my vanity a few months longer!
Ok, I didn't say that, I actually laughed.
Because my doctor has a South African accent and can pull off drama very well and was clearly jesting.
And really, how many doctors say things like that? I think I'll keep him, should I ever need to stage a Shakespeare play.
I guess what I should have done is told him how I've been maintaining my weight with a healthy, balanced diet, not by starving myself and the baby. (Really, if he'd read this blog at all in his spare time, he'd know starving myself has never crossed my mind).
While my girth is quickly expanding, that doesn't mean I'm giving up on healthy foods (they really can't be blamed, after all), and these muffins are a perfect way to start the day.  I especially love them as a mid-morning second breakfast – I throw one in my purse when I leave for work and it's perfectly thawed by the time I need it.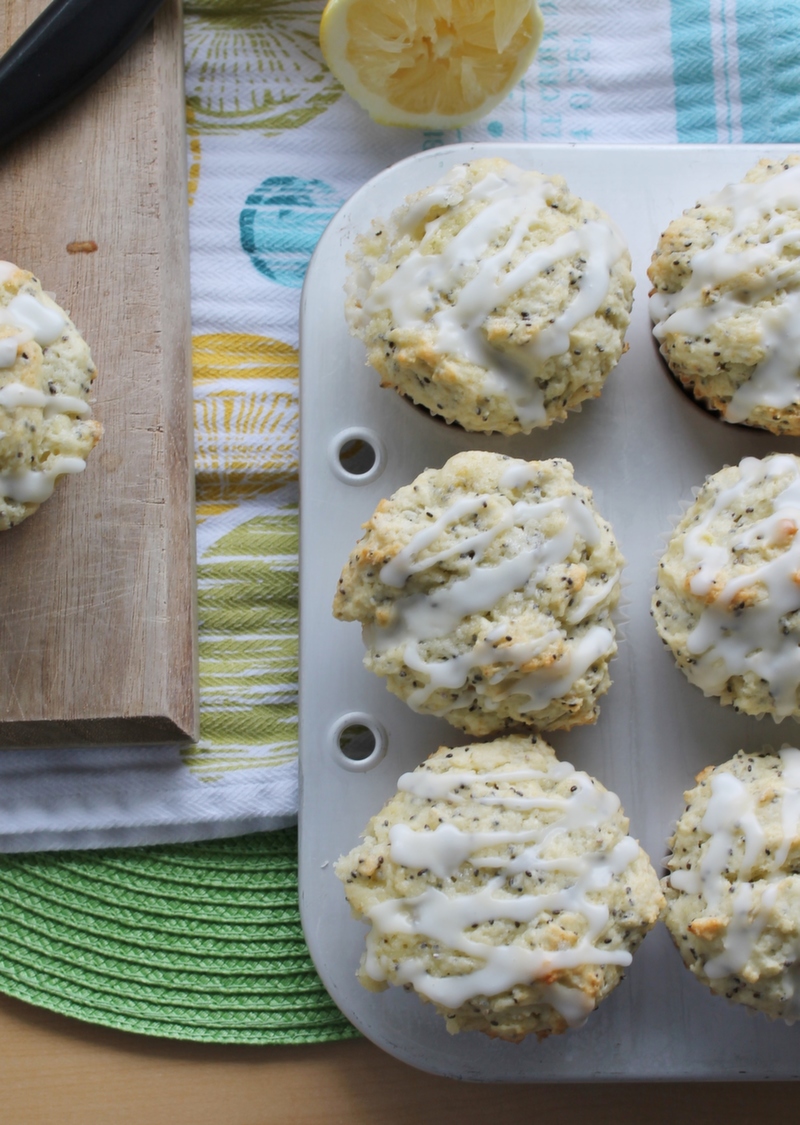 I've had these pinned to try for awhile, and seeing another version on Erin's site made me remember that it was time to make them. You know I'm always on the lookout for a new muffin recipe to add to my rotation, and all the ingredients were just sitting there waiting for me.  These are super quick to whip up – if you don't have or want chia seeds, these could just as easily be the usual lemon poppyseed, but chia seeds are packed with omega-3s and have no real flavour so the lemon is the star of the muffin show here.  Of course, you could always go seedless…ooh la la!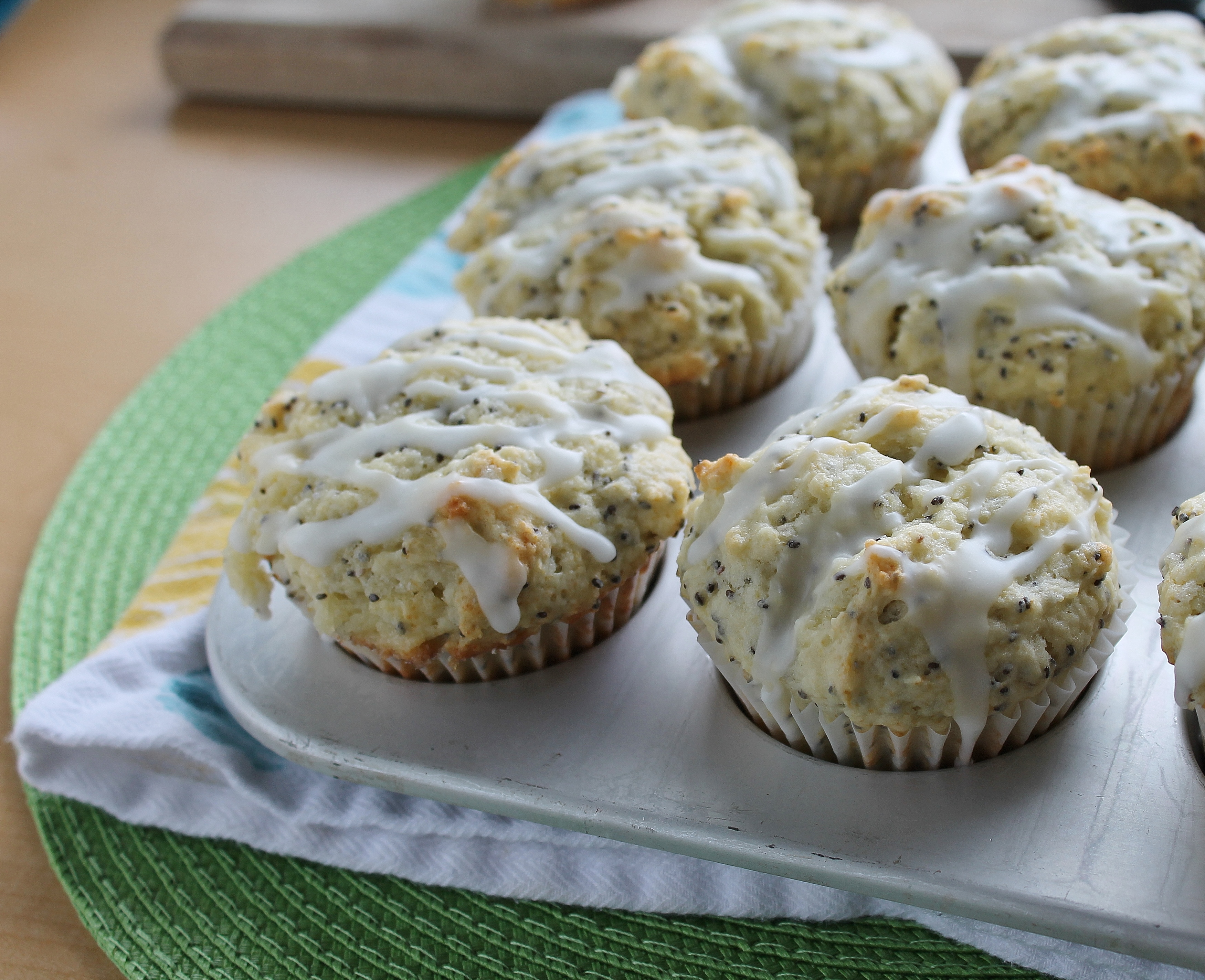 These disappeared in record time, as Carl even remembered them after they'd moved to the freezer, and both kids loved them! A definite win.

Lemon Chia Seed Muffins
A moist lemon muffin with chia seeds in place of poppy seeds.
Author:
Anna @ Hidden Ponies
Ingredients
2 cups flour
4 Tbsp chia seeds
2 tsp baking powder
¼ tsp baking soda
½ tsp salt
½ cup butter, softened
1 cup sugar
2 eggs
Zest of one lemon
1 tsp vanilla
1 cup lemon yogurt (vanilla yogurt or sour cream can be substituted, but then definitely add the glaze to bump up the lemon flavour)
GLAZE:
½ cup powdered sugar (icing sugar)
2 Tbsp fresh lemon juice
Instructions
Preheat oven to 375 degrees. Line 12-cup muffin tin with paper liners and set aside.
In a small bowl, combine flour, chia seeds, baking powder, baking soda and salt. Set aside.
In a larger bowl, cream butter and sugar together until light and fluffy. Beat in eggs, one at a time, mixing well after each addition. Mix in lemon zest and vanilla.
Alternate adding flour and yogurt, making two additions of each.
Divide batter over muffin tins and bake for 17-20 minutes, until tops are slightly golden and a tester comes out clean.
While the muffins are cooling prepare the glaze: Stir together the lemon juice and powdered sugar until smooth. Drizzle a little over the top of each muffin. Allow glaze to set before serving.
Notes
Adapted from Nutmeg Nanny, via Dinners, Dishes, & Desserts