First of all, thank you so much to Jennifer over at Peanut Butter and Peppers for nominating me for the Versatile Blogger award! I've been putting off mentioning it for aaages because it comes with the stipulation of passing it on to 15 other deserving bloggers, but I've decided I just can't narrow it down since I have so many favorites it's not even funny how much time I spend on the computer, so I just want to say thank you, thank you, thank you to Jennifer! Everyone should check out her blog for fresh, healthy, figure-friendly recipes – she is a pancake rockstar and always makes my mouth water!
In other very exciting news, you can head over (do it!) and find me at Food Babbles today raving on about homemade sponge toffee!  I am still beyond excited that this was a success.
I enlisted Carl to whack it apart, which frightened the children, but it was all worth it. (Sorry about the mess. . .I always hesitate to post pictures of my chaotic kitchen, but meh, such is my life!)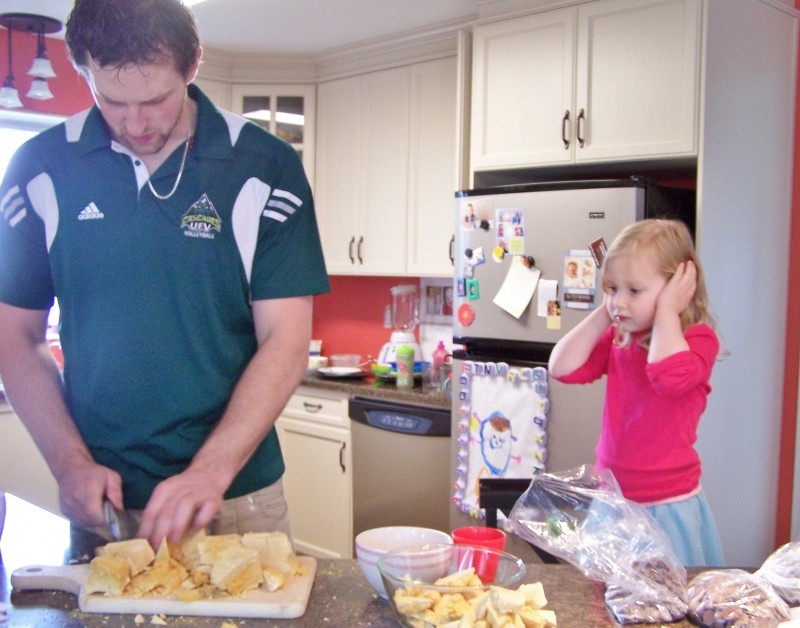 Is there anyone out there who loves Crunchie bars as much as I do?  (Besides my husband, that is – it's a fight to the finish at Halloween for the few valuable Crunchie bars hidden amongst all the other loot!)  When I saw the idea on Step by Step Gourmet I immediately pinned it with the words "my insides are all squiggly with excitement and hope"!  I went out and bought a candy thermometer and set out to conquer my fears of death by scalding syrups.
Those fears were conquered with wild success, if I do say so myself, and I'd love for you to pop over and say "hi" to Kate, my gracious host, and rave about my amazing candy making skills and general loveliness :)