You guys, I am in a funk.
You know one of those funks when you could nap all day and just want that leftover 7-layer dip in the fridge for breakfast, lunch, and dinner?  When dinnertime rolls around and you look blankly at the hungry little faces nearby and go grab them a bowl of cheerios and a muffin to tide them over while you go stick your upper body in the freezer and your lower body in the pantry and hope for the best?
Yes, one of those.
I'm pretty sure it's because I went and made myself all accountable-like my announcing my to-do list and the end to my procrastination, and you went and made me all internet-accountable and I have been crossing things off that list like nobody's business.
Dismantle and clean fridge, knock buttermilk over 2 days later and do it again? Check.
Clear piles of miscellaneous stuff from top of fireplace? Check.
Return full kitchen counter space to usefulness as opposed to only 25%? Check.
I love the results, don't get me wrong – but now I don't want to cook or let my kids draw or do anything that might result in me shedding more skin cells than absolutely necessary, so I really don't think it's worth it. Plus it makes me sleepy.
When you're in a funk such as this, the only thing you can make is this fruit leather – 2 ingredients, 5 minutes, DONE.
Aaaand….cue naptime(s).
For the record, I don't like fruit leather.  I never have, and probably never will.  I don't snack on dried fruit unless it's in a baked good like these scones, and fruit leather definitely tastes like dried fruit. Blech.
Having said that, if you like fruit leather, it really doesn't get any easier or healthier than this!  This is an all-fruit fruit roll-up my kids could eat all day, and it's a great way to use up slightly over-ripe fruit, which will give it the richest flavour.  The edges definitely cooked faster than the center on mine, which probably means I didn't spread it evenly enough, but they are like crisp dried fruit chips, so still totally edible if dried fruit is up your alley!  Otherwise I'd recommend leaving the center a little stickier and removing the tray from the oven when the edges are done at least 1″ in from the side, and let it sit on the counter for an additional hour to dry further before slicing it.  A pizza cutter worked perfectly for slicing!
If you'd like it thicker and chewier, spread the puréed fruit on a smaller cookie sheet and let it bake for longer to fully dry.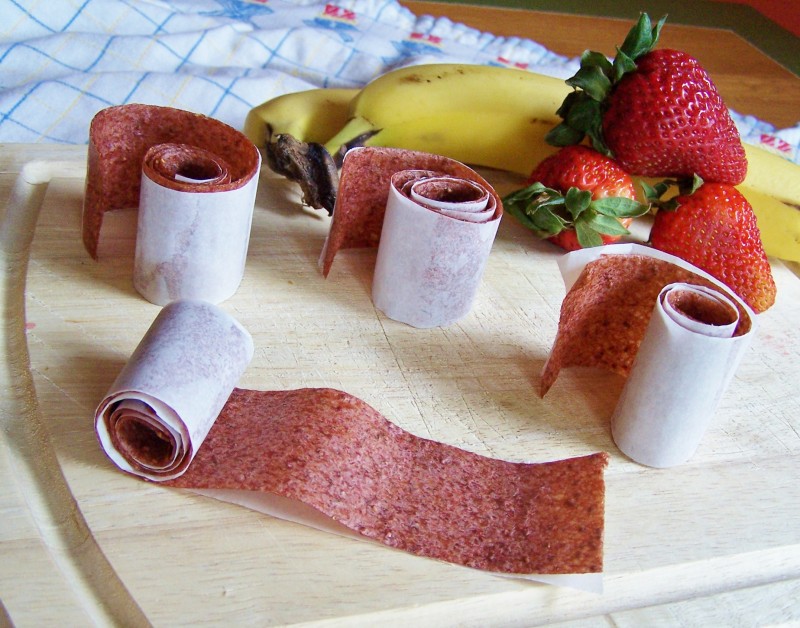 I laid the parchment paper on top while slicing it to get pieces to roll it in to prevent any parts from sticking together, but next time I think I would put the parchment paper underneath as I've seen in other similar recipes.  Either way, I may not have loved eating them but they're pretty dang cute.  Next time I want to try this more extensive recipe from Canadian Living since I always get great results with their recipes, but for my current funk, 50 minutes and a bunch of sugar were not in the realm of likelihood, and these quickies from the lovely Kiersten at Oh My Veggies could not have been more perfect, and she has some really beautiful pictures of the process if you're interested!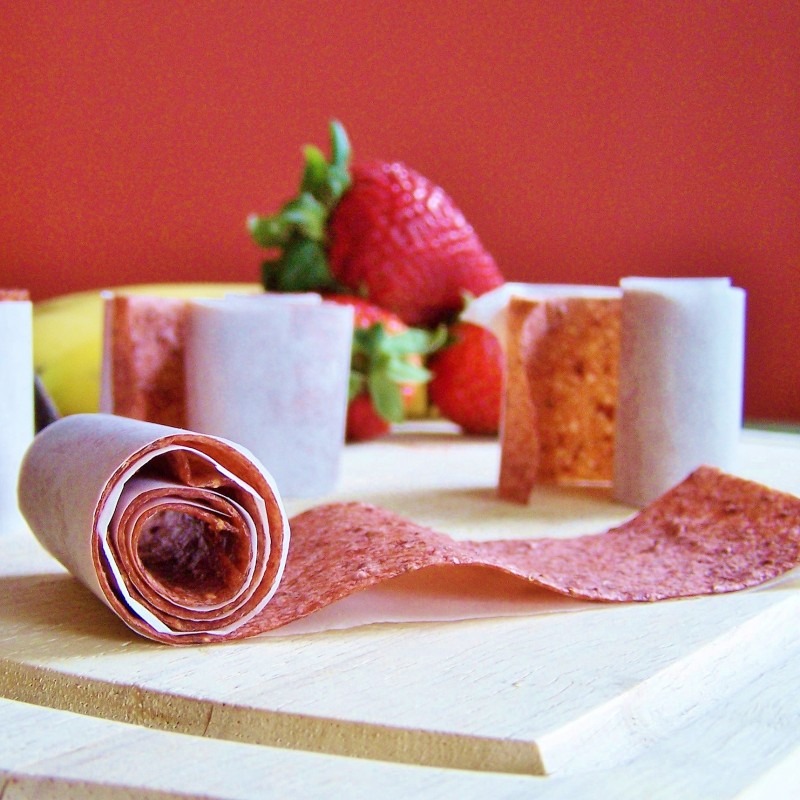 In an attempt to be proactive and end this funk, along with ending my pumpkin kick, I made a meal plan yesterday for two whole weeks. And I even included snacks and breakfasts I wanted to make.  There can be no excuses now! Just excuses for why not to clean :)
What do you do when you get into a meal funk?  A decorating funk? A craft funk?  When you figure your family would be just as happy with alternating pasta and chicken and potatoes for the rest of their days, with the occasional eggs?  What keeps you motivated and inspired?  I found this on Pinterest that helped me…
For me a big thing is remembering that as long as I enjoy it, I shouldn't worry too much about what others are thinking or doing.  My family might have been just as happy with chicken and potatoes, but they certainly didn't complain about homemade pizza.  Sometimes we have to do things just because we can.
Here's to less funky days and more recipes packed with fresh fruit :)

STRAWBERRY BANANA FRUIT LEATHER
Author:
Anna @ Hidden Ponies
Ingredients
1 lb fresh strawberries (approx. 3 cups, washed, tops removed)
1 (pretty ripe) banana
3-4 Tbsp sugar or honey (optional - I didn't use any sweetener, but if you prefer them less tart add as much or as little sweetness as you like)
Instructions
Preheat oven to 175 degrees.
Puree berries and banana in blender or food processor until very smooth. Taste and add sweetener if desired and blend for a few more seconds.
Spread on a large, lightly greased non-stick baking sheet or jelly roll pan, spreading as evenly as possible with a spatula.
Bake for 2-3 hours, until no longer tacky when touched with the back of a spoon. Let cool before slicing into strips.
Notes
Check at 2 hours - if edges are crisping more quickly, cut them off and return the rest to the oven, or remove it all and let some parts be stickier and less dried-fruit-like.