This month brings another first for me – deep-frying!
I remember watching my mom deep-fry our annual oliebollen, a Dutch treat that must translate to something like "oily balls", if my Dutch is any good :)  Other than that yearly New Year's treat, I have no experience with deep frying.
I can't say I was sorry about that,
In fact, I was so un-sorry I decided to avoid deep frying and go the baked churro route! Sounds good right?
It's not often I throw entire batches of things in the garbage, but this was one of those times.  Churros are meant to be deep-fried, my friends. Naturally, that was two days ago, when I was feeling really on the ball about being ready for the first this month.
So, 9:00 last night saw me giving in and going the deep frying route.  
To add insult to baked churro-injury, the jumbo star tip I needed for piping my batter was nowhere to be found…until I turned on my garburator for an unrelated reason and wondered why it was having such trouble with leftover mashed potatoes.  
*SIGH*
Thankfully, Carl sensed my frustration and joined the adventure, rolling the finished churros in the cinnamon sugar mixture, sampling to ensure they were cooked through, and showering me with positive feedback.
Kitchen order was restored :)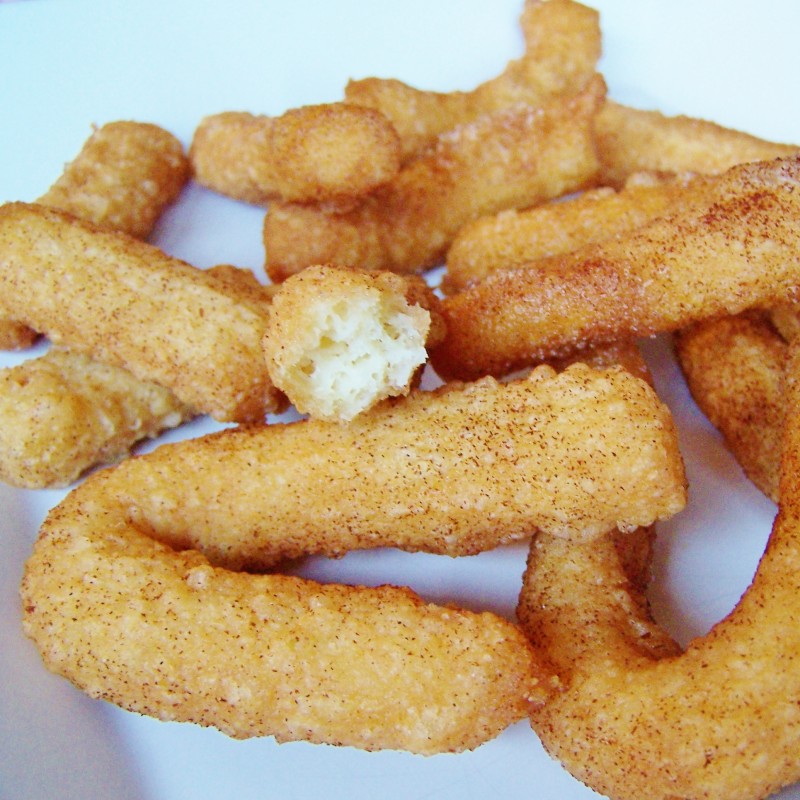 Your house may smell like oil for the next few weeks, but if you love pieces of fried dough rolled in cinnamon sugar (think elephant ears or beaver tails or mini donuts or, well, churros, or love the feeling of being at the fair that the taste and smell will give you, these are for you! The deep frying was surprisingly unscary, and rolling the droppings dough in our non-clumping cat litter cinnamon sugar gave us a good chuckle.  I recommend the star tip route if you want a prettier result, but I guarantee there won't be any complaints about the taste :)
Be sure to check out the other First on the First-er's churros below, and if you want to join us in these monthly adventures we'd love to have you! 

Author:
Anna @ Hidden Ponies
Ingredients
2 quarts vegetable oil for frying
1 cup water
¼ tsp vanilla extract
½ cup butter or margarine
1 cup all-purpose flour
½ teaspoon salt
3 eggs
⅓ cup white sugar
½ teaspoon ground cinnamon
Instructions
Pour about 1½" of oil into a heavy deep skillet or deep-fryer and heat oil to 360 degrees F (180 degrees C).
In a medium saucepan, heat water, vanilla, and butter to a rolling boil. Combine the flour and salt; stir into the boiling mixture with a wooden spoon. Reduce heat to low and stir vigorously until the mixture forms a ball, about 1 minute.
Remove from heat and beat in the eggs one at a time. Don't overbeat, mix just until dough reforms into a cohesive ball.
Spoon the mixture into a pastry bag fitted with a large star tip. (Alternatively, scoop dough into a zip-top freezer bag and snip off a corner to pipe out dough).
Carefully squeeze out 3 inch long strips of dough directly into the hot oil. I found scissors worked well to break off the dough where I wanted with minimal splashing of the hot oil.
Fry 4-6 strips at once, until deep golden brown, about 2 minutes on each side. Remove from hot oil to paper towel-lined plate to drain. Stir together the sugar and cinnamon; roll churros in the mixture while still hot, as the next batch is cooking.
Place finished churros on a cooling rack or enjoy as soon as possible without burning your mouth :) These are best enjoyed fresh and warm, as they become softer with storage.  If you need to store them, do so in a paper bag, as a plastic bag or container will make the coating very soft.