I am a slave to what you people want.
You worry about all the sweets I eat: I join boot camp.
You coo at pictures of babies: I make more babies.
You ask for more savoury recipes: I deliver.
And by "deliver", I mean I ROCK ME SOME SAVOURY.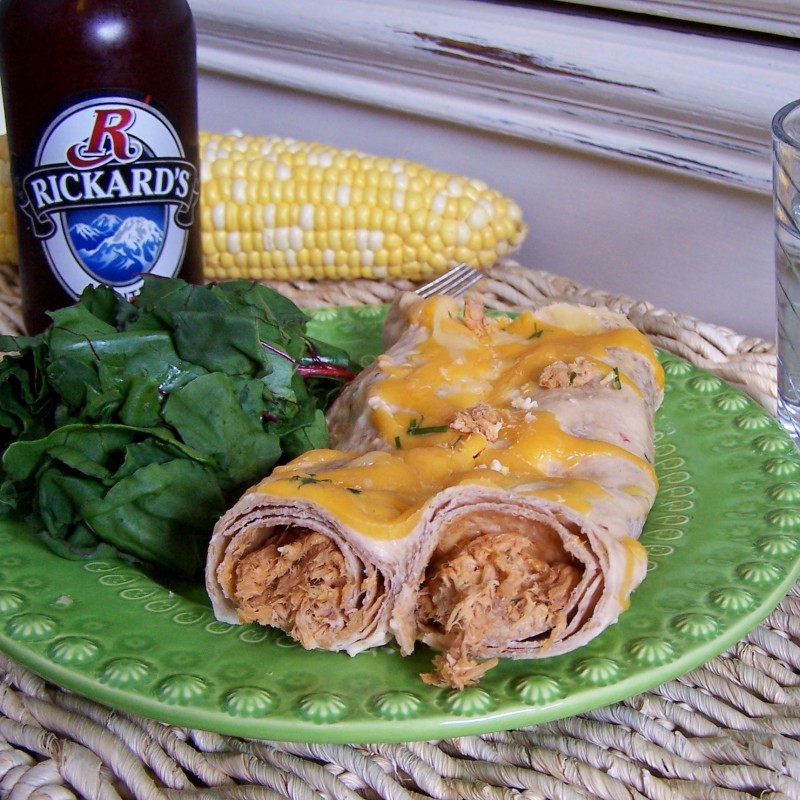 Yup, I said it.  I am my own best dinner cheerleader, and I'm ok with it.
Give me a "B"! (*right leg kick*)
Give me another "B"! (*left leg kick*)
Give me a "Q"! (*enthusiastic pompom waving and cartwheels*)
Iiiiiiiiiiiiiit's BBQ!!
You should see the fam's faces.  Every meal is a touchdown around here, and they better notice.
These enchiladas are a must-make. Because it's summer. Because you don't want to learn how to barbecue because your man  can and does and you don't want to take that away from him.  Because sometimes he isn't around to start the barbecue when you want to make dinner.  Because sometimes you want the barbecue flavour anyway. Because sometimes you want enchiladas that aren't chicken. Because sometimes you need gluten free options and delicious options all rolled into one. Because sometimes you want a great SLOW COOKER meal that's ALSO a FREEZER MEAL, that allows you to make supper once (with minimal effort) and eat supper twice.
Because sometimes I have good ideas and I'm telling you for serious you need to make these.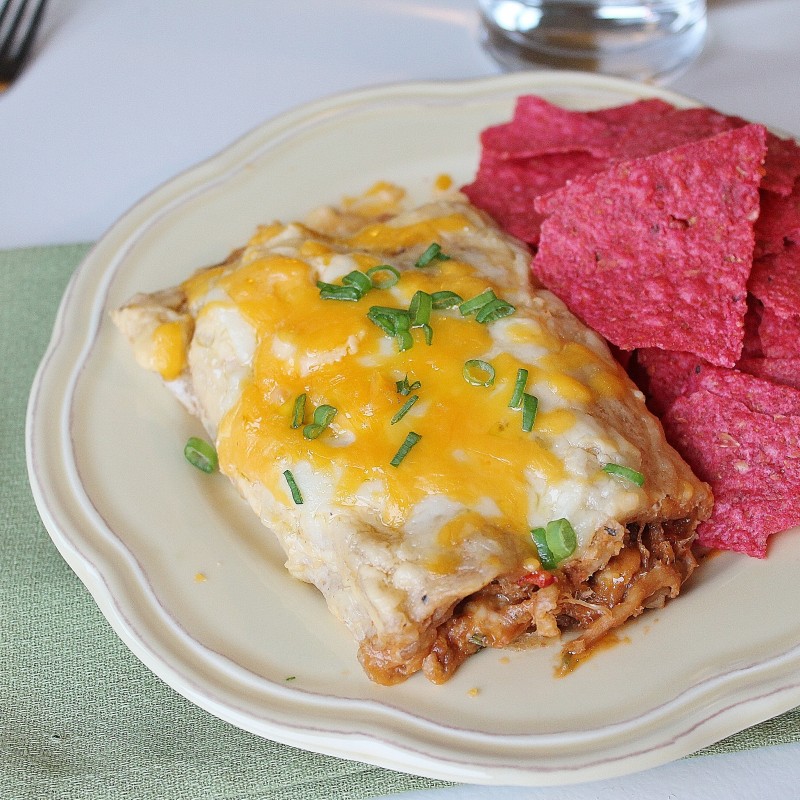 That is all.
(And no, I am not drinking while pregnant, but thank you for asking. Others, however, seem to be.  Harrumph.)

Barbecue Pulled Pork Enchiladas
Author:
Anna @ Hidden Ponies
Ingredients
2-3 lbs pork loin
8-10 strips bacon (optional)
1 red pepper, raw or roasted, finely diced
1 bunch green onions or a good handful of fresh chives, chopped
1⅓ cups barbecue sauce, divided
⅓ cup Ranch dressing
1 (250 g) package low fat cream cheese, softened, divided in half
3½ cups grated cheese (Monterey Jack and/or Cheddar are our faves!)
1 cup chicken stock/broth
½ cup low fat sour cream
3 Tbsp corn starch, dissolved in about 5 Tbsp cold water
¾ tsp steak spice (optional)
16-20 8-10" corn or flour tortillas
Instructions
Put pork (fat side up) and bacon in slow cooker, pour on ⅓ cup of BBQ sauce, and set to low for 7-8 hours.
When pork is nearly done, in a large bowl, mix red pepper, green onion, ½ the package of cream cheese, 1 cup grated cheese, remaining 1 cup of BBQ sauce, and ¼ cup Ranch dressing.
Set aside, and start CHEESE SAUCE: In a medium saucepan, combine remaining ½ package of cream cheese, chicken stock, and sour cream. Heat to a low simmer, stirring to ensure cream cheese is completely melted.
Combine cornstarch and cold water in a small bowl, stirring vigorously, then stream that into the sauce mixture, whisking constantly. Add steak spice, if desired. Simmer until slightly thickened, about 5 minutes.
Reduce heat to low, add 1 cup grated cheese, and whisk until cheese is melted. Remove from heat and set aside.
When pork is tender enough to break apart easily with two forks, remove from slow cooker and shred with forks into bite size pieces. Add a ladle-ful of the liquid from the slow cooker to the meat to keep it moist if it seems a bit dry. Add to cream cheese and veggie mixture and stir well to coat pork.
Divide filling mixture over desired number of tortillas (2-4 Tbsp of filling per tortilla depending on whether they are 6" or 10" tortillas. (See note if using corn tortillas).
Spread a couple Tbsp of cheese sauce in the bottom of 2 lightly greased 9x13" or 11x15" baking dishes, then top with rolled up tortillas.
Divide remaining cheese sauce over top of tortillas, spreading to cover most of the edges. (If you have extra filling, throw it into the cheese sauce that goes over top).
Sprinkle remaining 1½ cups of grated cheese over top, cover with foil, and bake at 350 degrees for 20-30 minutes, until heated through. Remove foil for last 5 minutes of cooking time for proper cheese bubbliness.
Sprinkle with additional chives, if desired, and serve!
Notes
To freeze: Let cool at room temperature for 20-30 minutes, then wrap in plastic wrap and foil and freeze until needed. Thaw in refrigerator overnight before cooking, then bake as directed in recipe, adding 10 minutes to cooking time if necessary to heat enchiladas through.

If using corn tortillas, warm tortillas in microwave for 1 minute before filling, and keep stack covered with damp cloth while you're working on one or two to prevent cracking when you roll them up.

If making these gluten free, use corn tortillas and ensure your barbecue sauce and Ranch dressing are gluten free.

The pork amount varies depending on how many add-ins you like in your enchiladas - they can be a great place to hide veggies, but they are also delicious kept plain, served with a salad or raw veggies and dip.

If preferred, replace some or all of the meat with your favourite beans and more peppers and your favourite other veggies.
*
Source: Anna's original recipe :)