Iiiiittt'ssssss BERRY SEASON!!
While it's juuuust around the corner here, the berries in the store are already starting to show massive signs of improvement, and I couldn't be happier.  I have big plans to stock up on berries and freeze enough until next season and make jam and all kinds of other delicious things, like Lauren's cookies.
I've discovered if I write my plans down here I feel somehow more accountable for finishing them, so now I have high hopes the jam will actually happen :)  Funny thing is, I don't even like jam, but I'm sure I can pawn it off on my family and others, and I just want to have the feeling of accomplishment brought by having a counter covered in jars emitting happy popping sealing sounds.  And I think even I could get on board with this Strawberry Vanilla Jam!
What I KNOW I can get on board with is this cake.  This is, to me, the perfect coffee cake.  I don't drink coffee, but if I did, I'd want this cake with it, every time.  It's rich and moist, studded with fruit, and topped with brown sugar and butter.  This recipe comes from my lovely Aunt Nancy, who always impressed us with delicious fresh dinners and desserts whenever we visited her beautiful house on the beach as kids and teens.  Whether it was red pepper jelly with cream cheese or grilled brown sugar salmon, she inspired many food loves in my life!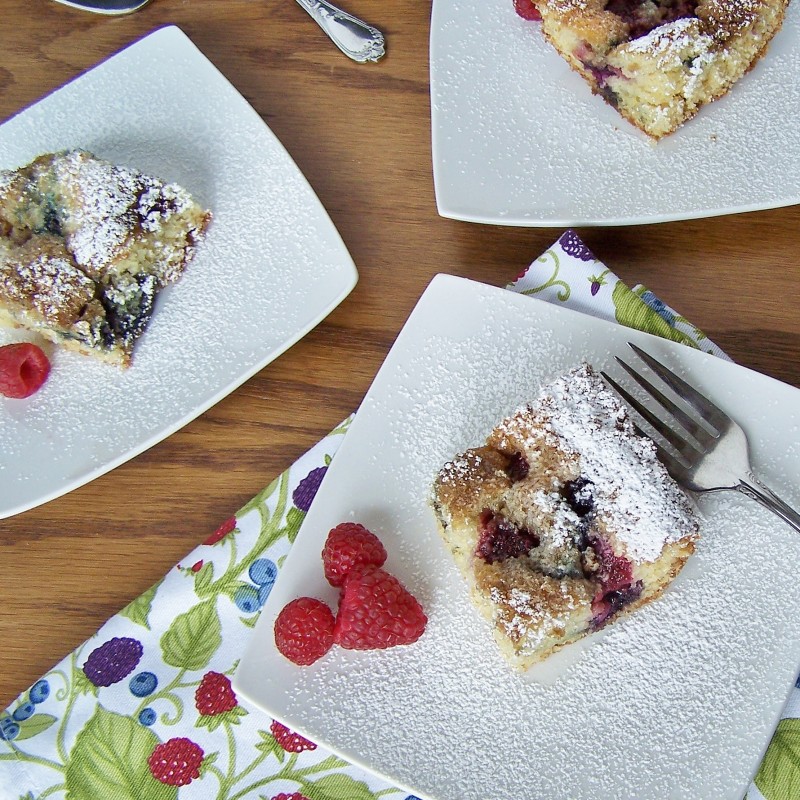 This is one of my go-to cake recipes, and I usually top it with all raspberries, as I first had it at Aunt Nancy's house, but since I didn't have enough raspberries this time I had to use some blueberries too, and it was just as delicious.  I recommend trying it both ways, with whipped cream and without, with a fork, with a spoon, with apples and cinnamons…any which way, this cake is perfect.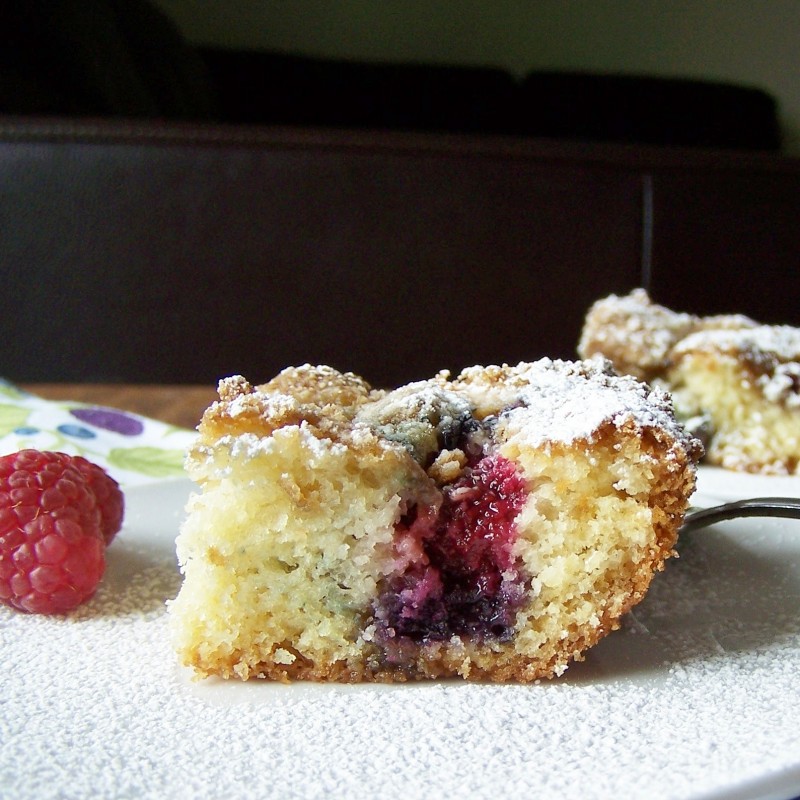 Have a great weekend, friends :)

Saturday Sweets: Summer Berry Cake
Author:
Anna - Hidden Ponies
Ingredients
TOPPING:
½ cup brown sugar
1 tbsp butter
2 tbsp flour
CAKE:
1 cup flour
¾ cup sugar
½ tsp baking powder
¼ tsp baking soda
¼ tsp salt
1 egg
⅓ cup buttermilk (plain yogurt or sour cream also works)
⅓ cup butter, melted and cooled
½ tsp vanilla
1¼ cups fresh berries or other fruit (raspberries and plums are two of my favorites!)
Instructions
Topping: Mix all ingredients together to form fine crumbs. Set aside.
Cake: In large bowl, combine flour, sugar, baking powder, baking soda and salt.
In another bowl beat together egg, buttermilk, butter and vanilla until smooth. Pour liquid mixture into flour mixture and stir just until dry ingredients are moistened.
Spread batter evenly in greased 8" square baking pan. Place raspberries evenly on top. Sprinkle crumb topping over berries.
Bake at 375º for 35-40 minutes or until well browned. Let cool in pan on rack. Serve sprinkled with icing sugar or with a dollop of whipped cream, if desired.
Notes
Store covered at room temperature for up to 3 days, or this cake freezes very well: let cool completely, then wrap in foil and freeze. Great for having in the freezer for those times you have to bring dessert somewhere or have unexpected company coming!