Well, Gemma's birthday has come and gone, and great fun was had by all! (This post is kinda huge, so settle in :))
 This was the first birthday we celebrated in a big way and it's given me a glimpse into my future of late nights hanging streamers and balloons, last minute trips to the Dollar Store to top up goody bags, and sleepily making cakes and cupcakes before heading off to bed!
I don't know how my parents did it with five of us, but there was never a birthday when we didn't wake up to a decorated dining room, an elaborate cake, and our favourite foods. I'm definitely continuing the tradition of decorating and letting the birthday kid choose dinner for everyone, but elaborate cakes are definitely not my forte.  Thankfully so far colour is the main requirement, and I haven't been asked to make any specific characters or animals yet…I remember my mom carving out cake horses, skunks, and various other animals, but she also happens to be an art teacher, a skill that is certainly not hereditary.
I recently received a copy of Julie Hasson's "150 Best Cupcake Recipes" and Gemma's birthday was the perfect opportunity to put it to the test!  (Check out the "Our Store" tab above for some other great cookbook recommendations :))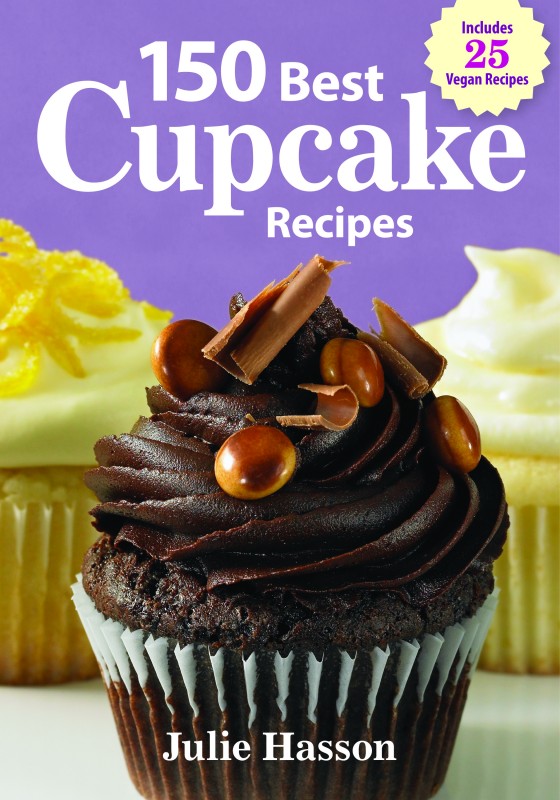 The party theme was "You are my sunshine", and I wanted the bulk of the food to be pink and/or yellow, so Pink Lemonade Cupcakes were the perfect option! (We also had strawberries and watermelon, popcorn, cheese and crackers, and Lemon White Chocolate Cookies. . .an attempt to balance healthy with not-as-healthy options :))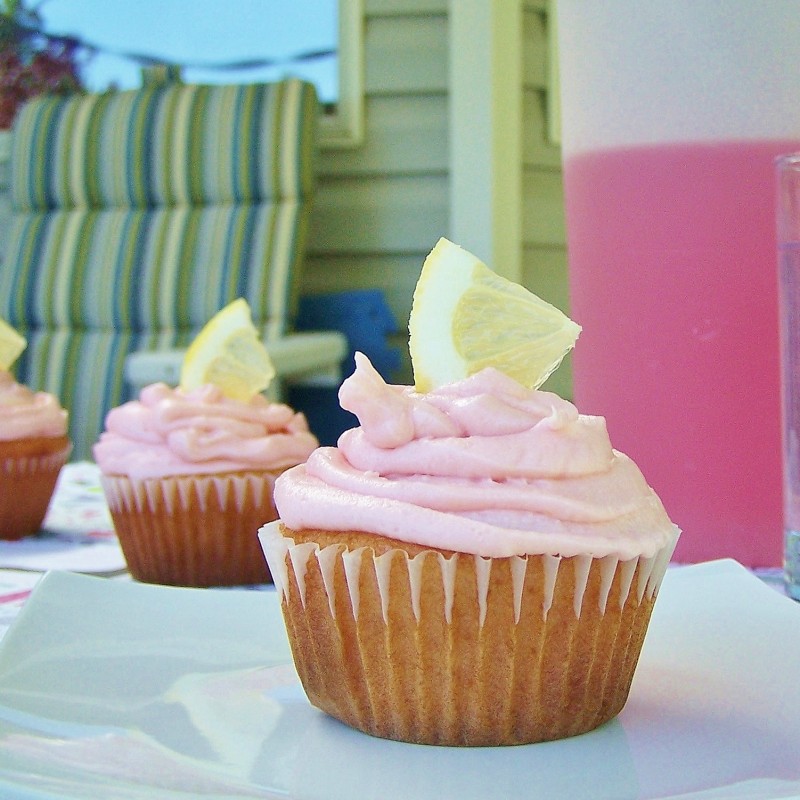 While the book doesn't have as many pictures as I would like, there are so many recipes in it that I'd love to try, from Chocolate Chip Cookie Cupcakes to Lemon Cheesecake Cupcakes to Cardamom Plum Cupcakes! The variety is incredible, and I love that each cupcake has a little personal note about the flavours, thought that went into it, or how best to enjoy it.  For the same reason I love blogs, I love cookbooks that have a personal touch, not just a recipe with no blurb to tell me why you love it and thought it worthy of sharing.
The book is nicely organized by category (chocolate, fruit, spice, vegan, etc.), and has a great section dedicated entirely to frostings and fillings.   I like that each cupcake gives suggestions for possible frostings, rather than limiting an icing recipe to a cupcake recipe and making it harder to find them back later.  Overall, this book is a great resource for basic cupcakes and basic frostings, with some really unique varieties included along with 25 vegan recipes.
Lemon is Gemma's favourite flavour, but I wasn't sure how the other kids would feel about it, especially since I bumped up the flavour with a lemony icing, but they were a surprisingly big hit, with the kids even requesting more icing after eating the cupcakes in kids' typical top-down fashion :)  The cupcakes themselves have only a very mild lemon flavour, and so if you wanted to do a vanilla icing I would recommend adding a little lemon zest to the batter to make sure the flavour isn't lost.  I also doubled the recipe from the original since it only made 10, and when I'm making cupcakes it's usually for a crowd – I made them the day before and they were still moist and tasty the next day, perfect for advance prep!

Author:
Anna (cupcake recipe adapted from Julie Hasson's "150 Best Cupcake Recipes")
Recipe type:
Cupcake, Dessert
Ingredients
CUPCAKES:
2 cups all-purpose flour
1 tsp baking powder
½ tsp baking soda
¼ tsp salt
1 cup granulated sugar
½ cup canola oil
2 egg whites
⅔ cup thawed frozen pink lemonade concentrate
½ cup buttermilk
3-4 drops red food colouring
LEMON-VANILLA BUTTERCREAM FROSTING:
½ cup butter, room temperature
3½ cups confectioner's sugar
2 tsp vanilla
Zest of half a lemon
2 Tbsp water
Red or yellow food colouring (optional)
Instructions
FOR CUPCAKES: Preheat oven to 350 degrees. Line 2 muffin pans with paper liners (leave 3-4 empty spaces, as this recipe makes about 20-21 cupcakes.)
In small bowl, combine flour, baking powder, baking soda, and salt.
In large bowl, whisk together sugar, oil, egg whites, and thawed concentrate.
Alternately mix in flour mixture and buttermilk, starting and ending with flour mixture. Beat just until smooth, then stir in a few drops of red food colouring for a light pink batter.
Divide batter over 20 cupcakes, and bake in preheated oven for 17-20 minutes, until tops spring back when lightly touched and toothpick comes out clean.
Let cool in pan on rack for 10 minutes, then remove to cool completely before frosting.
FOR LEMON-VANILLA FROSTING:
Cream butter with 2 cups confectioner's (icing) sugar. Beat in vanilla, lemon zest, water, and remaining 1½ cups icing sugar. Add more water or icing sugar as needed to achieve desired consistency. If desired, add a couple drops of yellow or red food colouring to make yellow or pink icing. Frost and decorate cupcakes as desired.
Store cupcakes at room temperature.
Full disclosure: I received a complimentary review copy of this cookbook from the publisher.  I was not compensated to write this post, and all opinions are entirely my own.