When summer hits and the smell of grills fills the neighbourhood, I am thankful I no longer live in an apartment with regulations that meant my barbecue sat dormant on the balcony for the whole two years we lived there.
Summer is made for grilling, and these veggies are one of my favourite things about summer.  My mom found this recipe in one of those little flyers the grocery store sometimes has lying around, filled with their products and how to use them – the featured product here is flavoured goat cheese, but regular goat cheese or feta cheese work just as well.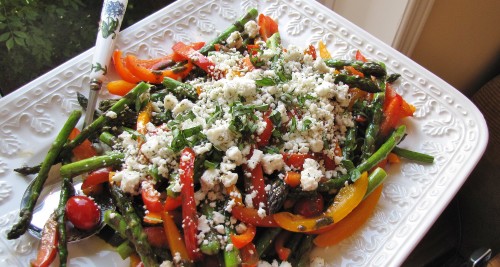 I love roasted vegetables, but grilled vegetables are, in my opinion, even better.  With a veggie platter like this, I don't need meat to finish the meal…some crusty bread is the perfect complement.  However, this also makes the perfect fresh side dish to any summer meal, and, served with a perfectly-done piece of steak or chicken, they are totally able to hold their own.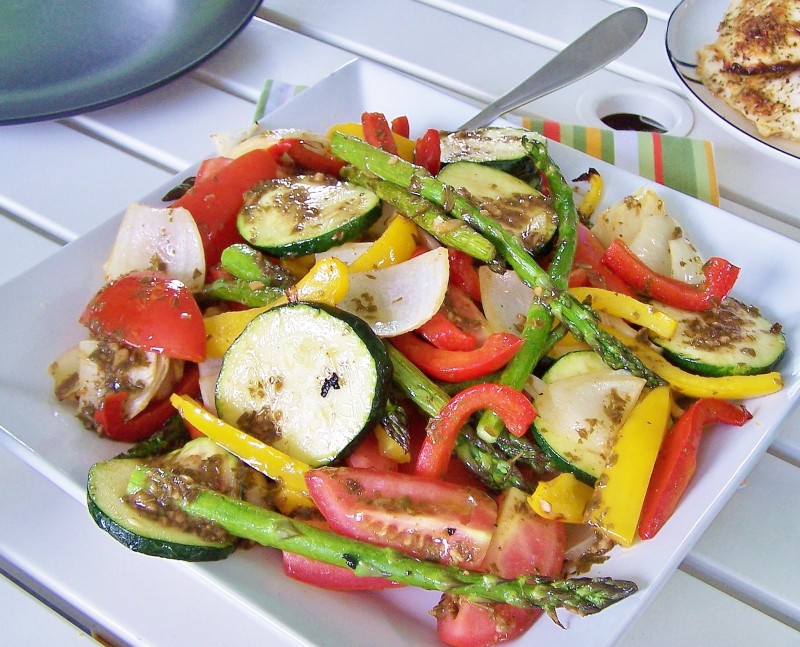 The recipe serves 8, and I always make the full recipe because any leftovers make an amazing addition to a beef and barley or minestrone-type soup or stew, or a perfect topping for veggie pizza.
If you don't have a grill basket, I highly recommend one – I know I love mine!  Anything that risks falling through the cracks during barbecuing can be safely contained in these baskets without affecting the flavour.  Alternatively, use an old cookie sheet lined with foil.

Grilled Summer Vegetable Platter
Author:
Anna @ Hidden Ponies
Ingredients
3 sweet peppers (use all red, or try orange, red and yellow to make it pretty)
1 large green zucchini, sliced diagonally ½" thick
1 bunch green asparagus, woody ends snapped off (just bend asparagus slightly and it will break between the good and the bad)
1 large sweet onion, peeled and cut into 8 wedges
2 large tomatoes, quartered
¼ cup extra virgin olive oil
½ tsp salt
freshly ground pepper to taste
2 tbsp pesto
1 tbsp red wine vinegar or balsamic vinegar
1 pkg (113g) sundried tomato and basil goat cheese crumbles (if you can't find this, use plain goat cheese or feta cheese)
Instructions
Preheat grill to medium-high.
Place vegetables in a grilling basket or on a large baking tray and drizzle with 2 tbsp. of the olive oil. Season with salt and pepper; set aside. Whisk together pesto and vinegar in a small bowl. Slowly whisk in remainder of olive oil and set aside.
Place vegetables, EXCEPT tomatoes, on grill. Turn vegetables as needed, grilling for 8-10 minutes in total, until tender crisp. When other vegetables are just about done, add tomato quarters on grill for 30 seconds (or add to basket right at the end). Transfer grilled vegetables to a warm platter, drizzle with pesto dressing and sprinkle with crumbled cheese.