Pretzels!!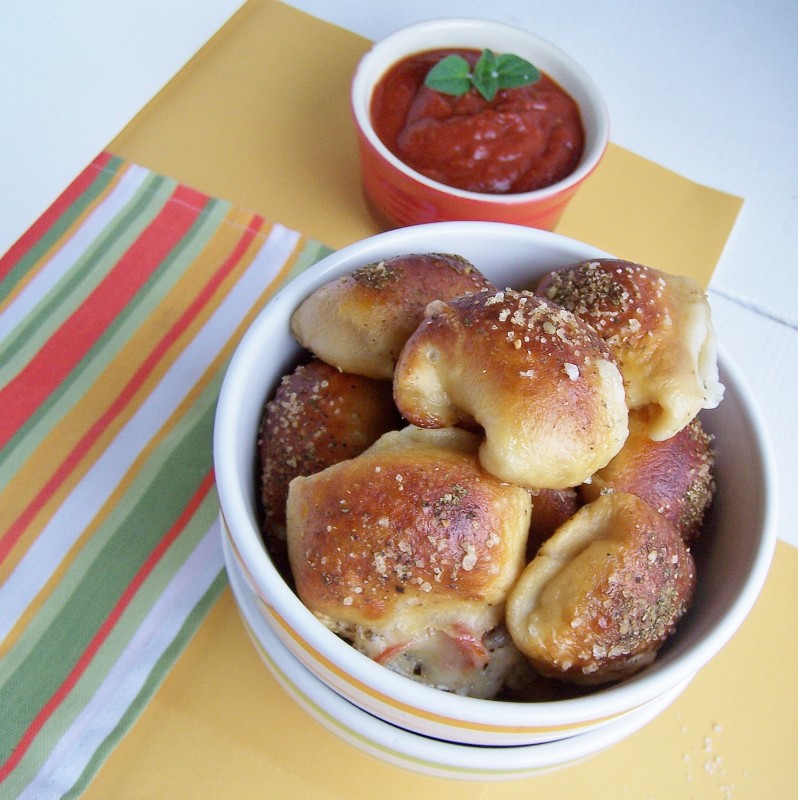 I love bread.
I love salt.
I love salty bread.
This was part of a blogging challenge, and ranked up there as something I've kinda thought about trying but probably never would have if there hadn't been a deadline and expectations.  This is why I love deadlines – all sorts of great things get done!  And I will definitely be making these again – it was so much easier than I expected and the results were way beyond worth it! Just a heads up that the baking soda and water solution we're gonna boil these in might  damage the finish on your pan, so an old or non-anodized pan is best.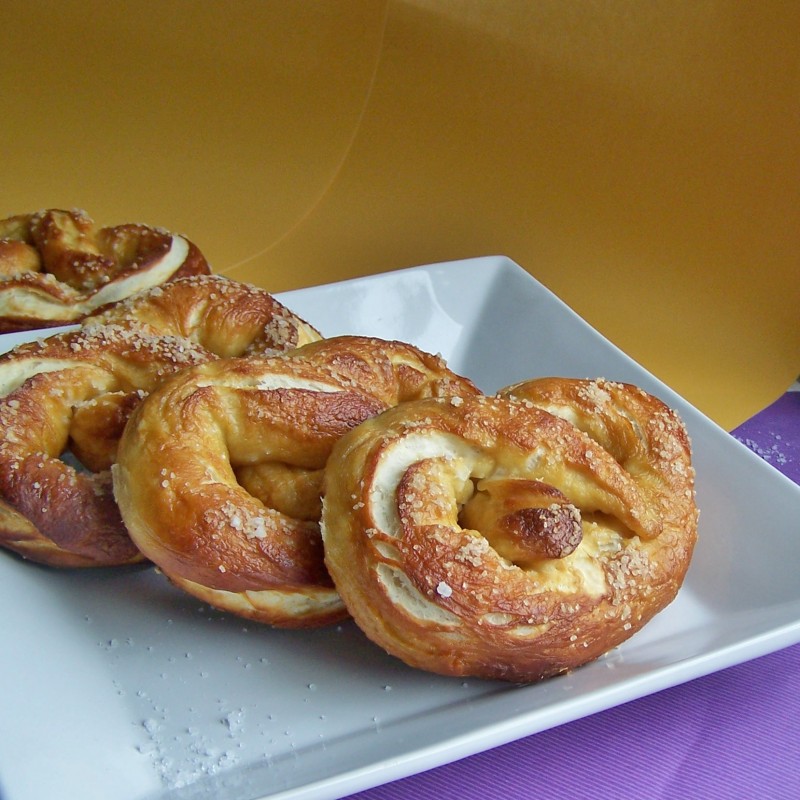 Naturally, I remembered the challenge yesterday, at work, when there was no possibility of getting anything made. Yesterday was just one of those days.  I woke up to Kristopher complaining in his crib a solid half hour after my alarm was supposed to have gone off.  Given that I set my alarm for after 6:00 and need to leave well before 7:00, this did not bode well for on-time-ness.  I leapt out of bed, staggered from the dizziness that rush caused, skipped the shower, zoomed through basic makeup, grabbed lunch, and glanced at the oven clock.  What the what?  6:15? I returned to my bedroom in confusion and indeed, my clock there said 6:55.  I knew my little monkey had figured out how to turn my clock radio on and off, but I didn't realize he'd also learned how to change the time.  How long has he been working the minutes up without me noticing?  At least he was kind enough to wake me up with his loud chatter this morning.
Then at work I was amazed to discover that April did not have 31 days, but a mere 30.  That meant that pretzels needed to be made and photographed after work, a day when I had planned to grab groceries after work and when I knew Carl had to leave the minute I got home and would not be around for dinner and kid distraction duty.
So when I say these pretzels are easy, you know I mean it.  While daylight is getting longer, I knew these had to be ready for their close-ups the minute the kids went to bed if there was going to be any hope of decent light, and, starting them at 4:30, interrupted by making and eating dinner, giving baths, and reading stories, this was still no problem.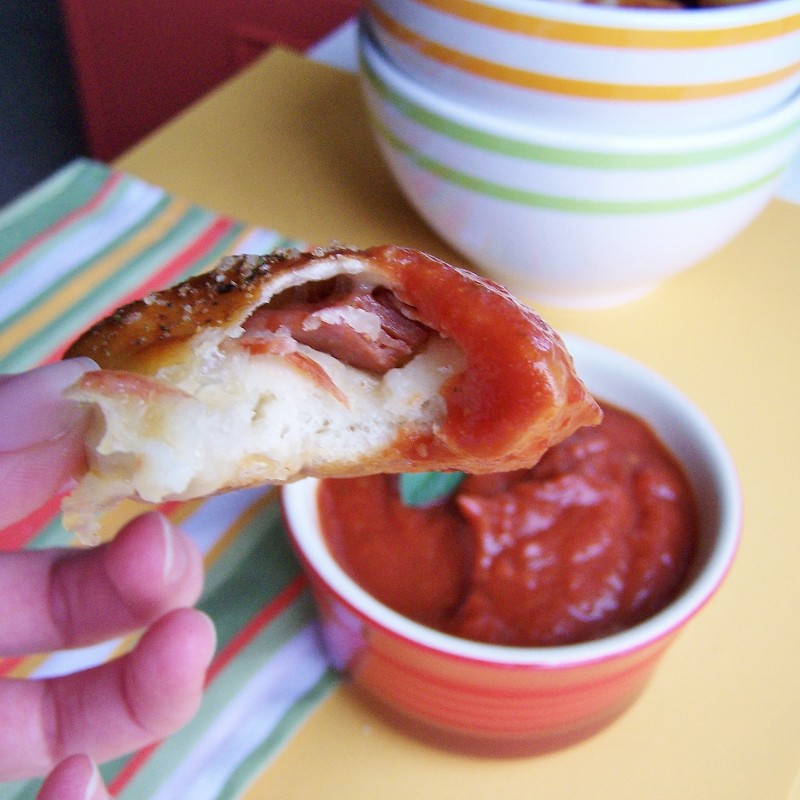 Give these a try – apparently homemade bagels are a very similar process with the boiling, then baking, of the dough, so that's my next goal, since I luurrrrve bagels with cream cheese but hate the fat and sodium content of most store bought bagels.  These pretzels or pretzel bites are sure to be a hit at your next party or lunch, as an appetizer, main course, or soup dipper – I can't wait to share my Butternut Squash & Jalapeno Cream Soup later this week, which is a perfect soup for dipping my pretzel babies!

Homemade Pretzels & Pizza Pretzel Bites
Ingredients
1½ cups warm water
2 tablespoons light brown sugar
1 package active dry yeast (2¼ tsp)
3 ounces butter, melted
2 teaspoons kosher salt
4½ to 5 cups all-purpose flour
Pepperoni slices, cut into small pieces
Shredded Monterey Jack or mozzarella cheese
¾ cup baking soda
1 whole egg, beaten with 1 tablespoon cold water, for egg wash
Coarse sea salt for sprinkling
Pizza sauce (optional: for serving with pizza pretzel bites)
Instructions
Combine the water, sugar, yeast, and melted butter in the bowl of a stand mixer and mix on low with the dough hook. Let sit for 5 minutes.
Add the salt and 4½ cups flour and mix on low speed until combined. Increase the speed to medium and continue kneading for 3-4 minutes, until the dough is smooth and begins to pull away from the side of the bowl. If the dough seems to sticky, add additional flour, 1 tablespoon at a time. Remove the dough from the bowl and knead into a smooth ball with your hands.
Oil the mixing bowl or coat lightly with cooking spray, put the dough back in, and turn dough once to coat all sides with oil. Cover with a damp towel or piece of plastic wrap and place in a warm spot until the dough doubles in size, about 1 hour.
Preheat the oven to 425 degrees F. Bring about 5 quarts of water to a boil in a large pot over high heat and carefully add the baking soda to the boiling water. (It will bubble up at first).
While water and oven heat, remove the dough from the bowl and place on a flat surface. Divide the dough into 8 equal pieces. Roll each piece into a long rope measuring 22 inches and shape into a pretzel (makes 8 pretzels).
Alternatively, roll the dough into 10" ropes and cut it into one inch pieces to make pretzel bites (makes about 6 dozen pretzel bites). Leave as is for plain pretzel bites, or, for pizza pretzel bites, roll each 1" piece into a flat square with a rolling pin. Stuff each bite with pepperoni and cheese. Fold over the dough from all 4 sides and pinch the ends to seal.
Boil the pretzels or pretzel bites in the water and baking soda solution in batches (about 4 pretzels or 15 pretzel bites at a time). Boil for about 30 seconds, then remove with a large slotted spoon. Place pretzel bites on a baking sheet that has been lined with parchment paper. Make sure they are not touching. Brush the tops lightly with the egg wash and season liberally with salt. If making pizza pretzel bites, a sprinkle of Italian seasoning on top is a nice touch.
Place into the preheated oven and bake for 15 to 17 minutes, or until golden brown.
Remove from oven and let cool for five minutes. Serve warm with cheese sauce or pizza sauce.
Store leftovers in an airtight container at room temperature for up to two days, reheating to serve. Store pizza pretzel bites in the refrigerator.
Source
: Adapted from
Bobby Flay
via 
Two Peas and Their Pod