When I'm pregnant … (OH yeah, get used to that sentence, I'm kind of a different person when I'm pregnant, and I feel the need to explain myself so you don't think I've been holding out on you with my true personality or some other such drama)…
Anyway, when I'm pregnant, I crave healthy food with a new passion, and, unlike my usual self, suddenly reach for snacks like apple slices dipped in yogurt, evening smoothies, and raw veggies.  I firmly believe meals should be balanced and healthy, but snacks should be very obviously snacks, so this is definitely a switch for me.
One of my favourite healthy foods to satisfy cravings has to be soup.  There's no better way to get a day's worth of vegetables in a quick, tasty, easy-to-digest, soul-warming form. This soup is also another way for me to eat my favourite veggie of all time, cauliflower.  
Does anyone else like cauliflower best, or is it just me?
In this soup, the addition of sweet potato adds sweetness and balances the flavour of the cauliflower perfectly.  It also lends a very pretty colour and extra creaminess to the soup without actual cream.  I added cheese anyway because cheese is my true love, but you can add less or none if you prefer, because the colour will totally fool people anyway.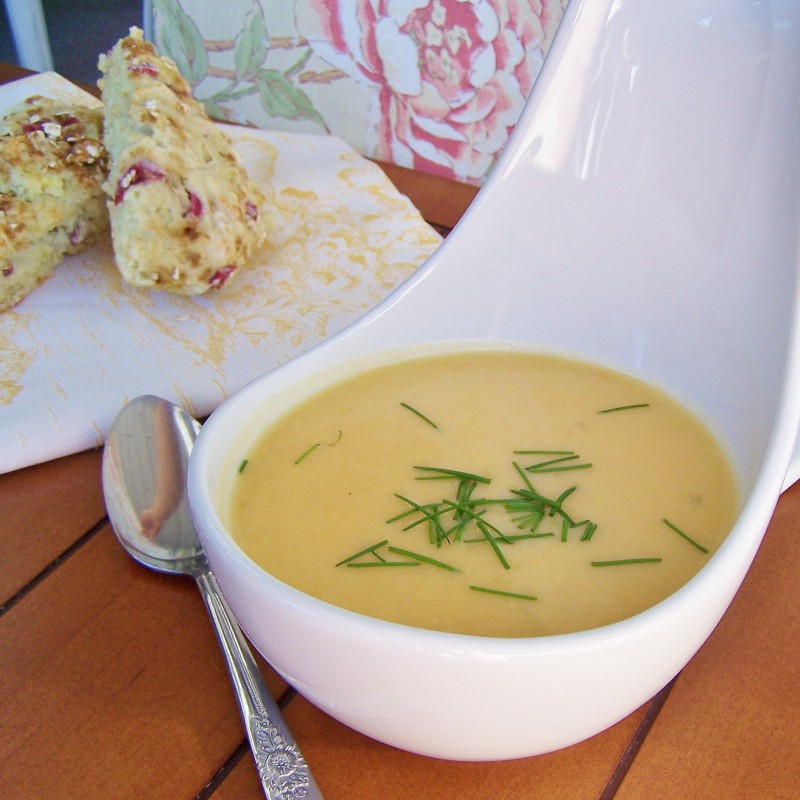 I love soup because it almost always means using all the extra veggies in your fridge and pantry at the same time will be a great success – and this time was no exception.  Even the kids loved this mild soup, and I loved knowing what they were eating :)  Next time I would probably reserve some of the cauliflower before pureeing to add another layer of texture to the soup – I didn't puree it quite all the way, but that meant I also had the occasional chunk of sweet potato, and I wanted that all blended in so I could really focus on the cauliflower.
This is a perfect fresh, healthy spring soup and, if you like cold soups (ewww, does anyone?) I imagine this would be really good chilled as well.  You'll have to let me know on that one.  Like all soups, it's great right away but even better reheated the next day. To make it vegetarian, simply swap out the chicken stock with vegetable stock, and to make it a carnivores dream, throw in some chopped cooked bacon after pureeing…this is a soup to bring worlds together. Isn't that what food is all about?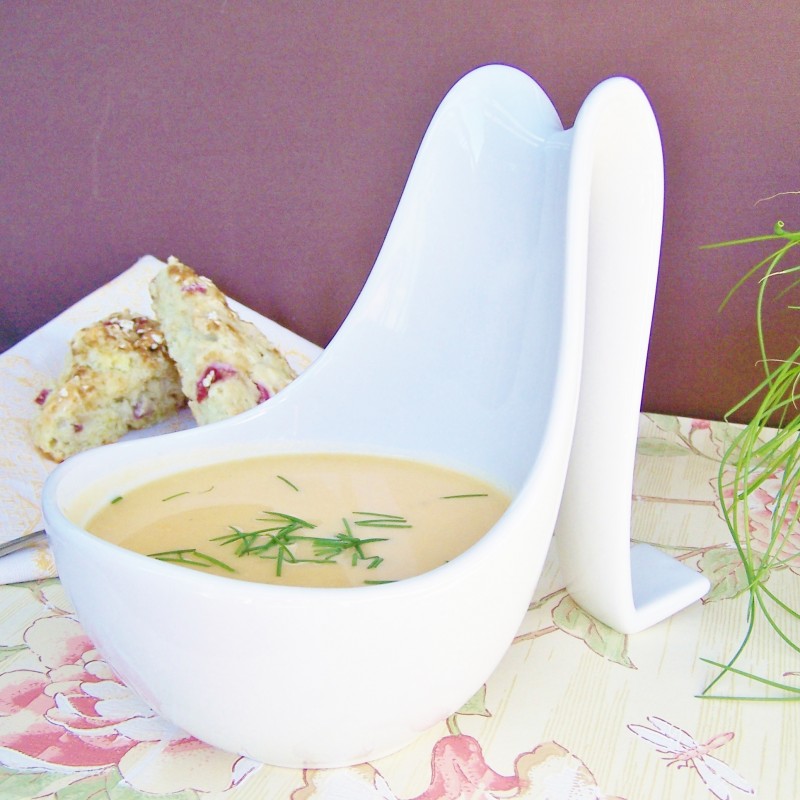 Cauliflower & Sweet Potato Soup
Author:
Anna from Hidden Ponies
Ingredients
1 Tbsp olive oil
1 small onion, chopped
2 cloves garlic, minced
½ tsp dried mustard (optional)
1 medium sweet potato, peeled and diced
6 cups chicken or vegetable stock
1 large head of cauliflower, cut into florets
4 Tbsp cream cheese (I used spreadable Chive & Onion cream cheese)
1 cup shredded Cheddar cheese
Optional garnishes: chopped fresh chives, cooked and crumbled bacon, sour cream
Instructions
Heat oil in large soup pan over medium-high heat. Add onion and a sprinkle of salt and sauté until onion is fragrant and translucent, 3-5 minutes.
Add minced garlic, chopped sweet potato, and dried mustard (if using) and sauté an additional 2-3 minutes, stirring frequently.
Add chicken stock and chopped cauliflower and bring to a boil.
Reduce heat, cover, and simmer for 15-20 minutes, until vegetables are tender.
Remove from heat, add cream cheese, and purée with an immersion blender or in batches in a regular blender. (If you want to keep some chunks, reserve 1 cup of the cooked cauliflower before puréeing the rest of the soup).
Return soup to heat, add Cheddar cheese, and stir until cheese is melted and soup is heated through, 2-3 minutes.
Season with salt and pepper to taste, garnish as desired, and serve.
I served this with sloppy joes and salad for supper and enjoyed leftovers with

Lemon Rhubarb Scones

for lunch…this is a great, healthy meal for any time of day! Enjoy :)