I think it's fairly well established that I am a muffin lover.
So instead of rehashing that, can we talk about painting prep?  I know, it's a random subject, but with summer around the corner I have already had to deal with several interesting conversations in my job at a paint store.  Take yesterday, for instance.  A lovely lady came in and we had a nice conversation about her beautiful tiered deck, chose a perfect colour, and proceeded to talk about product application.
Me: So, you'll want to clean the deck, give it a light sand, clean off any sanding dust, and then stain it.  Since it's quite high off the ground it shouldn't be a problem to stain the bottom too.
Customer: Oh, we'll do all the cleaning and sanding but I'm not putting anything on the bottom.
Me: Has it been coated before?
Customer: No, it's brand new. But that's too much work.
Me: Honestly, it won't take much longer, and if you don't seal the bottom the moisture will get in and just come up through the bottom of the boards and eventually affect the top coating when that moisture tries to get out.
Customer: Oh no, don't worry, that won't be a problem. I'm not doing that.
Me: Um, are you a certified stain expert? Do you know anything about wood? About our damp climate where it rains all the time? Aren't you at all concerned about wrecking this gorgeous, humongous cedar deck?  Do you want to be starting all over in a year? Where did your reasonable, lovely self from 5 minutes ago go? 
Ok, I didn't say that, I calmly reiterated my points but let her go knowing it probably fell on deaf ears, and I definitely made a note in the computer: Customer advised re: staining all sides of deck. Not interested. Do not replace product when it all peels off in 6 months-1 year.
It's funny how touchy people get when you talk to them about prep.  Now, I'll be the first to admit I hate prep work, whether it's sanding an interior wall, priming a piece of furniture, or scraping the peeling paint off exterior wood trim, which will have to be done at my house this summer.  But if you aren't going to do the work well, you can expect to be doing it again shortly.  This much I learned from my Dad and now try to pass on almost daily, almost always unsuccessfully.  We are all about weekend projects and short-term gratification, and I get that.  I sometimes feel like I shouldn't even bother trying for more.  
But then I couldn't write such nice disclaimer notes in the computer :). People, if you don't listen, we'll remember. 
Thank you for letting me get that off my chest :)  
Refocus.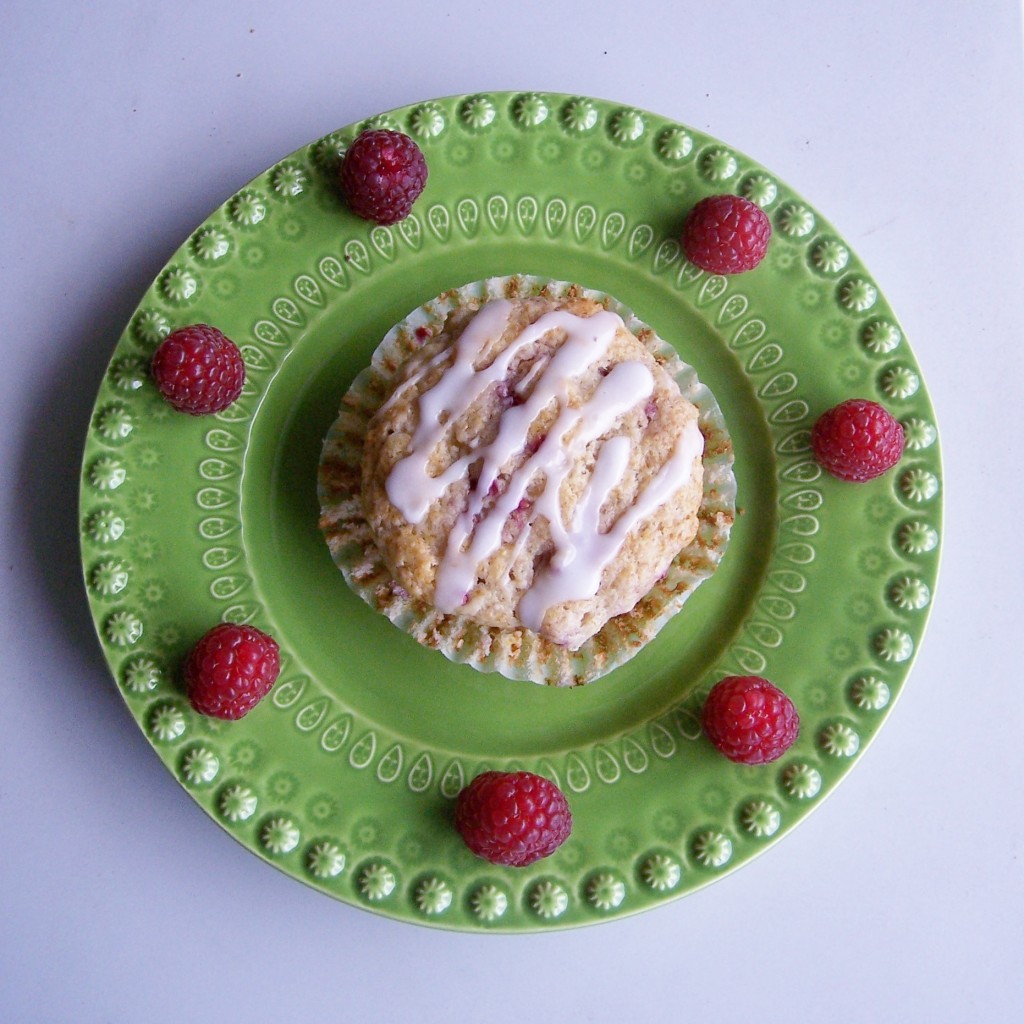 There are few flavour combinations that say "spring" to me like lemon and raspberry.  These muffins are my husband's favorite, and I can't believe I haven't shared them with you yet!  This is basically an adjusted version of my go-to Best Berry Muffins, adapted for my lemon-lovin' hubby.  The recipe makes 24 muffins, and you could certainly halve it, but I love making more while I'm making a mess anyway, and they freeze great.  Just reheat them for 30 seconds in the microwave when you want a fresh, warm muffin!  The drizzle of glaze on top makes them even more special, and for the miniscule amount of sugar and calories it adds it is totally worth the feeling of cupcakes for breakfast, despite the fact that you are actually eating fruit and whole wheat flour!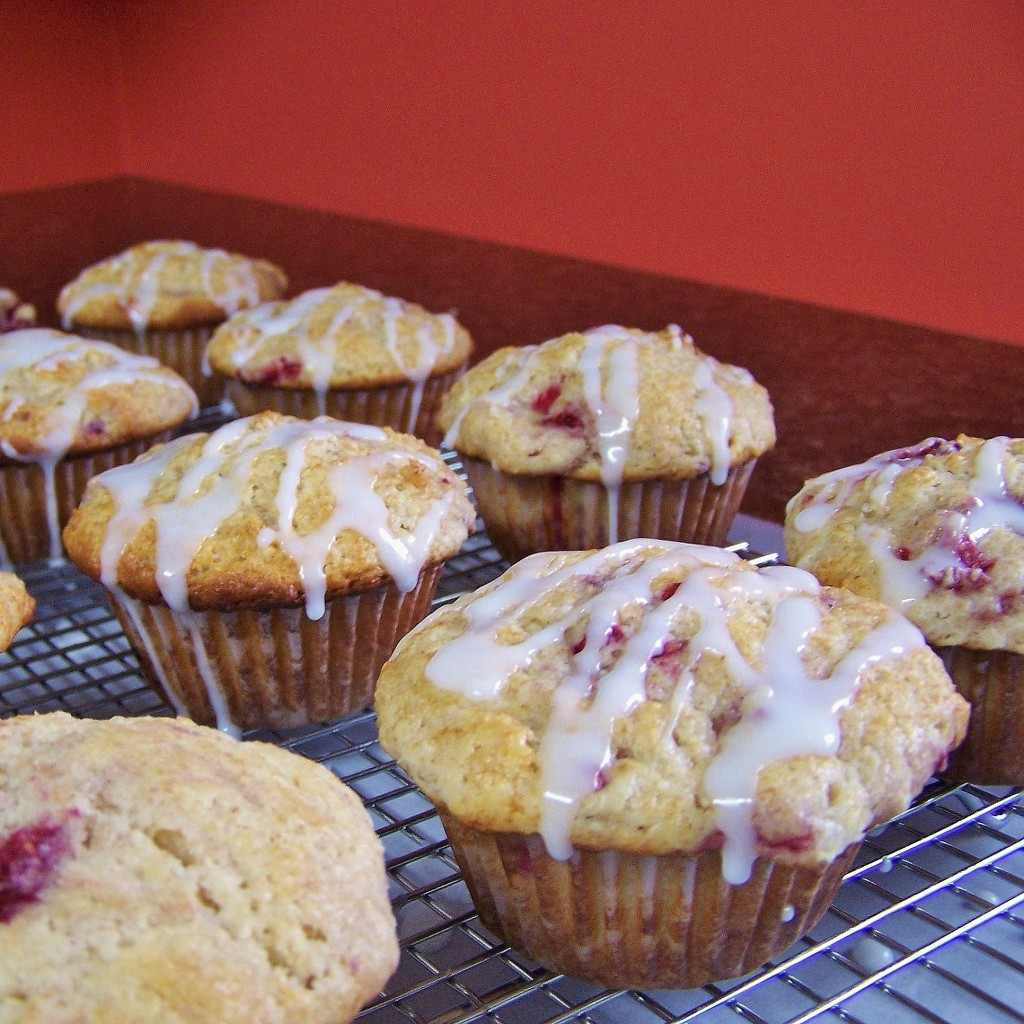 I've discovered that all my favorite muffin recipes are the ones that bake at 400 degrees.  I recently learned that's because the higher temperature is what makes the top rise and dome nicely, and get that crisp muffin top while staying moist and soft inside.  I'm adjusting all my muffin recipes to cook at this temperature, which usually just means shaving a couple minutes off the baking time, and the results are perfect every time.

Whole Wheat Lemon Raspberry Muffins
Recipe type:
Muffin; Breakfast
Ingredients
1 cup butter, melted and cooled
2 cups milk
2 tsp vanilla
4 large eggs
Juice of half a lemon
Zest of one lemon (about 2 packed tsp)
2½ cups whole wheat flour
2 cups all-purpose flour
1½ cups sugar
8 tsp baking powder
½ tsp salt
2 cups fresh or frozen raspberries (if frozen, do not thaw first)
GLAZE:
1 cup confectioner's (icing) sugar
1-2 Tbsp lemon juice
Instructions
Preheat oven to 400 degrees. Line 2 12-cup muffin tins with paper liners or spray lightly with baking spray.
In medium bowl, whisk together melted butter, milk, vanilla, eggs, lemon juice, and lemon zest.
In large bowl, stir together flour, sugar, baking powder, and salt.
Make a well in centre of dry ingredients, pour in wet ingredients, and mix just until combined.
Gently fold in berries.
Divide batter over 24 muffins. Bake for 18-22 minutes or until light brown and tester comes out clean.
Let cool on rack before adding glaze.
For glaze, mix icing sugar and lemon juice to reach desired drizzling consistency. Drizzle over cooled muffins with a spoon.