I'm gonna go out on a limb here and say something I've thought long and hard about.
These are the best thing I've made so far this year.
There you have it.
Need I say more?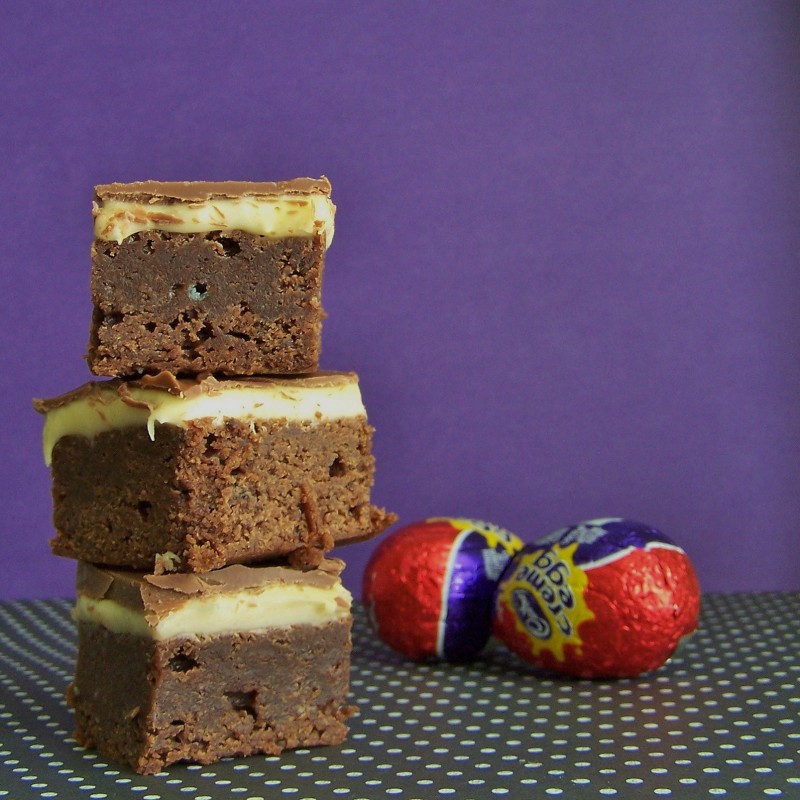 Oh, you know I can't resist :)
First, I have a disclaimer: Carl did not think these were the best thing I've made all year.  So you might not think these are the best thing you made all year, because it seems that sentiment is not unanimous. But keep in mind, he ate many of them. Also, they do not contain lemon, so they were at an automatic disadvantage in his books.
If you like brownies, Cadbury Creme Eggs, Nanaimo bars, chocolate, icing, milk chocolate, snacks, or me, trust me on this.  These are dense, rich, moist, milk chocolatey, creme and icing topped, delicious bites of sweet.  I love a treat where a 1 or 2″ square leaves me completely satisfied, and these qualify.  I love a brownie that stays moist and dense and not-too-cakey, and these qualify.  I love the icing and chocolate coating on Nanaimo bars way more than I love the base, and these have those two wonders atop the aforementioned delicious brownie.  Success on all levels!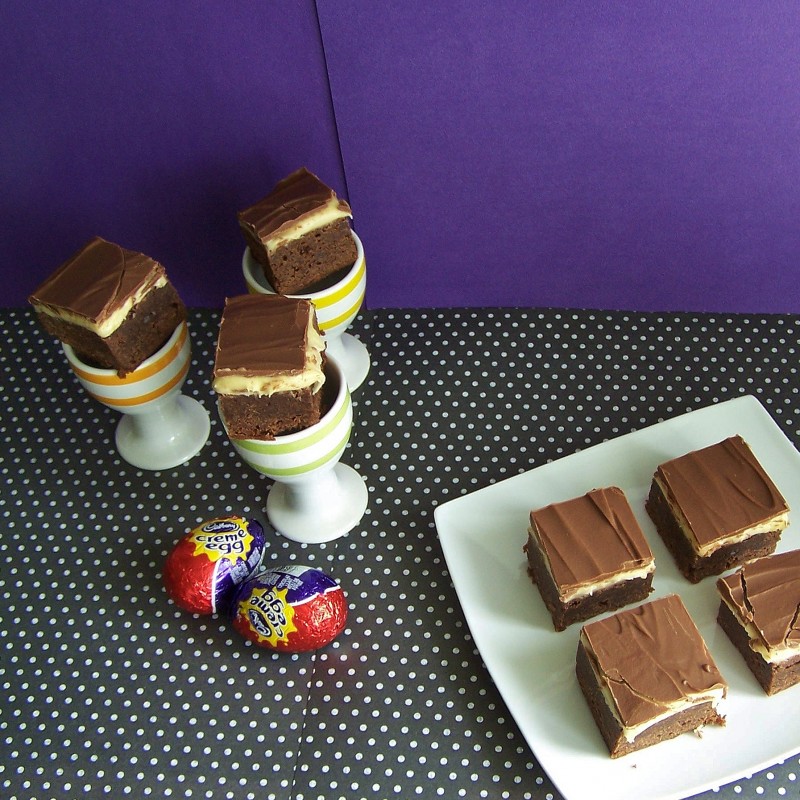 Delicious as these were, I couldn't help imagining how extremely creme-egg-like it would be if I sandwiched that creme filling between two layers of the milk chocolate topping and broke it up like a bark…so as soon as my sugar high wears off, you may find me doing just that.  I melted a lot of plain Cadbury milk chocolate eggs to make these, but I still have some left since I always get carried about with the post-holiday sale candy!
These brownies are unique to me as a baked good because they actually don't taste their best fresh – ideally you can refrigerate them overnight before eating them, and they are just as good from the fridge 5-6 days later! This makes them a perfect make-ahead treat for guests, or any occasion.
Give these a try and let me know if they're the best thing you've made this year! By the way, what IS the best thing you've made so far this year?  I want the recipe :)

Cadbury Creme Egg Brownies
Cadbury creme eggs may only hit the shelves at Easter, but there's no need to mourn their loss with these brownies available any time you want them :)
Recipe type:
Dessert; Bar
Ingredients
BROWNIE BASE:
1 cup all-purpose flour
3 Tbsp cocoa powder
½ tsp salt
9 oz milk chocolate, chopped (or about 1½ cups milk chocolate chips)
¾ cup butter, cubed
⅓ cup granulated sugar
¾ cup lightly packed brown sugar
3 large eggs, lightly beaten
1½ tsp vanilla extract
CREAM FILLING LAYER:
⅓ cup corn syrup
3 Tbsp butter, room temperature
1 tsp vanilla extract
⅛ tsp salt
2 cups confectioner's (icing) sugar
MILK CHOCOLATE ICING (TOP LAYER):
5 oz milk chocolate, chopped (or about ¾ cup milk chocolate chips)
3 Tbsp butter, cubed
Instructions
Preheat oven to 350 degrees. Line the bottom and sides of an 8x11" baking pan with parchment paper, letting it overhang on two edges for easy removal of brownies. Set aside.
In a small bowl, stir together flour, cocoa, and salt. Set aside.
Melt chocolate and butter together in a double boiler or in the microwave (when using the microwave, stir frequently to prevent burning and stop before chocolate is fully melted: stir to melt it completely).
Remove chocolate from heat and whisk in sugars until mostly dissolved and mixture has cooled slightly.
Whisk in eggs and vanilla just until combined (do not overmix or the brownies will rise too high and then fall).
Add flour mixture to chocolate and fold in with a large rubber spatula until just combined. Pour batter into prepared pan, spreading evenly.
Bake for 25-30 minutes, until a toothpick comes out clean or with a few moist crumbs. Transfer pan to a wire rack to cool.
Meanwhile, make creme filling. Beat together corn syrup, butter, vanilla, and salt on medium-high speed until smooth.
Add confectioner's sugar gradually, mixing until creamy. If desired, add a couple drops of yellow food coloring to the mixture to give it a "yolky" colour.
Dump the mixture onto the cooled brownies and spread into an even layer. Refrigerate for 1-2 hours, until fairly set, before adding the top layer.
For the milk chocolate icing, gently melt the chocolate and butter together, stirring until smooth. Pour over creme filling and carefully spread as evenly as possible.
Return brownies to refrigerator and let chill for at least 2 hours before serving, preferably overnight. (You may want to score the chocolate after 1 hour to prevent it from cracking when you cut it into bars later).
When ready to serve, remove brownies from pan using parchment paper to lift them out as one block. Cut into about 28 smallish squares.
Store leftovers in the refrigerator - these are a rare baked good in that they get better with age, and taste just as good after 5 days as they did after 1 day. They also freeze well.
 Source
: Adapted from
Love and Olive Oil