Chocolate chip cookies never go out of style, and I'm glad. They will always be one of my favourite snacks, but I never thought I would share a recipe for any since everyone seems to pretty much have a go-to one that they love from somewhere or another.  Who am I to tell you to change up a favourite cookie recipe?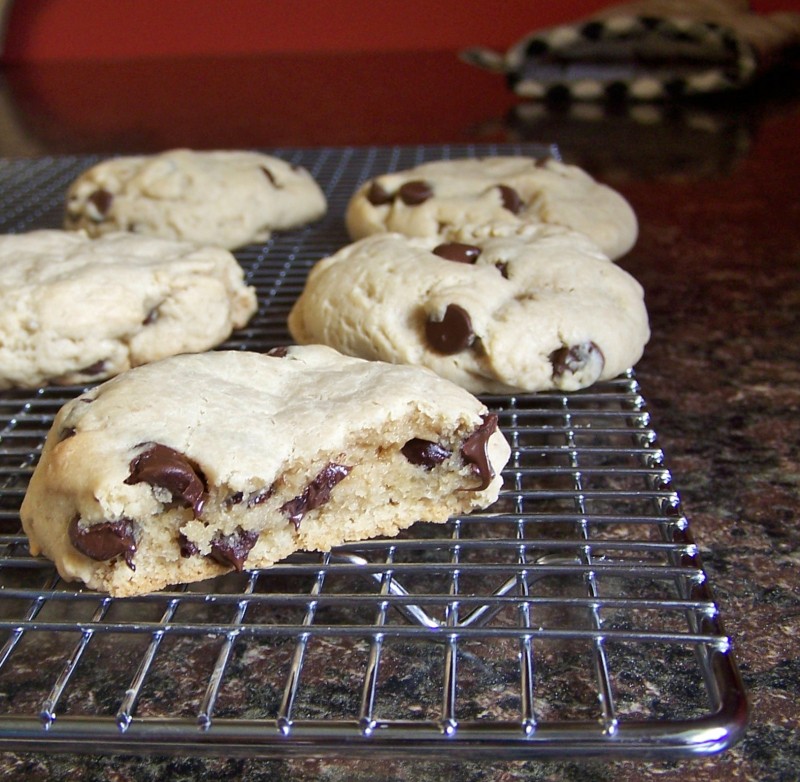 So while the ingredients start out similar, and the look of the warm cookie is just as temptingly delicious, this is not your basic chocolate chip cookie – keep making those, but try these too!  This is a chocolate chip cookie with a couple of twists: browned butter and cream cheese.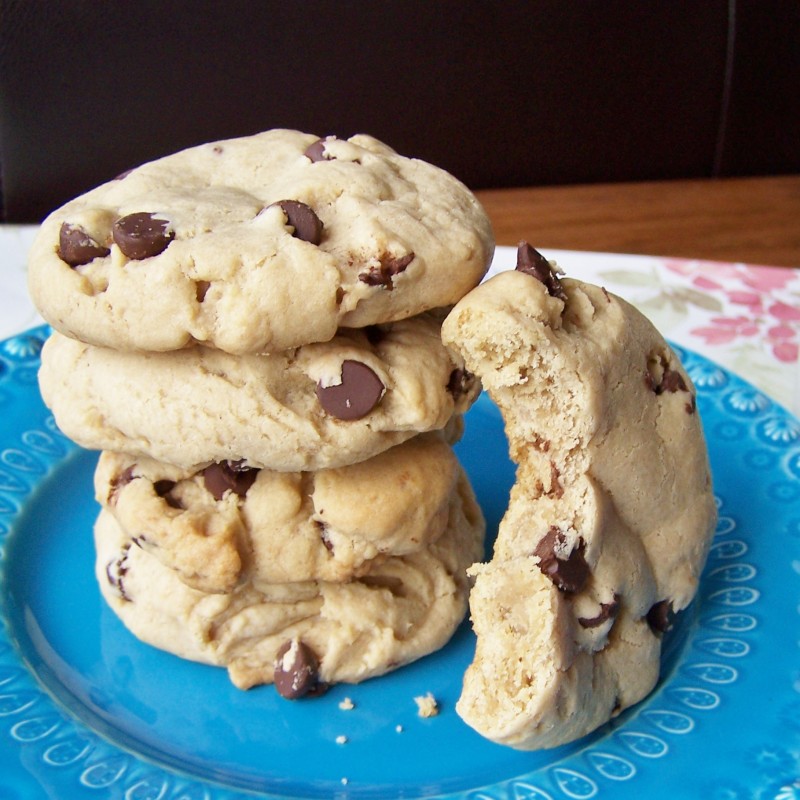 You can't taste the cream cheese AT ALL, I assure you, but it gives these cookies a unique dense, moist, chewy-yet-cakey, amazing texture!  These are not my usual type of cookie recipe because they require too many steps and too much time – when I want cookies, I can barely wait the 20 minutes it takes to mix and bake them, so something requiring extra steps is usually pretty low on my cookie radar.
But when I saw this recipe on one of my favourite internet food spots, Becky Bakes, I knew I would have to make them.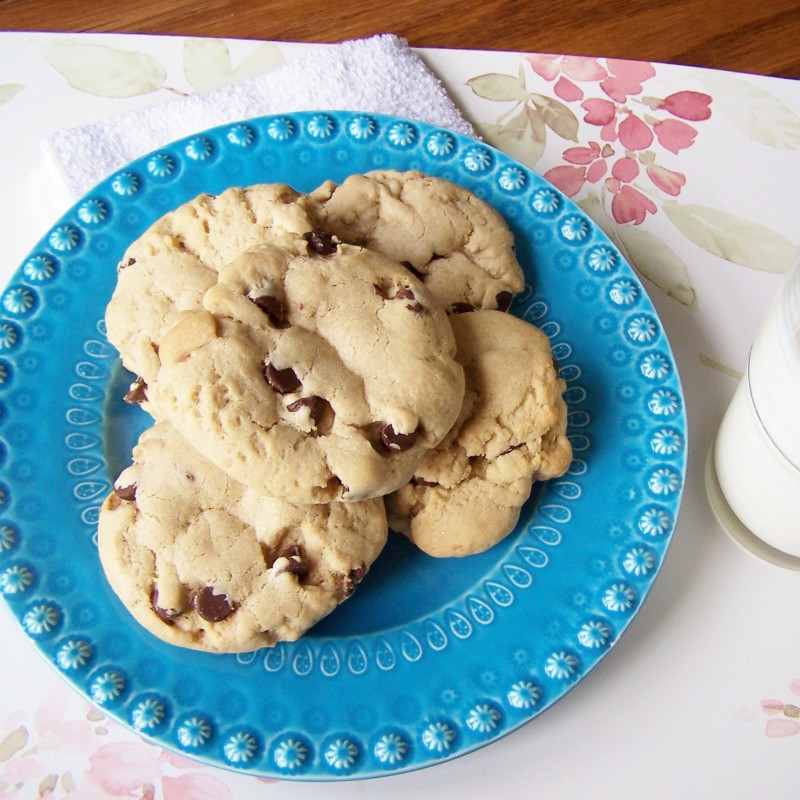 Having said that, I did the instant gratification version, not letting my brown butter cool enough and not letting my dough chill overnight (I was pretty proud I lasted an entire hour).  And they were STILL delicious!  I can only imagine how delicious they would be done the proper way, and now that I have back-up cookies it's the perfect time to try it since patience will be easy with cookies to eat!  The famous New York Times Chocolate Chip Cookie recipe also requires chilling your dough overnight, which lets the flavours meld and set into an even more delicious chocolate chip cookie (so I'm told) so I'm excited to try it.  The giant size of these cookies makes them incredibly bakery-like and special, and I think chocolate chunks would hold their own even better than chocolate chips, so I'll definitely go that route next time.
If you've never browned butter before (I hadn't!), here's a fantastic tutorial.
Hope you all have a wonderful, sweet Saturday!!

Brown Butter & Cream Cheese Chocolate Chip Cookies
Author:
Anna @ Hidden Ponies
Recipe type:
Cookie, Dessert
Ingredients
1 cup salted butter
4 oz (115 g) cream cheese, softened
¾ cups packed brown sugar
¾ cups granulated sugar
2 eggs
1 tsp vanilla extract
3¼ cups all-purpose flour
1 tsp salt
1 tsp baking soda
2 cups semi-sweet chocolate chunks or chocolate chips
Instructions
Melt the butter in a saucepan and let cook until brown and fragrant. Set aside to cool.
When it's cool enough to touch fairly comfortably, cream together the butter, cream cheese, and brown sugar until very smooth. Add the vanilla and eggs and beat until well combined.
Combine the flour, salt, and baking soda and add to wet ingredients. Mix in on low speed until just combined.
Stir in chocolate chunks.
Cover bowl and chill dough for several hours or overnight.
When ready to bake, let dough sit at room temperature for 10 minutes while oven preheats to 375 degrees. Line a baking sheet with parchment paper if desired.
Measure out ¼ cup scoops of dough, roll into balls, and flatten slightly between your palms. Place on baking sheet, about 1" apart.
Bake at 375 for 10-12 minutes, until edges are just golden. Let sit on baking sheet for a minute before removing to cooling racks to cool. Make sure you enjoy at least one warm :)
Notes
I did make some smaller cookies as well for the kids, and they were good, but the jumbo bakery-style cookies were especially special :) Recipe barely adapted from beckybakes.com.