Some weeks I buy a jalapeno or two, other weeks I buy none. One or two usually last me two or three weeks, maybe more.
Last week I came home with 8 jalapenos.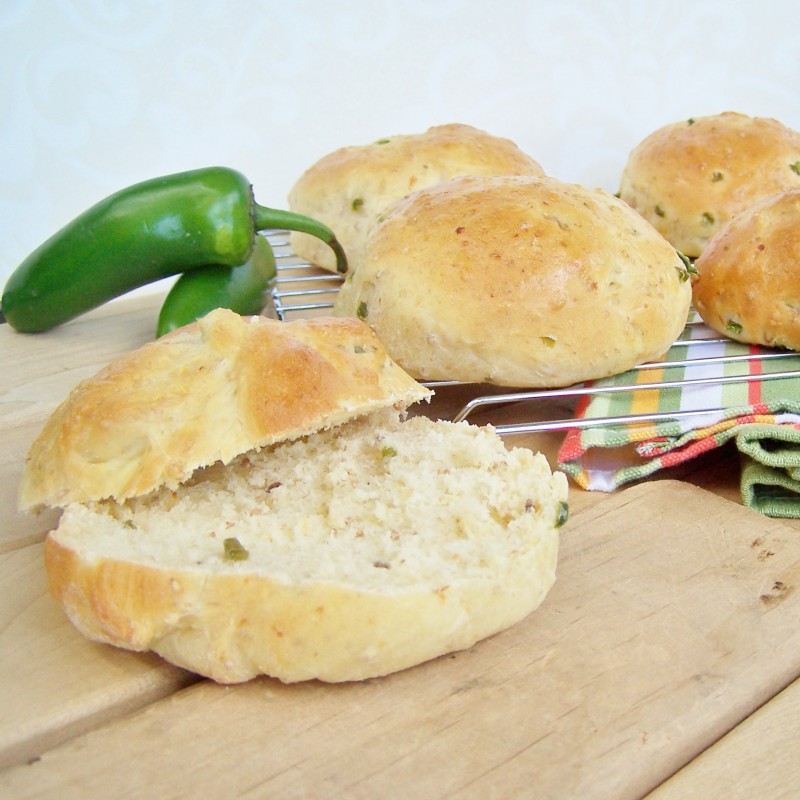 Sometimes I wonder who takes over my body in the grocery store and tells me to do such crazy things. And then I think of my mother telling me she had concerns that I was teetering on the edge of schizophrenia and I feel better.
Now, please don't think I take schizophrenia lightly: that was a true story. But perhaps I should explain a little more. My mother has a Psychology degree. I know, not just a pretty face, right?
I am working on my Psychology degree.  Hmm, Freud might have something to say about that.
When I was first married, I don't know if it was the stress of the wedding, the stress of responsibility, the stress of my parents and two sisters moving away shortly after, the stress of switching jobs, the stress of remembering how to spell my new last name (yes, "i" before "e"), the stress of learning how to do laundry, or what, but let's just say my mom's concerns were not so far off.  If you're into psychology and feel like googling "diathesis-stress model", it makes for a fun read.  Basically, all the transitions, combined with my age, and the fact that I was having strange midday visions of bleeding faces on the woman's dress in front of me at church, among other things, made me a prime candidate for some kind of psychiatric diagnosis.
I am thankful to say that the only symptoms to be seen today are the strange groceries that follow me home that I have no recollection of wanting or choosing.  At least I come by it honestly – my concerned mother is herself often left trying to explain to my dad why she happens to have 18 bottles of laundry detergent and 12 bags of coconut in the cupboard.
It takes crazy to know crazy, I always say :) (Hi Mom!)
But this level of crazy I can handle, if it means Jalapeño Cheddar Burger Buns!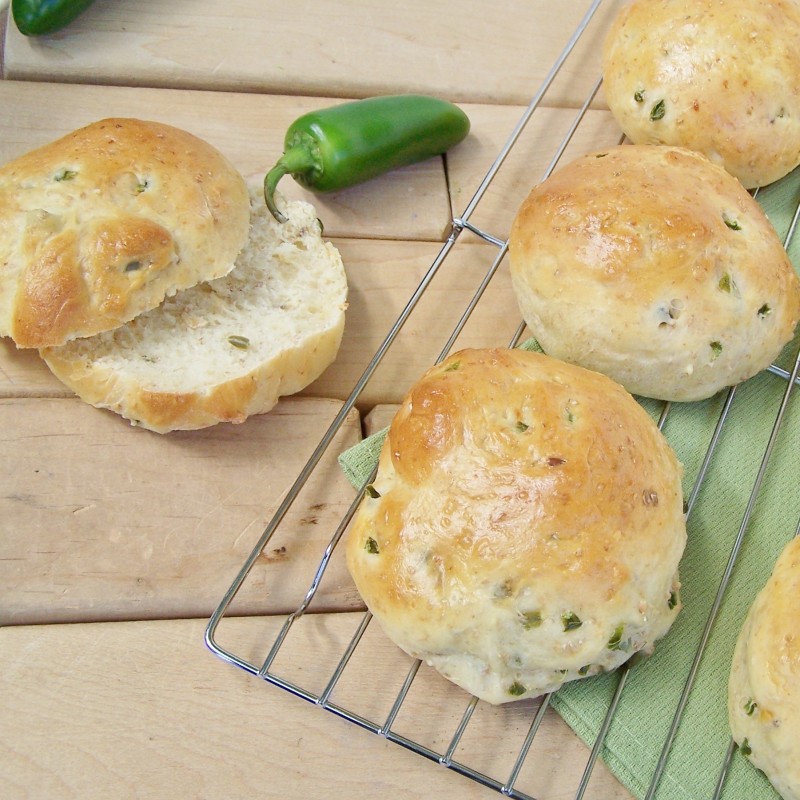 I don't know if anyone can tell me a good way to use jalapenos that doesn't involve cheese – if there's a way, you must let me know!  Although, the 8 lbs of cheese in my fridge need using too…
I know right?  Some days.
If only I could ever remember to buy bread and cereal, Carl probably wouldn't even notice the other things.
Me: What, you have a problem with jalapeños and cheese for breakfast? Apparently that didn't occur to grocery-shopping-Anna. (See that, my alter ego has the same name as me, it's just spelt backwards. Sneaky.)
Even if you aren't into making your own buns, let me assure you that these are easy as can be and a great way to distract people from your other shortcomings!  If you throw some jalapeños into your burgers too, and top them with some salsa, cheese, and Ranch dressing? Or cream cheese? Maybe some avocado and lettuce? You can be as crazy as you want and still have friends. Even if you can't slice burger buns into equal halves to save your life.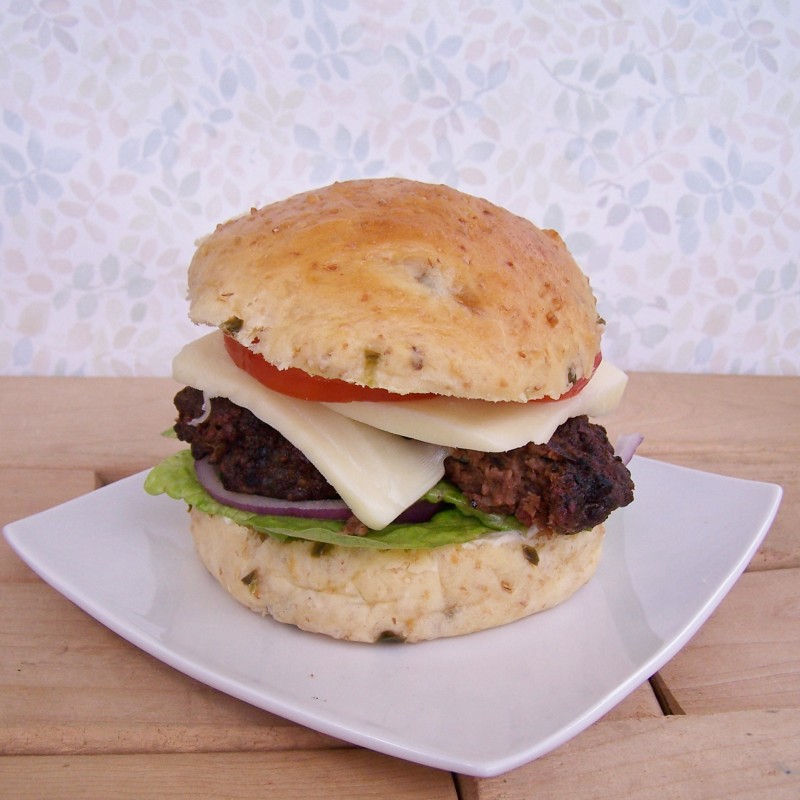 Jalapeno Cheddar Hamburger Buns
Homemade burger buns taken up a notch.
Ingredients
1 package (2¼ tsp) quick-rise yeast
1 cup lukewarm water
2 Tbsp olive oil
2 large eggs
2 Tbsp sugar
3¼ cups all purpose flour (or use bread flour if you have it)
1 tsp salt
1 cup shredded sharp cheddar cheese
2 jalapeños, seeded and finely chopped
Instructions
Combine water and yeast in the bowl of a stand mixer fitted with the dough hook (all these steps could also be done by hand if preferred).
Add the oil, 1 of the eggs, and sugar to the bowl. Mix briefly to combine.
Add the flour, salt, cheese, and peppers all at once and mix on medium speed until the dough forms a ball, about 2 minutes. Add an additional Tbsp of flour if the dough is sticking too much to the sides of the bowl.
Knead dough on medium-low for 5-6 minutes, then transfer to a large, lightly greased bowl. Cover it with a damp kitchen towel and let rise in a warm place until doubled in bulk, 1 - 1½ hours. (I like to turn my oven on for a few seconds then turn it off and place my dough in there - it is a perfectly cozy, draft-free environment for the dough to rise).
Line a baking sheet with parchment paper and divide dough into 8-10 equal pieces. Roll each piece into a ball with lightly floured hands and place about 1" apart on prepared baking sheet.
Cover with a damp towel again and let rise another 30 minutes. Near the end of the rising time, preheat oven to 350 degrees. Whisk the remaining egg with 1 Tbsp water and brush lightly over the buns (you won't need all the egg wash, but definitely do this step for nice browning).
Bake for 20-30 minutes, until golden brown. Let cool 10 minutes before slicing and serving, or let cool completely before transferring to an airtight container for storage.
Notes
These buns keep well for a couple days at room temperature, or can be frozen for longer storage. They also hold up well to a light toasting if you think toasted tastes better!
*Recipe adapted from Shawnda at
Confections of a Foodie Bride
.