I've been trying to cut back on sweets just a little lately, mainly because  my 1 year old is a snackaholic and I can't even look at a snack while he's awake without being forced to give him some.  My 3 year old was never, and still isn't, that into sweets, and would take raw veggies over a cookie any day.  I'm thinking all my sweet tooth genes are condensed and amplified into Kfer's sweet, stocky little body.  Poor guy. He got my height genes and my sweet tooth – I'm sure he'll curse me some day, as he looks up from his 5'5″ish height at his thin, willowy 6 foot tall sister.
What can ya do, right?
Well, in the meantime you can make muffins! Somewhat sweet, somewhat spicy, and they make your kitchen smell like the best kind of fall.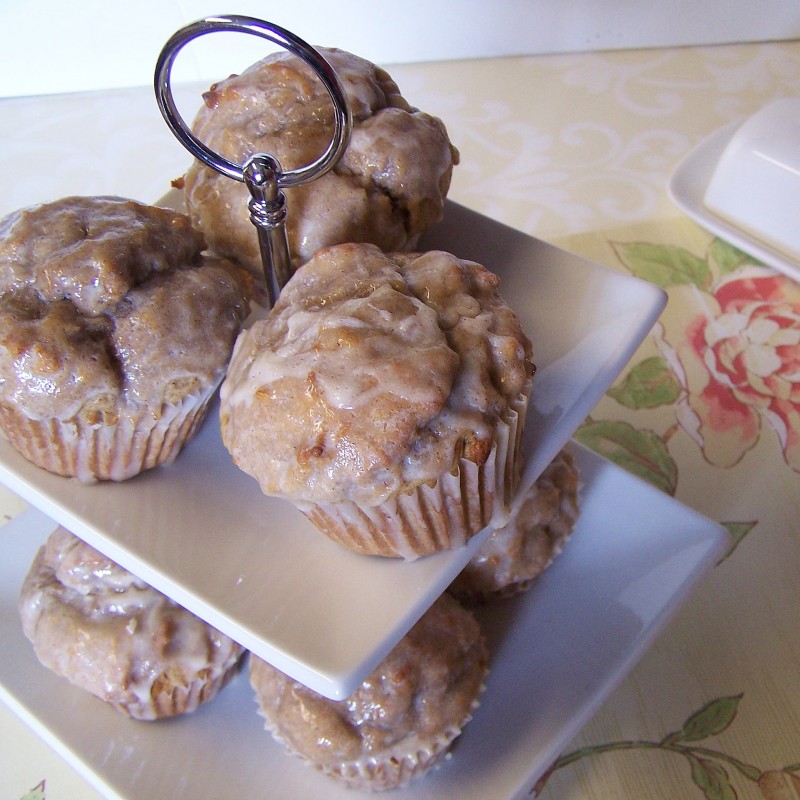 If you like chai tea, even at all, you need to try these.  I've mentioned before that I am a huge fan of EATING my calories, but one drink I'll occasionally make an exception for is Starbucks' Chai Tea Latte. These muffins encase all the spices and flavours I love about a good chai tea latte – cardamom, allspice, cinnamon, ginger, & black pepper.  Adapted from the amazing Jamie at My Baking Addiction, they were a huge hit.  My kitchen smelled phenomenal while these were mixing and baking, and the taste was everything the smell promised.  The dunk in the glaze made them even more special, and I could have (may have) drank the glaze straight from the bowl.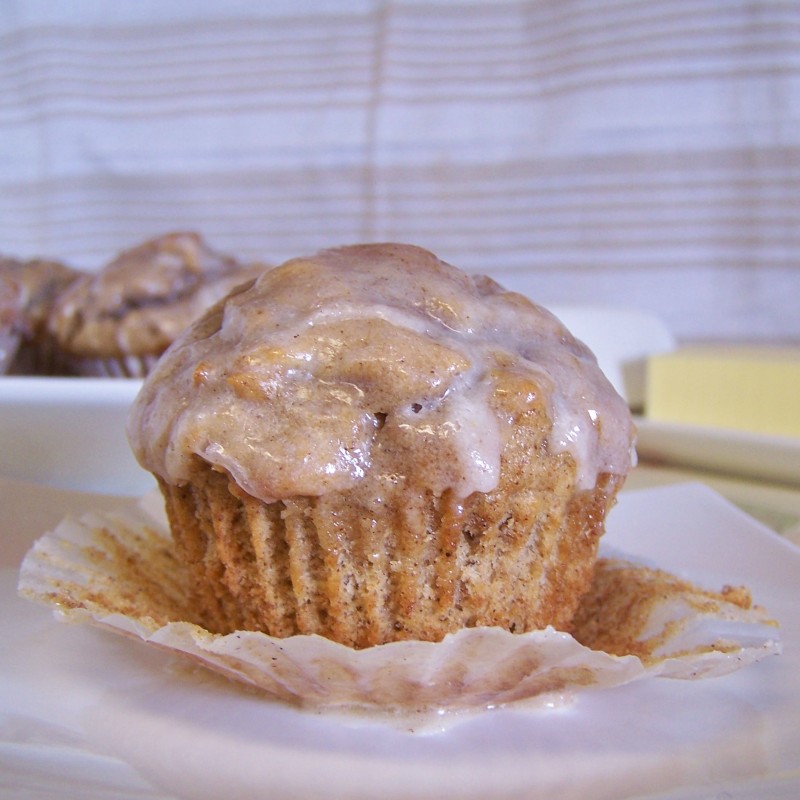 Glazed Chai Spiced Muffins
All the spices of a chai tea latte in muffin form!
Recipe type:
Breakfast; Muffin
Ingredients
¼ cup butter
¼ cup vegetable oil
½ cup granulated sugar
⅓ cup brown sugar, lightly packed
2 large eggs
1½ tsp baking powder
¼ tsp baking soda
2 tsp ground cinnamon
1 tsp ground ginger
1 tsp ground cardamom
½ tsp ground allspice
¼ tsp ground black pepper
½ tsp salt
1 tsp vanilla extract
2⅔ cups all-purpose flour
1 cup milk
FOR GLAZE:
3 Tbsp melted butter
1 cup confectioner's (icing) sugar
¼ tsp cinnamon
⅛ tsp EACH ginger, cardamom, and allspice
¾ tsp vanilla
1½ Tbsp milk
Instructions
Preheat oven to 425 degrees and line a 12-cup muffin pan with paper liners.
In a medium bowl, cream butter, oil, and sugars until smooth. Add the eggs, beating well to combine.
Mix in the baking powder, baking soda, spices, salt, and vanilla.
Add the flour into the mixture alternately with the milk, making 2 additions of each, and mixing until just combined.
Divide the batter over 12 muffins and bake for 15-17 minutes, until a toothpick inserted in the center of a muffin comes out clean.
Let cool in pan for a couple minutes while you prepare the glaze.
For glaze, mix all ingredients in a small bowl until smooth. When muffins are just cool enough to handle (3-5 minutes), dunk them upside down into the glaze and set on cooling racks to cool. Double dunk if necessary to use all the glaze :)
Serve warm, or let cool and freeze in an airtight container and reheat in the microwave as needed.
Notes
I substituted one cup of flour with whole wheat flour and they were just as delicious. Recipe adapted from My Baking Addiction's Chai Spiced Glazed Doughnut Muffins.
Enjoy…now I can't wait to try Jamie's
Chai Spiced Cookies
!