When spring arrives and the flowers bloom, I am always thrilled to get a cool, rainy day.  Call me crazy, but I hang onto fall and winter as long as I can – I love the coziness of being inside, the cooler temperatures when I'm outside, and the food, all the winter food!  I just can't justify soup or stew on a hot, sunny day, and if I can't make soup I probably won't make these delicious biscuits either. And that's really a shame.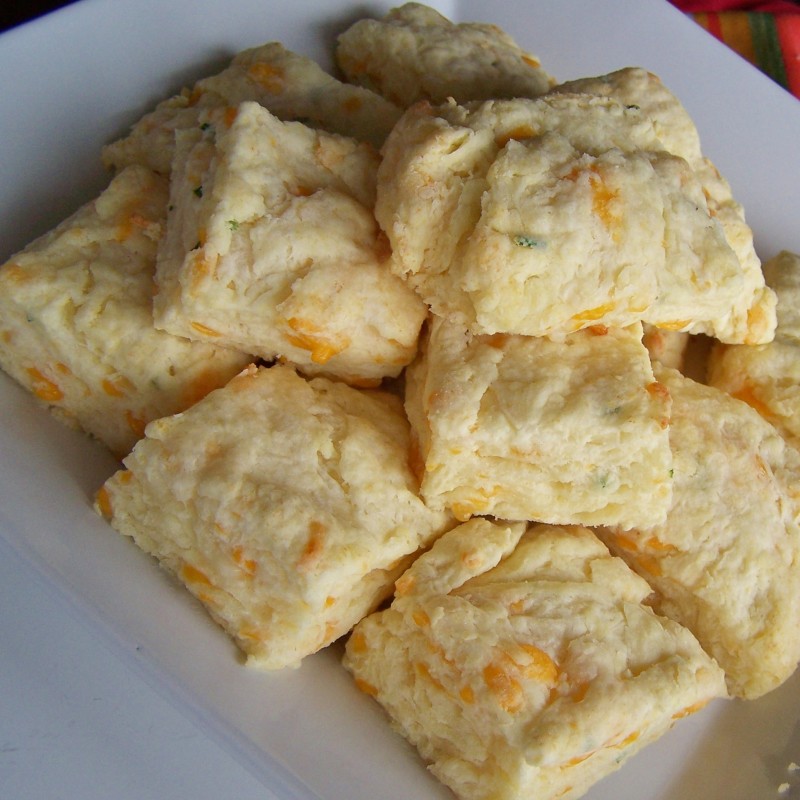 So today I am thankful for a rainy day and a stocked pantry ready for me to make some Jalapeno Cream Soup and these biscuits!  (I can't wait to tell you about the soup if it turns out even half as good as I'm hoping!)  These biscuits are the perfect last-minute addition to any dinner, since they only take about 10 minutes to mix up and 10 minutes to bake – fresh bread just doesn't get any easier than that.  You want to make sure you use a sharp cheddar cheese so the cheese flavour isn't lost, and the chives are more for colour than anything, so they can be considered optional – they impart only a mild taste.  Throw on some of Philadephia's Chive and Onion Cream Cheese Spread, though, and WOW.
The first time I made these I forgot about them and overbaked them by about 10 minutes – and, though slightly crispier, they were STILL good!  I prefer the moist, crumbly, pale version, but Carl actually preferred the slightly burnt version with the crispy cheese bits :)  I always double the recipe in hopes I'll have a couple left for the next day or to freeze, since they freeze and reheat well, but somehow we always manage to eat pretty much the whole 16!
Huge thanks to my Aunt Pat for this recipe, which my mom had the pleasure of enjoying at a family gathering and passed on to us.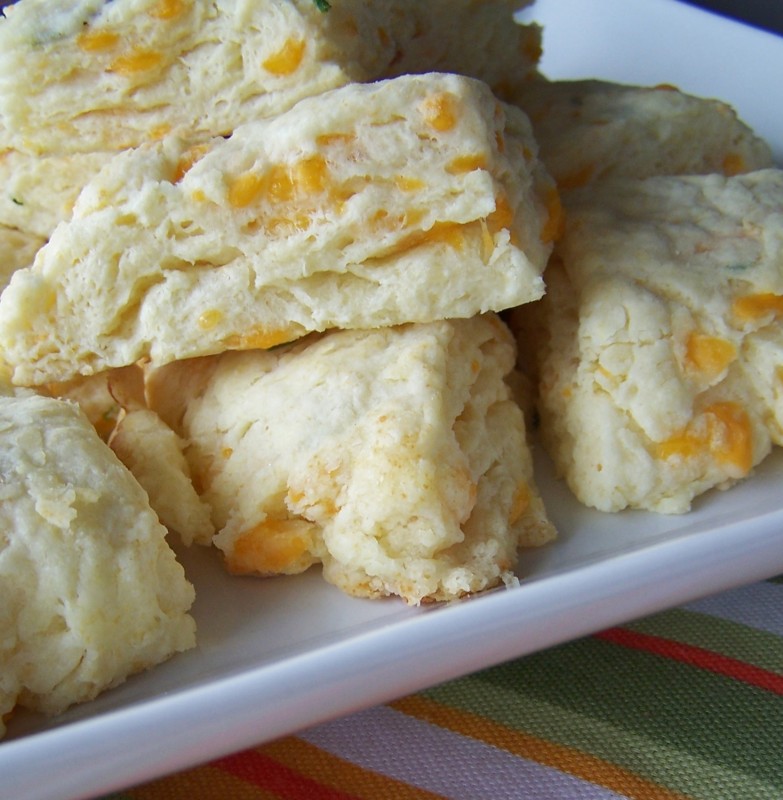 Easy Cheddar Chive Biscuits
A flaky, savory biscuit perfect with soups, stews, chilis, and salads.
Recipe type:
Biscuit, Scone
Ingredients
1 cup all-purpose flour
2 tsp baking powder
¼ tsp cream of tartar
¼ tsp sugar
¼ tsp salt
¼ cup cold butter, diced
1 cup shredded sharp Cheddar cheese
3 Tbsp chopped fresh chives
⅓ cup milk
Instructions
Preheat oven to 450 degrees. Line a baking sheet with parchment paper and set aside.
Mix together flour, baking powder, cream of tartar, sugar, and salt.
Cut in butter with pastry blender or two knives until mixture resembles coarse crumbs. Stir in cheese and chives.
Add milk and stir with a fork until mixture forms a soft, ragged dough.
Place on a floured surface and knead 8-10 times, until dough is a smooth ball. Pat or roll dough into a 6" square. Cut into 6-9 squares, depending on the size you like (I usually do 6).
Place 2" apart on prepared baking sheet and bake 11-13 minutes, until lightly golden. Serve warm with butter or cream cheese.
Notes
Store extras in an airtight container at room temperature for up to 2 days. For longer storage, freeze in an airtight container.