I love completing things I've pinned on Pinterest.  The majority of things I check off are recipes, so it's doubly exciting when I actually manage to pull off something decor related.  I found this fantastic idea on the lovely blog Not JUST a Housewife, and immediately fell in love.  I've had empty walls in the majority of my house since we moved in 6 months ago, and I knew this would be the perfect solution for one of them: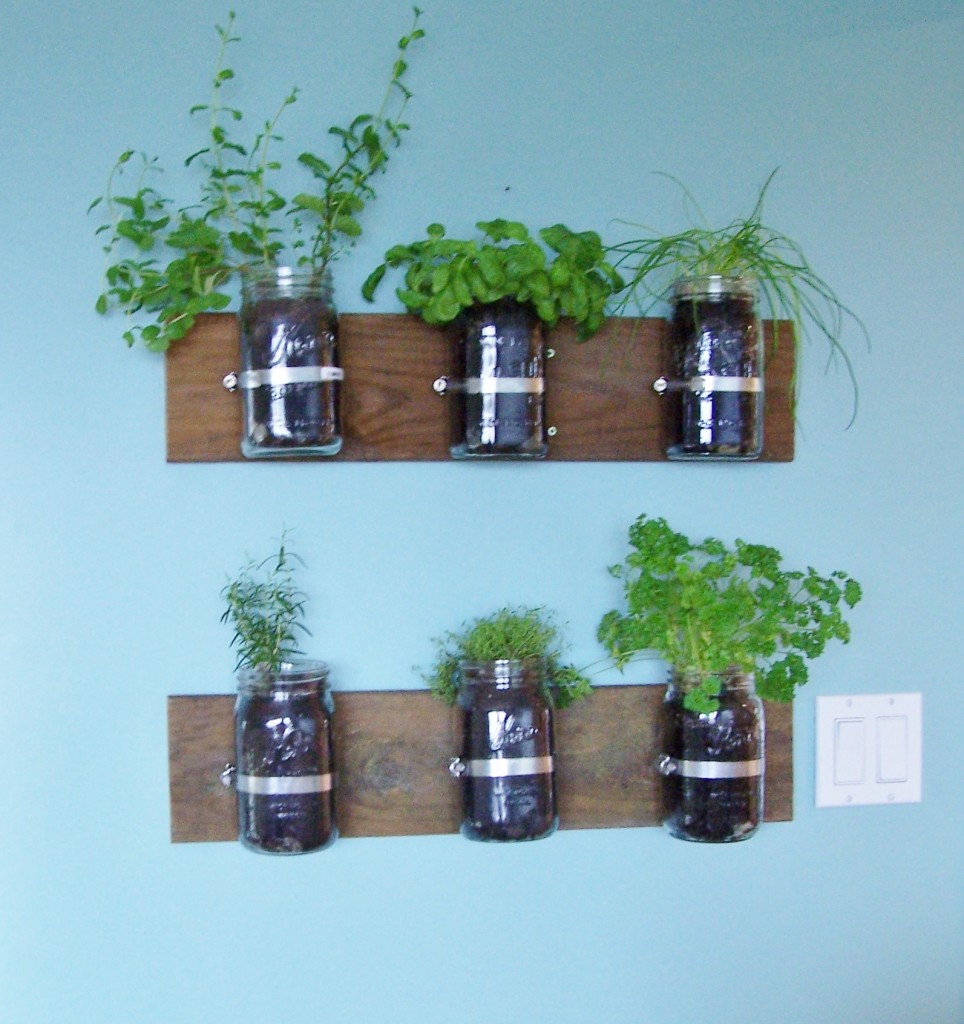 Indoor herbs!
I had no kitchen wall that got enough sun so these ended up right next to the kitchen in the playroom, and I love the way the green pops against the aqua wall.  Carl found an old board hanging around beside the house, cleaned it up, and cut it to size, and Gemma loved helping me fill the jars with a layer of rocks and a few scoops of dirt.
I really do have plans to take up canning, but there are just so many OTHER uses for those gorgeous jars!  And the entertainment of watching the cat trying to puzzle out a way to get at these is worth it in itself.
In unrelated news, it's been awhile since I tried a new muffin recipe I absolutely LOVED.  I love everything about these rhubarb muffins.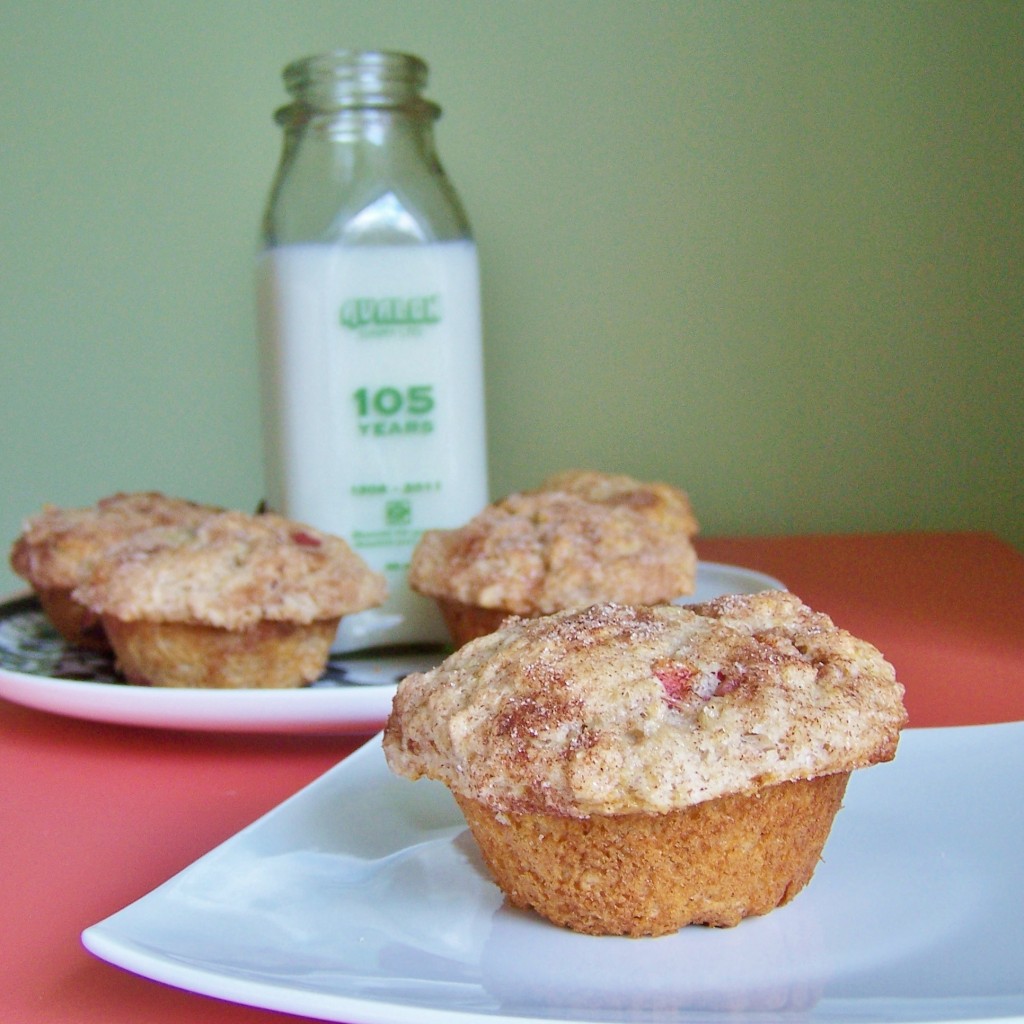 In high school Home Ec class, I remember making little vanilla muffins with a layer of cinnamon in the centre and a  sprinkling on top.  They were one of my favourite projects ever, and I've always wished I still had the recipe.  Of course, my high school self hated baking enough to not keep any recipes (and at one point I even managed to smooth talk my teacher into letting me make angel food cake from a mix "just for comparison sake" while everyone else worked from scratch. How things have changed).
These muffins remind me of those home ec cinnamon muffins in the best way!  They don't have the layer of cinnamon in the middle, but they have plenty throughout the batter to make up for it, and it saves the piddly step of half filling your muffin tins so you can sprinkle in a filling before filling them the rest of the way.  I've had a couple bags of frozen rhubarb in the freezer from last summer waiting for the perfect use, and believe me, this is the perfect use.  I'll divide it evenly between these and my favourite Lemon Rhubarb Scones, and be in breakfast bliss for weeks!
I'll never look at cinnamon sugar again after making the topping for these muffins with my 3 year old, who has been learning a lot of Bible stories lately and coming to terms with words like "death", "beheading", and "burial".  As she was mixing the cinnamon and sugar we had one of those conversations where, as a mom, you simply try to react casually:
Me: Ok, Gemma, I think the cinnamon and sugar are mixed enough. Stop stirring before you spill more out of the bowl.
Gemma: No Mom, I'm not stirring, I'm pretending I'm burying a body.
Me: Um. What?
Gemma: Yeah, I'm pretending a guy got beheaded but his friends took his body away from the bad guys, and I'm one of his friends and now we are burying him.
Me: Oh. Ok. Good idea.
Seriously, I couldn't make this stuff up.
She cracks me up every day, but we've had a particularly good week.  She's also always trying to figure out lately if words that sound the same are actually the same word, as she's becoming very aware that words can have different meanings in different contexts.  On the same day we went through:
Me: Yes, some people get water from a well.
Gemma: A well? Like, a WELL?
Me: Yes…
Gemma: Liiiike…."Wellll, I would like to have something?"
Earlier in the day…
Me: Go put some clothes on or we are not going anywhere today!
Gemma: Clothes! Liiiike – clothes!
Me: Yes…..
Gemma: Like….CLOTHES the door?
Me: OH, no no, different clothes.
There followed me trying to enunciate the difference between the close and clothes, and Gemma staying in her pjs all day.
Anyway, enough about my super adorable daughter :)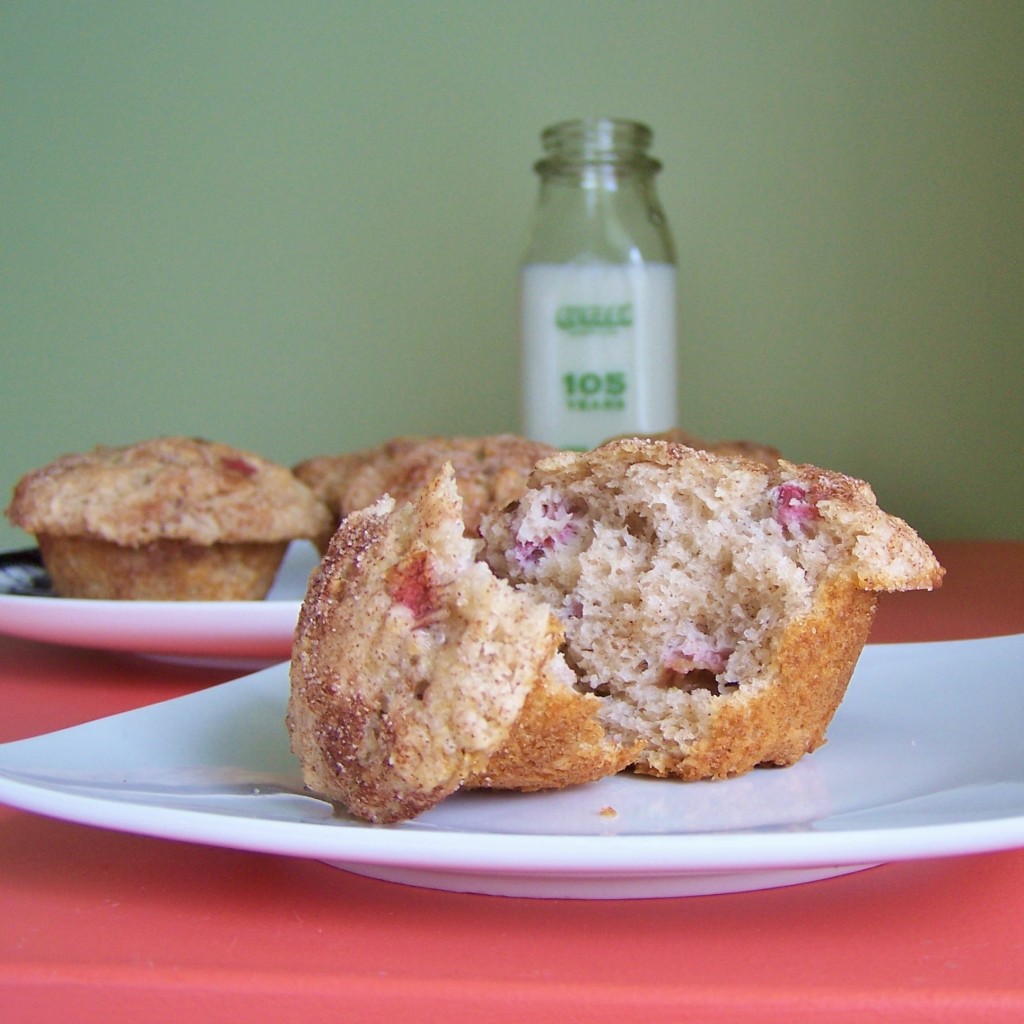 If you're a muffin lover, or even a casual liker, you definitely need to try these muffins.  A perfectly moist crumb, rich cinnamon flavour, little bits of kick from the rhubarb, all with a crunchy cinnamon-sugar top.  They may or may not have been both my breakfast and evening snack choice all week. Enjoy!

Recipe type:
Muffin; Breakfast
Ingredients
2 cups all purpose flour
¾ cup granulated sugar
2½ tsp baking powder
½ tsp baking soda
1 tsp ground cinnamon
½ tsp salt
2 cups chopped rhubarb, fresh or frozen
1 cup sour cream
½ cup butter, melted and cooled slightly
2 large eggs
1 tsp vanilla extract
TOPPING:
3 Tbsp granulated sugar
½ tsp ground cinnamon
Instructions
Preheat oven to 400 degrees. Lightly grease a 12-cup muffin tin or line with muffin papers.
In a large bowl, combine the flour, sugar, baking powder, baking soda, cinnamon, and salt. Stir in rhubarb.
In a medium bowl, whisk together the sour cream, melted butter, eggs, and vanilla until smooth. Lightly stir the wet mixture into the dry ingredients, just until the batter comes together and it is fully incorporated. Do not overmix.
Divide batter over 12 muffins, smoothing tops slightly with back of spoon.
For topping, stir together sugar and cinnamon and sprinkle a generous ½ tsp over each muffin.
Bake for 18-20 minutes, until golden and toothpick comes out clean. Let cool in pan 5-10 minutes before removing to racks to cool completely.
Notes
These muffins are best served slightly warm - eat them fresh, and freeze any leftovers once they are cooled. Reheat as needed for 30 seconds in the microwave.
 Recipe adapted from Fine Cooking.