Ah, Monday.
Hello again, old friend.
I am one of those weird people who kinda loves Monday mornings…back into schedule after a busy weekend, and I can usually count on a couple early-week evenings all to myself to recover, regroup, and watch a little mind-numbing TV.  I am a creature of habit and routine, and the structure of the weekdays appeals to me.  Monday: work. Tuesday: Bible Study. Wednesday: School. Thursday: Work. Friday: beginning of three days of chaos, when I have no idea what I'm making for dinner, or even if I'm making dinner, the kids go to bed a bit later and as result are off their game for days, I pull out my hair wondering how to fill  all these hours with two children with the attention spans of moths, and I look forward to Monday. Structure. Routine.
As much as I love the idea of spontaneity, in real life I like to know what's coming next.  And I really believe kids thrive on routine too – sure, they love a surprise picnic or quick trip to the park, but they also like to eat their meals at the same time every day, go to bed at the same time every day, know they can find their toys in the same place every day, watch a show on TV at the same time every day…you get the picture.
Anyway, the point of this is this: morning routines are important to me. My mornings just aren't the same without a muffin or scone.  The two are equally satisfying in terms of calming my OCD, and, on the rare occasion I have managed to let my freezer supply run dry, even the thought of cereal or a slice of toast is enough to make my stomach churn.  Mornings are meant for muffins, and muffins for mornings.
One of my all time favorite muffins is zucchini.  First of all, the vegetable involved makes them totally healthy, and second of all, they taste fantastic. With all the zucchini muffins I've tried, I've narrowed it down to two favorites: a regular zucchini muffin that is also a favorite snack for my kids, and a double chocolate version, which I'm sharing below.
When I saw the idea of a Nutella swirled muffin on A Spicy Perspective, I couldn't wait to try it on my favourite zucchini muffin recipes.  It was delicious on these double chocolate zucchini muffins, but didn't show up too well.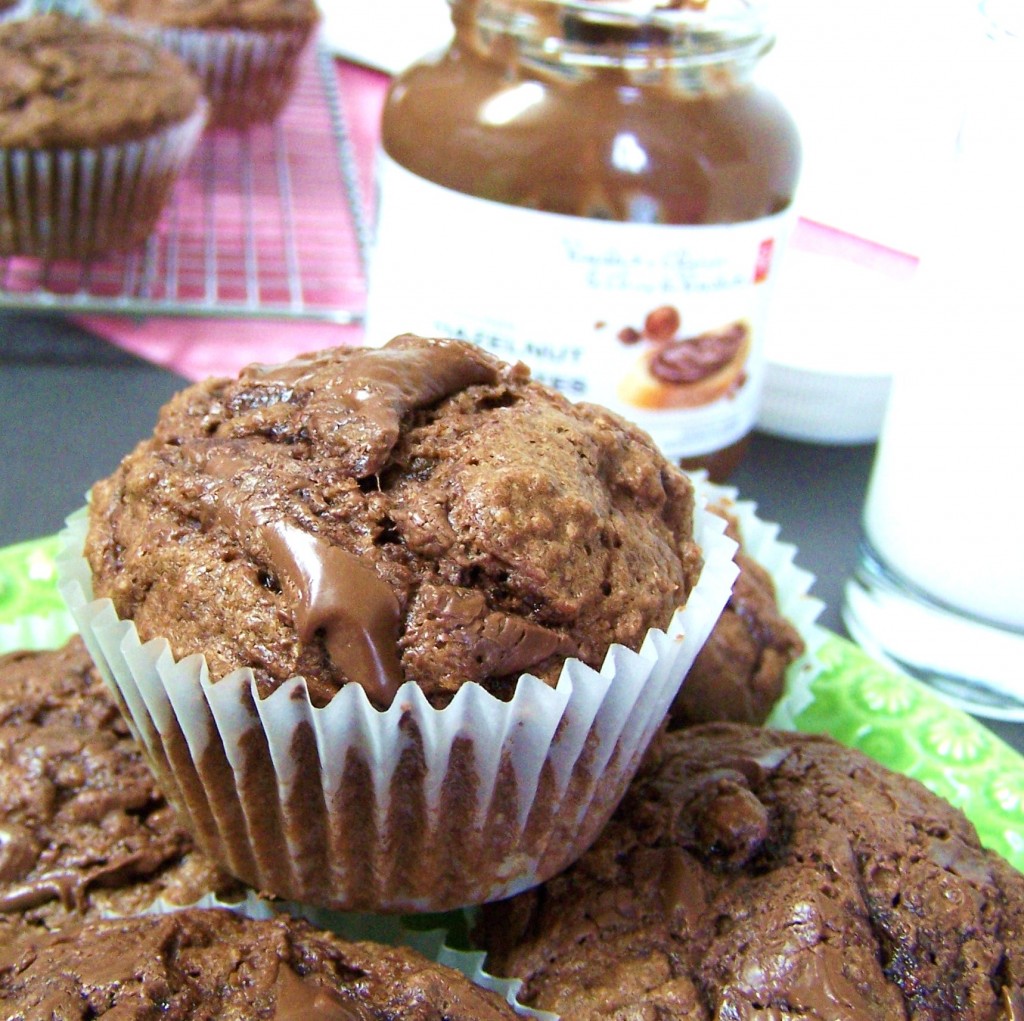 Since half the fun of the swirl is the appearance, I tried again with those regular zucchini muffins.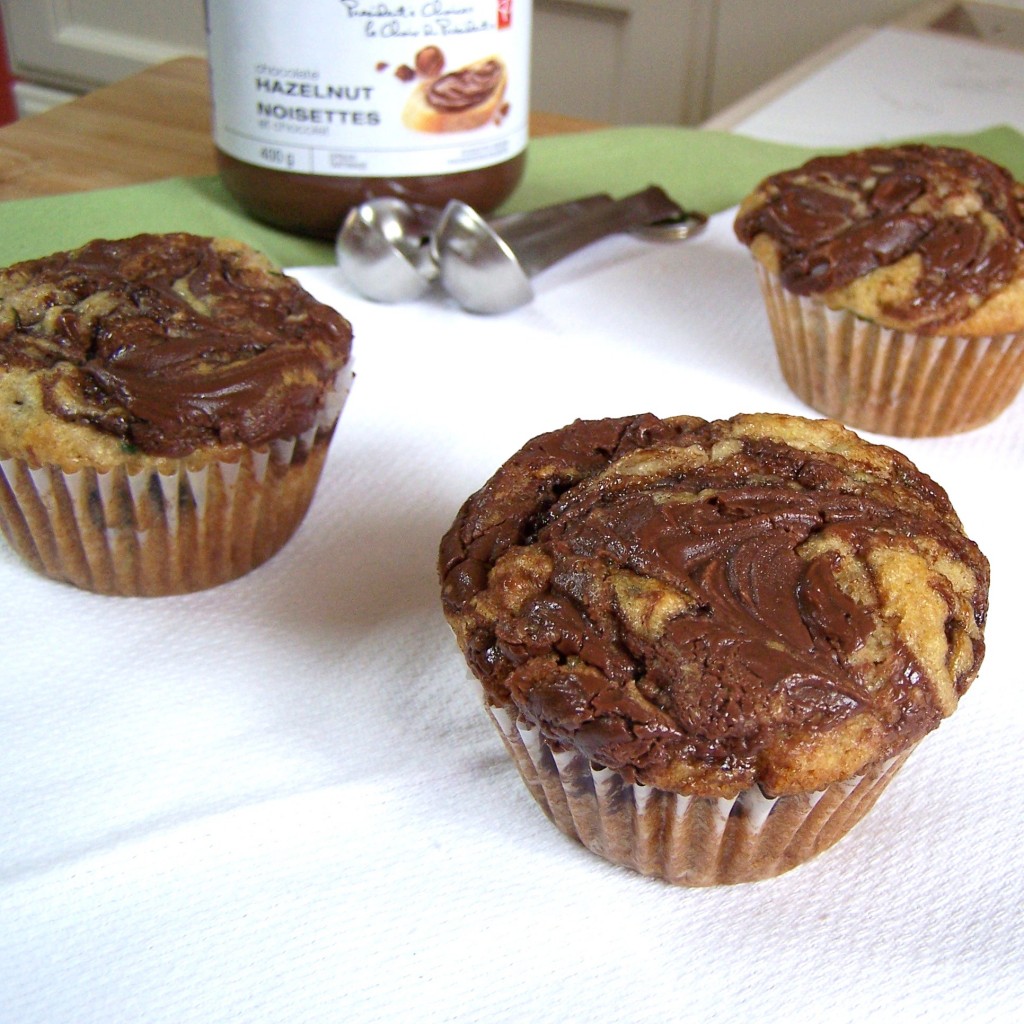 Prettiness achieved! :)
As you can tell in the picture, I'm not really a brand name snob when it comes to Nutella…although I do also have a big tub of the real deal sitting in the pantry currently.  I can't wait to try these Nutella Sea Salt Stuffed Cookies, and thought I might have to do two batches so I'd be able to eat more cookies do a science-y side-by-side hazelnut spread comparison. Results will certainly be shared with y'all :)
As pretty as the regular muffins were with the Nutella, I couldn't hold off any longer on sharing this killer awesome double chocolate muffin recipe that just happens to also contain zucchini.  I adore those jumbo grocery store double chocolate chip muffins, but the fat content is astronomical, and these make a great substitute when you just want to start your day with chocolate and not feel bad about it.  I made them a bit smaller than I usually do when adding the Nutella since I was afraid it would spread onto my pan, but I definitely could have made them my regular size, which makes a perfect, satisfying breakfast.  Making 18 muffins the tops will overflow with enthusiasm across your pan, so if it isn't a non-stick pan I'd recommend hitting the top of the pan with some cooking spray for easy release. Or just make 24 muffins and eat two…also fine :)
These are a beautiful, dark, chocolatey muffin with a moist crumb. They are the reason I freeze mass amounts of zucchini while the gettin's good in the summer, they are a muffin I grew up with, and they are a muffin recipe I definitely see passing on for generations to come! I hope you enjoy them at least half as much as I do :)

Double Chocolate Zucchini Muffins (with optional Nutella Swirl)
Ingredients
¾ cup butter or margarine, softened
2 cups sugar
3 eggs
2½ cups flour
½ cup unsweetened cocoa
2½ tsp baking powder
1½ tsp baking soda
½ tsp salt
½ tsp cinnamon
2 cups shredded zucchini
½ cup milk
1 cup chocolate chips
18 tsp chocolate hazelnut spread, such as Nutella (optional)
Instructions
Preheat oven to 375 degrees.
Cream butter and sugar in a large bowl until light and creamy (2-4 minutes). Add eggs, one at a time, beating lightly after each addition.
In separate bowl, combine flour, cocoa, baking powder, soda, salt and cinnamon.
Combine zucchini and milk and add to creamed mixture alternately with dry ingredients, making 2 additions of each. Mix well.
Fold in chocolate chips.
Divide batter into 18-24 paper-lined muffin tins (depending how large you like your muffins).
Optional: Drop 1 tsp hazelnut spread (such as Nutella) onto each muffin and swirl across the batter with a toothpick.
Bake 20-25 minutes or until top springs back when lightly touched. Remove from pan to cooling racks to cool completely.