Happy Saturday!
Thank you all so much for your book recommendations on my Book Review post – I can't wait to read so many of them, and I was also thrilled to learn I'm not the only crazy who reads cookbooks for relaxing entertainment!  The winner of the free book is…
#13 – Arenda
Congratulations Arenda! I'm curious to hear what you think of the book, which will be coming your way this weekend :)
Now, onto dessert.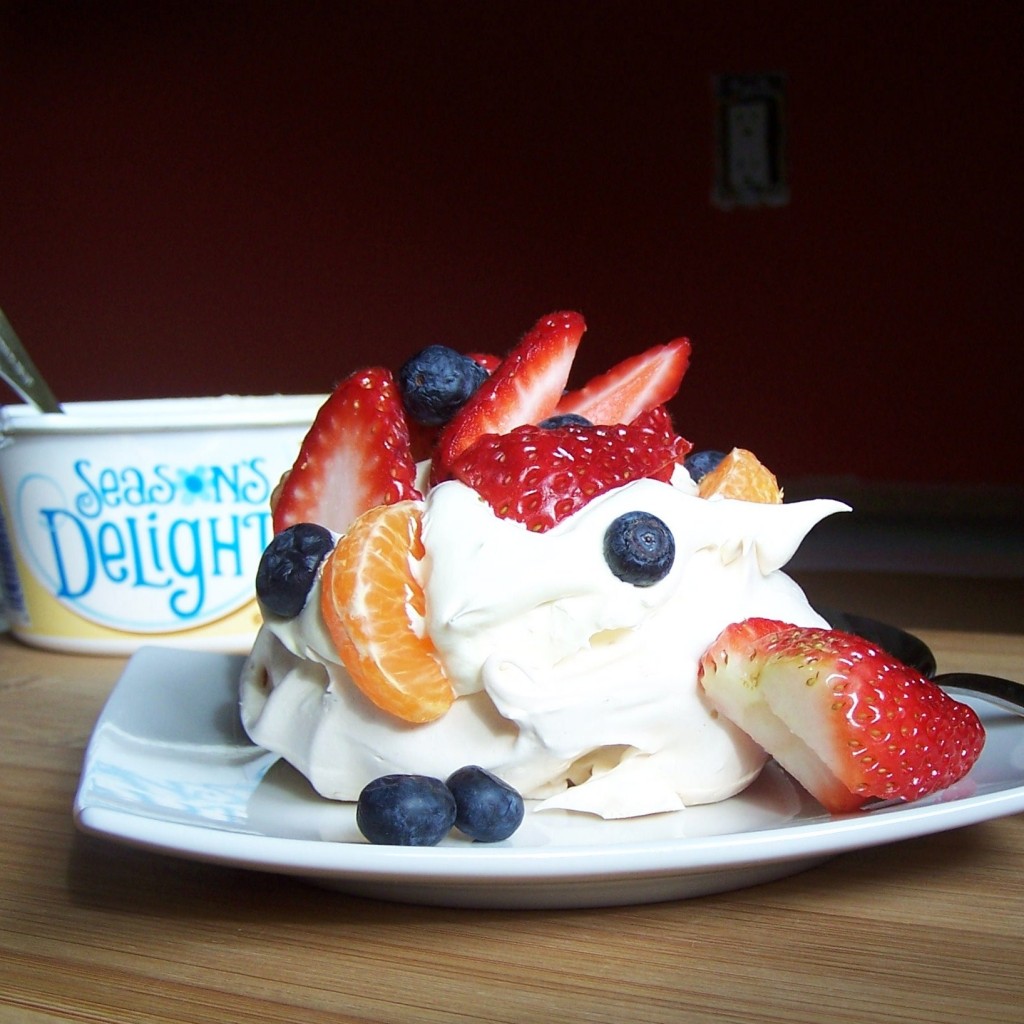 B & C were in town for the weekend a couple weeks ago, and it was decided mid-Saturday that they were coming for dinner on…you guessed it, Saturday! Dinner is easy to make gluten free and chocolate free on short notice, but what of dessert?  Dinner just isn't dinner without dessert, and it also happened to be Carl's birthday, so dessert was a double-must.
These fresh, fruity mini pavlovas were the perfect solution!  The meringue nests can be made ahead, require only a few ingredients, and, filled with whatever fresh fruit you have on hand and topped with whipped cream to serve, they are a perfect light finish to any evening.
I didn't have any real whipped cream on hand, so I resorted to my desperation-freezer-stash of Cool Whip, but real whipped cream is definitely the recommended way to go.  These are essentially a pile of sugar and egg whites, stabilized with a pinch of cream and tartar.  You bake them at a low temperature until they are dry throughout, then fill with your desired toppings when it's time to serve.  They are super low in calories, if not in sugar content :)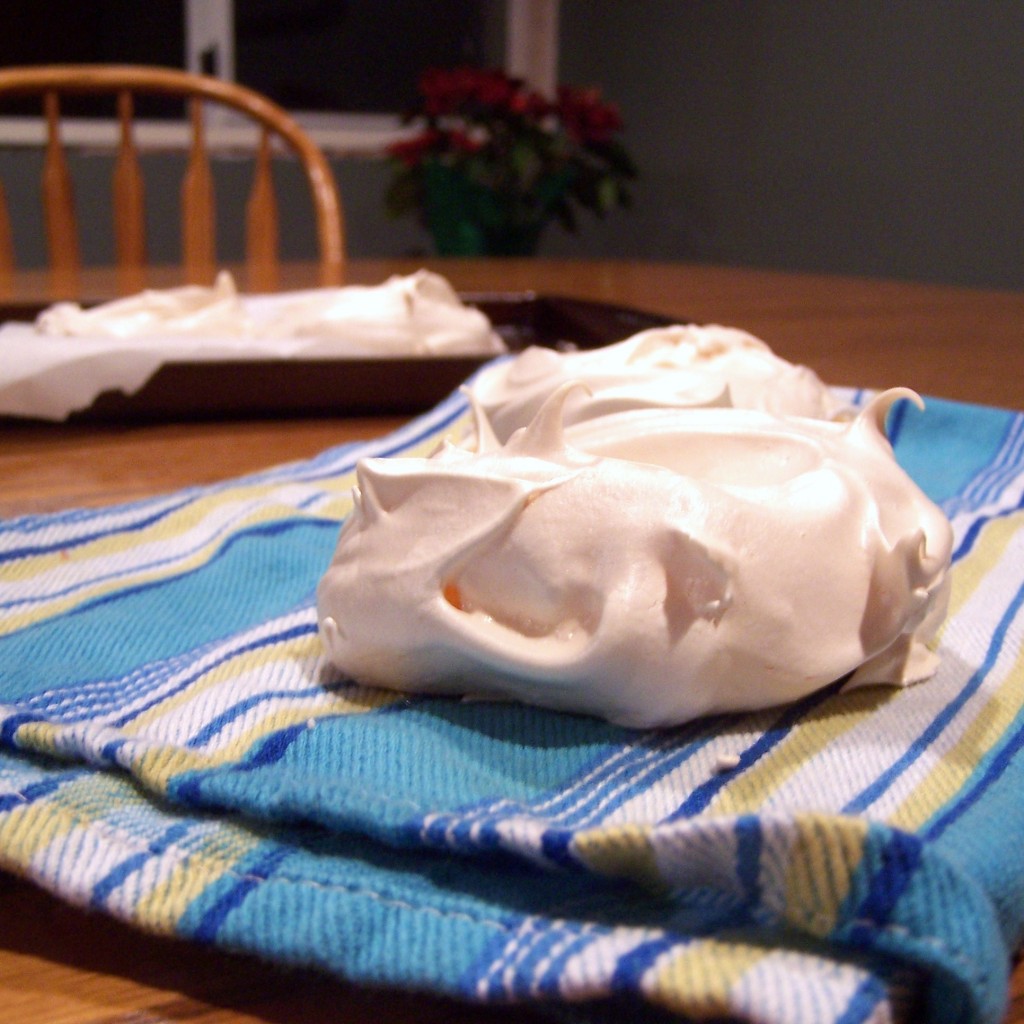 Next time (today, incidentally)  I plan to make 10 nests instead of 8 with the same amount of egg whites so they will be a bit thinner, since I found it took a long time in the oven to dry them out thoroughly, and any not-dry part stays a bit sticky and is VERY difficult to eat with any semblance of grace – a couple of us resorted to picking them up and eating them with reckless abandon, up to our noses in whipped cream :) Having a thinner base also allows the fruit to be the real star, which I love, so I've included the directions for thinner nests, in case you wonder why yours turn out thinner than they look in these pictures.  You definitely want to make sure you have a significant dip in the middle (the "nest") so your toppings have a place to settle and don't roll all over the place.  I like the "rustic" look so I use a spoon to spread/shape the nests, but if you're the neat type they would be really beautiful and perfect done with a large star piping tip.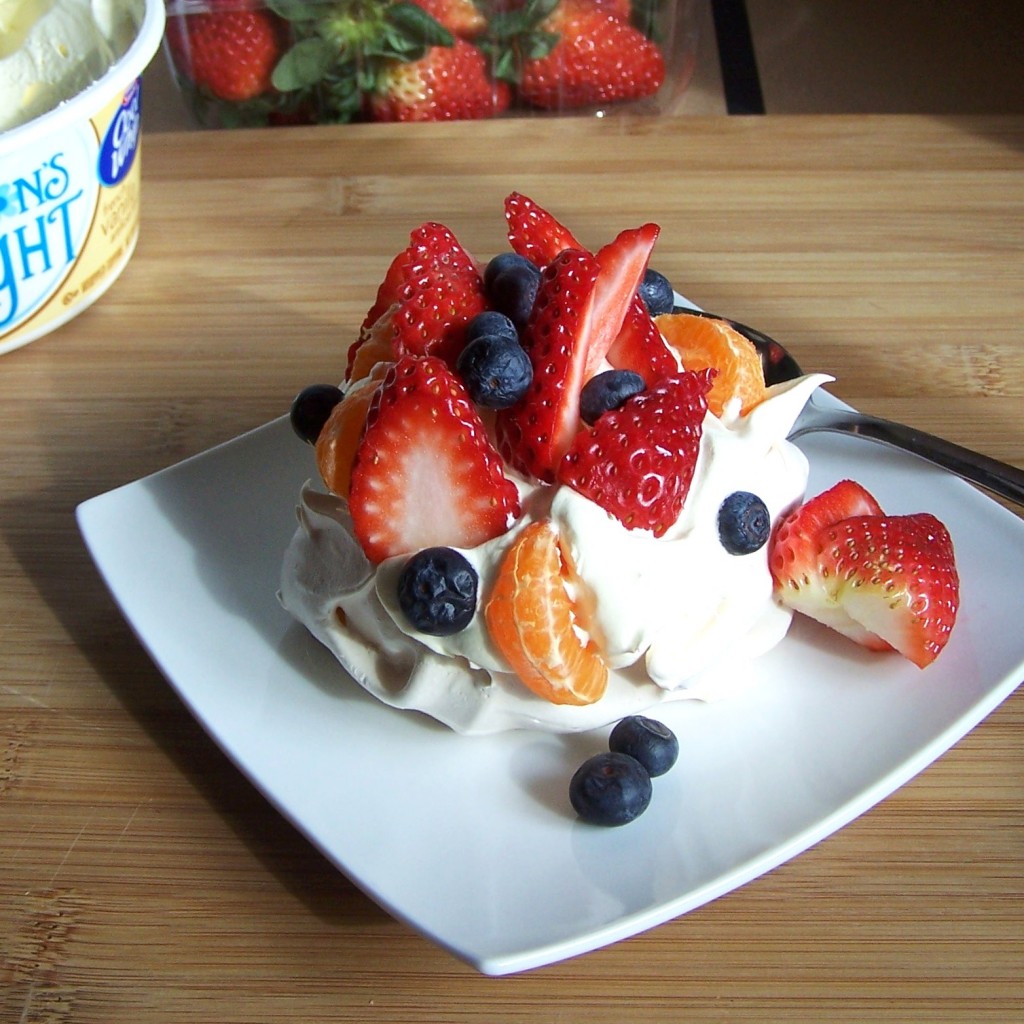 I was torn between settling the fruit in a bed of whipped cream and topping it off with whipped cream, so I did some each way…I guess I could've just done double whipped cream to be safe :)  Either way, enjoy!

Saturday Sweets: Meringue Nests / Mini Pavlovas
Ingredients
3 egg whites
½ teaspoon vanilla extract
¼ teaspoon cream of tartar
¾ cup granulated sugar
Fresh fruit such as sliced fresh strawberries, kiwi, blueberries, raspberries, oranges, bananas, etc.
Instructions
Preheat oven to 275 degrees. Line a large baking sheet with parchment paper (this is a necessity if you want to get your nests back off!)
Place egg whites in a large bowl and let stand at room temperature for 30 minutes.
Add the vanilla and cream of tartar to the egg whites and beat on medium speed until soft peaks form.
Beat in sugar, 1 tablespoon at a time, on high, until stiff peaks form.
Drop meringue into ten mounds onto prepared baking sheet. Shape into approximately 3" cups with the back of a spoon, creating a dip in the middle (like a nest!). These will not spread much with baking so feel free to put them very close together.
Bake at 275° for 45-55 minutes or until set and dry. Turn off oven and do NOT open door; leave meringues in oven for 1 more hour.
When ready to serve, fill with your favourite fresh fruits and whipped cream - a kiwi, banana, strawberry combo or mixed berries are two of our favourite topping combinations. You can also top the whipped cream with a little orange or lemon zest for a pretty finish :)
Recipe adapted from Taste of Home.