You'd think I'm unaware that spring is here.
I've been on a comfort food kick for awhile now that shows no signs of bowing to the pressure of evening light, buds on trees, and grass in need of mowing.  I am all about the soups, chilis, pastas, and turkey dinner these days.  Not to mention the apple crumble.
While chili and turkey dinner are quickly losing their allure to the scent of neighbouring barbecues, some things know no season in my house: soup, pasta (although I might start using it in salads), and apple crumble. I could eat variations of apple and other fruit crumbles daily, and never lose my sense of excitement about the smell in the house, the little scoop of vanilla ice cream, the steam mingling with the frozen cold, the oats, butter, and brown sugary goodness.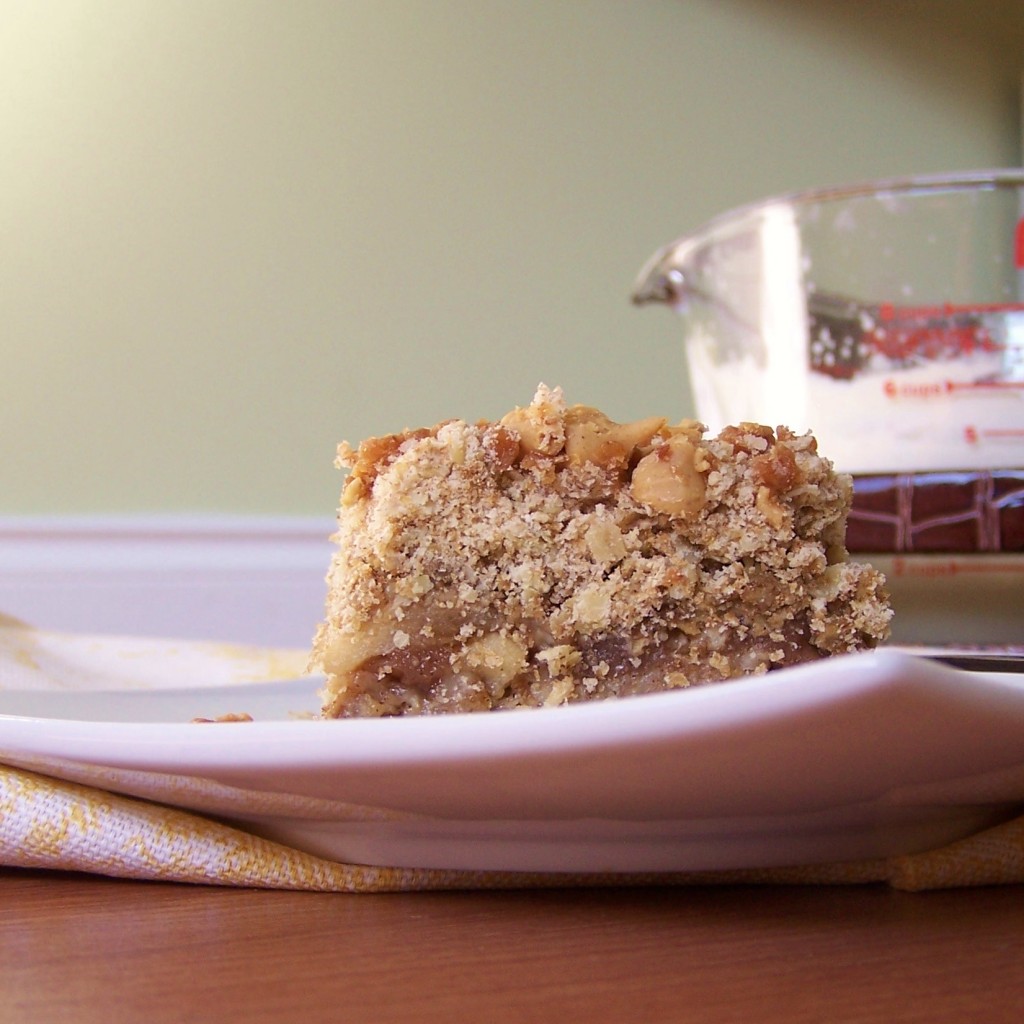 So good.
Fruit crumbles are one thing Carl always has to talk me out of ordering at restaurants, reminding me of how often I make them at home, and how much better an actual dinner will be. I am reluctantly, grudgingly swayed, most of the time.
For today, I'm here with a recipe for apple crumble-esque squares, which are much neater in presentation than typical crumbles, if you're into things like straight edges (I kinda am).  These made perfect use of a big container of homemade apple pie filling I was thrilled to find hiding in the bottom of my freezer!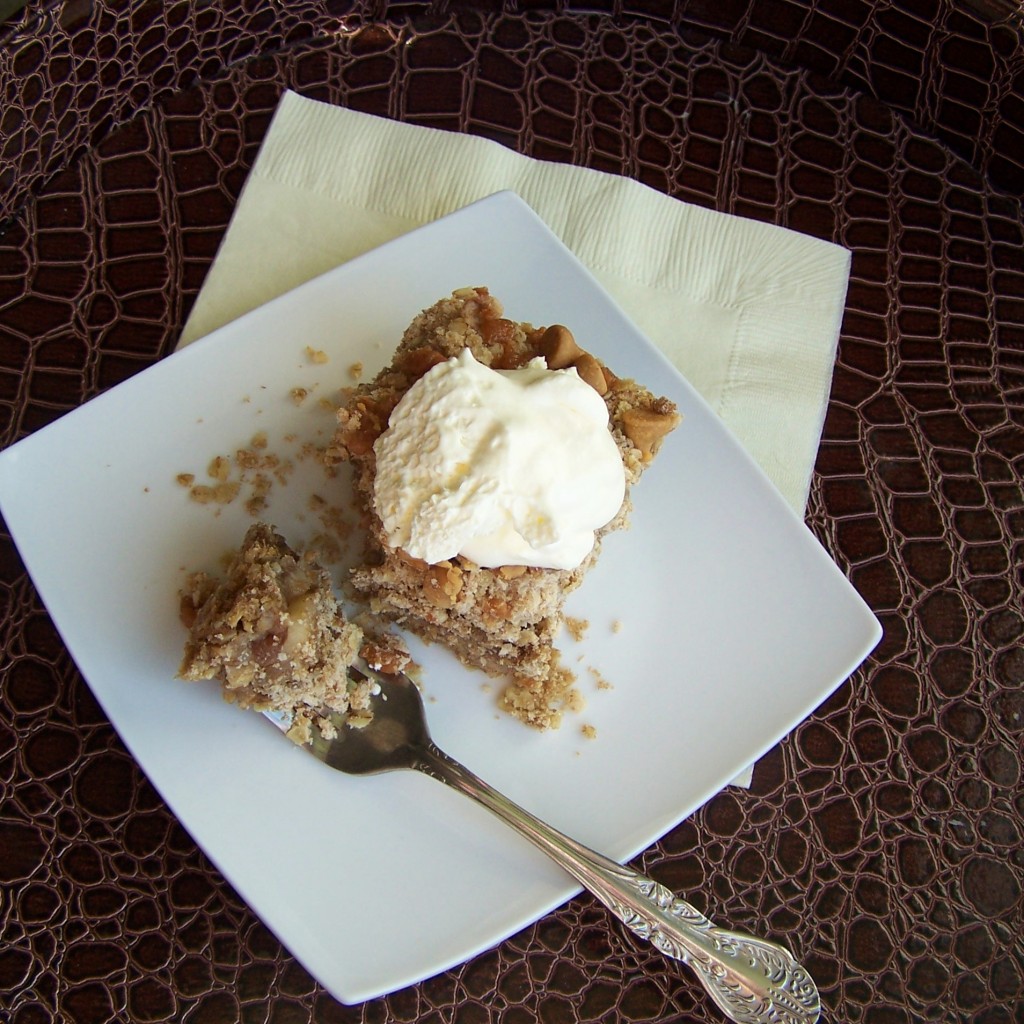 This was a misread recipe that worked out for the best – you know when you think doubling a recipe will be easy, and you'll just throw it in a 9×13 pan and all will be well?  Then realize as you start filling your pan that the original recipe called for an 8×11″ pan? And even your (ok, my) limited math skills become aware that the chosen pan is nowhere near the size it needs to be? And you are too lazy to scrape it out and make a pan dirty for no purpose? So you pile on the thick layers and throw on all the skor bits and peanut butter chips you have handy to ensure there will be flavors throughout that aren't ONLY butter, oats, flour, and brown sugar?
Yeah.
It was one of those days.
And it was delicious! Especially warm, with ice cream. And if you scoop haphazardly instead of cutting into squares, you can make a big enough mess to convince yourself it's apple crumble. I've been meaning to try a recipe for caramel and peanut butter apple crisp for awhile, and this was a foretaste of what a good idea that will be.  Feel free to beat me to it and report back :)

The ratio of crumble to fruit is extreme in these squares...designed for people like me, who are really here for the crumble.
Recipe type:
Dessert; Square
Ingredients
2½ cups whole wheat OR all-purpose flour
1 tsp baking soda
2 tsp baking powder
2 tsp cinnamon
½ tsp salt
2 cups butter, softened
2 cups lightly packed brown sugar
3 cups quick cooking oats
4 cups pie filling
¾ cup toffee pieces, such as Skor bits, divided
¾ cup peanut butter chips, divided
Instructions
Preheat oven to 350 degrees. Lightly grease a 9x13" or 10x15" baking dish.
Combine flour, baking soda, baking powder, cinnamon, and salt. Cut in butter with pastry blender, or your hands, until mixture resembles coarse crumbs.
Add brown sugar and oats and mix well with your fingers.
Spread ½ of the mixture in the bottom of the prepared pan, pressing down evenly. Top with ½ cup each of toffee pieces and peanut butter chips.
Cover evenly with pie filling.
Mix remaining ¼ cup each of toffee pieces and peanut butter chips into remaining crumb mixture, and spread over top of the pie filling. Pat to smooth.
Bake for 40-50 minutes, until lightly browned and fragrant.
Cut into squares while still warm.
Notes
Any pie filling will work equally well in this recipe - cherry pie filling is another favorite of ours. If using cherries, replace the peanut butter chips with dark chocolate chunks or chocolate chips and omit the toffee pieces.